Reasons to love, and loathe, the Mac App Store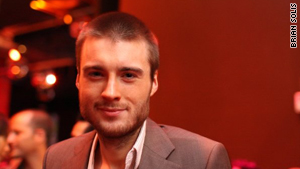 Mashable's Pete Cashmore says the Mac App Store makes apps more discoverable and will boost sales significantly.
STORY HIGHLIGHTS
Apple will launch its Mac App store within 90 days

Apple is taking a 30 percent cut of app sales for Mac computers

Mac version of the store will have similar rules to Apple's app store for mobile devices

Editor's note: Pete Cashmore is founder and CEO of Mashable, a popular blog about social media. He writes a weekly column about social networking and tech for CNN.com.
(CNN) -- Apple this week presented its plan for the Mac App Store, a new way for Mac users to find and download applications.
Following the massive success of iPhone, iPod Touch and iPad apps in the company's App Store, it seemed likely that Apple would attempt to bring the same concept to Mac users.
Opinions on the Mac App Store, which launches "within 90 days," will surely be mixed. Here's why I think it's ultimately a good thing for Mac users and developers -- with some caveats.
User choice
Likely criticisms of the plan are easy to predict. The first: Apple is taking a 30 percent cut of app sales. Given that users can download apps from the Web without their developers paying this "Apple toll," isn't this a bad deal?
I don't think so: The App Store makes apps more discoverable, which will increase sales significantly. If developers don't think the extra visibility is worth the price, they can continue to list their apps elsewhere.
What's more, the App Store will lower the barrier to paying for applications: Would you rather buy an app from the App Store with a single click or enter your credit card details on an unfamiliar website? A streamlined payment process means more sales.
This does, however, raise an interesting question: Will developers be able to sell the same apps both in the store and on the Web? And can they charge less for Web versions to incentivize "direct sales" and avoid paying Apple's fee? Based upon Apple's statements this week, the answer appears to be "yes": Apple won't restrict developers from selling apps elsewhere simultaneously.
This leads to an inevitable conclusion: Alternative app stores will spring up on the Web, offering the same apps at lower prices.
Developer conflicts
Apple will undoubtedly face criticism over its App Store policies, however. The company has already announced that the Mac version of the store will have similar rules to Apple's existing app store for mobile devices.
Although developing apps for the Mac previously didn't require Apple's approval, those developers seeking the mass distribution offered by the Mac App Store will be forced to conform to Apple's rules and regulations.
What's more, developers will probably have to endure the same wait times they currently do when submitting iPhone and iPad apps, since Apple insists on putting applications through its manual review process. But again, I don't think this argument holds when developers are still free to list their apps for sale on their own websites: If you don't like the rules, don't submit to the store.
Room for optimism
The outlook for the Mac App Store is mixed. It'll probably start a new craze around Mac app development, with some Mac developers striking it rich. It'll provide a new income stream for Apple. And it will make Mac users aware of the thousands of useful applications available to them.
But it could also spark new conflicts between Apple and the developers who bristle at the company's insistence upon strict rules, a sometimes lengthy approval process and a 30 percent fee.
FOLLOW THIS TOPIC