WikiLeaks back online after being dropped by U.S. domain name provider
STORY HIGHLIGHTS
NEW: WikiLeaks says it is now using a company out of Switzerland for its website
WikiLeaks said its site had been shut down
The company provided the site's new address on its Twitter page
(CNN) -- A U.S.-based domain name provider shut down WikiLeaks early Friday, but the controversial website announced hours later that it had employed a company in Switzerland and was back up.
"WikiLeaks moves to Switzerland," the company said on its Twitter page about 4 a.m. ET.
The tweet also provided WikiLeaks' new web address.
U.S.-based domain provider EveryDNS.net shut down WikiLeaks' old web address early Friday.
The company announced that it had to cut its relationship with WikiLeaks because the site had received multiple cyber attacks.

WikiLeaks battles to stay online

A look inside the Wiki-Cave

Who is the intelligence leak suspect?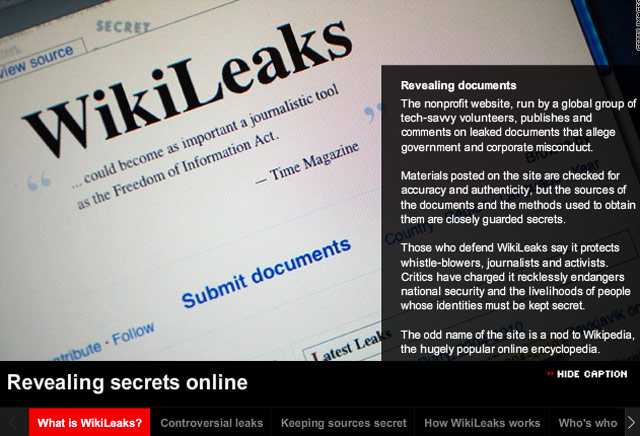 What is WikiLeaks? How it works
"EveryDNS.net provided domain name system (DNS) services to the wikileaks.org domain name until 10 p.m. ET, December 2, 2010, when such services were terminated," the U.S.-based company posted on its website.
"More specifically, the services were terminated for violation of the provision which states that 'Member shall not interfere with another Member's use and enjoyment of the Service or another entity's use and enjoyment of similar services.'
The company said Wikileaks.org has become the target of multiple cyber attacks.
"These attacks have, and future attacks would, threaten the stability of the EveryDNS.net infrastructure, which enables access to almost 500,000 other websites."
WikiLeaks lamented the shutdown on its official Twitter page early Friday.
"WikiLeaks.org domain killed by US everydns.net after claimed mass attacks KEEP US STRONG," the company posted early Friday morning.
Amazon also kicked the site off its servers.
CNN's Melissa Hassett and Jason Kessler contributed to this story.
FOLLOW THIS TOPIC


Part of complete coverage on

What next for WikiLeaks editor and founder Julian Assange, now that he's been released on bail in the UK?

Julian Assange says the sexual misconduct charges against him are little more than an effort to discredit him and his organization.

WikiLeaks editor walks out of London court after being freed on bail nine days after being arrested for questioning about alleged sex crimes in Sweden.

In 2006, Julian Assange was apparently looking for a date. After launching WikiLeaks, he evidently created a profile on OkCupid.com.

A court in London found itself in the world's spotlight, as a small army of celebrities turned up to offer support -- and bail money -- to Julian Assange.

The founders of Openleaks.org say they are former WikiLeaks members unhappy with the way the organization is being run under Julian Assange.

Hackers who support WikiLeaks want others to replicate the attacks they say took down the websites of MasterCard and Visa.

Does Julian Assange's threat to release "Doomsday Files" from Wikileaks carry validity?


Most popular Tech stories right now