U.N. supports Olympic Truce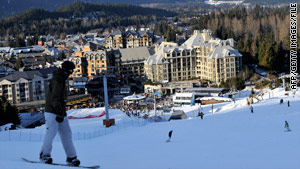 The 2010 Winter Olympics begin this week in Canada.
STORY HIGHLIGHTS
The United Nations officially began observing the truce in 1994

May have produced brief break in hostilities in Balkan wars in 1990s

During 2004 Olympics in Athens, Greece, U.S. said its troops in Iraq not bound by truce
United Nations (CNN) -- The United Nations declared its support Monday for the traditional Olympic Truce ahead of the 2010 Winter Olympic Games, which begin Friday.
The truce calls for a global cessation of hostilities during the Games, which will take place in Vancouver, British Columbia.
The United Nations officially began observing the truce in 1994.
The Olympic Games "bring together athletes from all around the world ... to promote peace and mutual understanding and goodwill among all states," said Ali Abdussalam Treki, president of U.N. General Assembly.
iReport: Are you in Vancouver?
However, there are questions regarding the effectiveness of the truce.
It may have produced a brief break in hostilities to allow humanitarian aid to reach the besieged city of Sarajevo in the Balkan wars in the early 1990s.
But during the 2004 Olympics in Athens, Greece, the United States announced that its troops in Iraq would not be bound by the terms of the truce.
More recently, during the 2008 Beijing Summer Olympics fighting broke out between Russian and Georgian troops.
It is believed to be the first time that a conflict began on the opening day of the Games.
The Olympic Truce is an ancient Greek tradition that dates back to the 8th century. Its purpose was to provide a safe environment for athletes competing in the Olympic Games and spectators traveling to and from them.