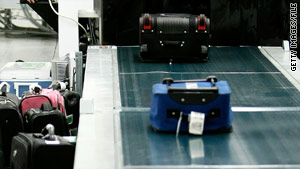 STORY HIGHLIGHTS
Travel expert offers tips on what to do if you experience a busted zipper or a broken handle
'Fragile' tape borrowed from airport employees and wrapped around luggage is a quick fix
Keep a long strip of Velcro in your carry-on -- you can use it as a makeshift handle
To avoid the broken luggage problem, don't carry any. Send your luggage ahead
(Tribune Media Services) -- One minute I was rolling my carry-on bag along the concourse floor at Ronald Reagan Washington National Airport.
The next, I was arguing with a useless box on wheels -- and dreading what would happen to my back if I had to carry it.
The extendable handle on the bag was stuck, and no matter how hard I tried, it wouldn't retract. I had to haul the bag on the plane without the help of wheels. With my bad back, I knew I would feel that the next morning.
And I did.
So here I am, shifting uncomfortably in my ergonomic office chair and heavily medicated, wondering: Am I the only one this has happened to? How often does luggage break?
What happens when it does?
Turns out it happens a lot. There are no statistics on luggage failures of the type I encountered -- broken handles, busted wheels, screwed-up zippers -- but plenty of stories.
"My bag broke in the middle of the trip," remembers New York-based comedian Dan Nainan. "The handle broke off. It was awful." It wasn't funny, either. But lucky for him, the bag came with a 15-year guarantee, so he sent it back to the manufacturer and had it fixed.
My carry-on bag came with a warranty, too. Not a bad one, but there's some fine print that may make it difficult to file a claim (it doesn't cover wear or damage caused by abuse, mishandling, accidental damage, inappropriate selection, or carelessness caused by an airline). But since it's a sample, I felt a little awkward about saying anything to the manufacturer.
As to the question of what happens -- well, that's why you're still reading this story. Here are four luggage horror stories, and some tips on how to cope with them.
1. THE STUCK HANDLE
I'm not the only person with a stuck-handle problem. It happened to Charlotte Tomic and her Hartmann luggage on a recent flight. "I guess these things happen with time, or if you put something too heavy on the handle, like a laptop, maybe," she told me. "I'm not sure why these retractable handles malfunction, but it could be very unnerving."
Tell me about it. If a handle acts up mid-trip, you have a few options. If you're at the airport, your airline might insist that you gate-check the bag. (Be sure to remove any valuables.) An extreme option is buying a replacement and abandoning the bag at the airport. Fortunately, I managed to retract the handle so it would fit in the overhead bin, but carrying the bag around was no fun.
2. THE BUSTED ZIPPER
Face it: zippers aren't meant to last forever. And if you push the limits of your luggage, it will eventually push back.
Author Nancy Redd, a frequent flier, likes to stuff copies of her book in her carry-on bag. Her luggage can take only so much, and has given way a time or two. "The last time that it happened and I wasn't able to obtain a new piece immediately for less than highway robbery at the airport, I just asked airport employees for some of their 'fragile' tape and wrapped it around my luggage as a quick fix to keep everything stored until I could obtain a replacement at my destination city," she says. "It totally worked."
3. THE BROKEN HANDLE
Sharon Flank remembers a "major malfunction" with her luggage on an international trip. "The handle broke off my suitcase as I tried to haul it up the Metro stairs in the rain in Paris," she says. "I was pretty miserable."
Handles are not easily replaced on the spot, but eventually, she found someone to repair it. "Now I always keep a long strip of Velcro in my carry-on -- you can use it as a makeshift handle," she says. That's excellent advice.
4. THE FLAT TIRE
Most carry-on luggage comes with wheels, but no matter how industrial-strength they appear, they are disappointingly mortal.
The wheels on my last bag died slowly, over several trips. First the rubber became frayed, and then it peeled off until the bag made an annoying rat-tat-tat when it rolled on the concourse floor.
Fortunately, I've never had a wheel come off. I retired the bag before that happened. Luggage wheels are not as easily replaced as roller-skate wheels. If they were, we wouldn't be having this conversation.
There's only one certain way to avoid the broken luggage problem, according to Jeff Boyd: Don't carry any. "Send your luggage ahead," says Boyd, who is the president of Luggage Free, a baggage shipping service. (A service like his will fix any luggage that's broken while in its care at no extra cost, whereas airlines don't generally fix broken zippers, handles or wheels, he adds.)
That's one solution, but another less extreme one might just be this: Check your bag for wear and tear before your next trip, and for goodness sake, don't overpack.
Your bag will thank you. Your back will thank you.
(Christopher Elliott is the ombudsman for National Geographic Traveler magazine. You can read more travel tips on his blog, elliott.org or e-mail him at celliott@ngs.org).
© 2010 CHRISTOPHER ELLIOTT DISTRIBUTED BY TRIBUNE MEDIA SERVICES, INC.