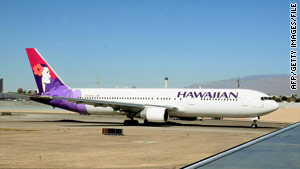 The Airline Quality Rating report ranked Hawaiian Airlines as the best-performing airline in 2009.
STORY HIGHLIGHTS
Overall, the airline industry had its third-highest score in 19 years

Report found 14 airlines improved their on-time arrival performance in 2009

The report's top five airlines are Hawaiian, AirTran, JetBlue, Northwest and Southwest

(CNN) -- The performance of the airline industry improved in 2009, compared with the previous year, according to an annual report released Monday.
The 2010 Airline Quality Rating report compiles information on 18 U.S. airlines based on factors such as on-time arrivals, denied boardings, mishandled baggage and customer complaints.
Overall, the airline industry recorded the third-highest score in the 19 years researchers have tracked their performance, the report said.
Fourteen airlines improved their on-time arrival performance in 2009, the report said, though only six airlines had an on-time percentage greater than 80 percent.
Customer complaints fell industrywide to 0.97 per 100,000 passengers, from 1.15 per 100,000 passengers.
The Airline Quality Rating report is a joint research project by Purdue and Wichita State universities. The study is based on figures compiled by the U.S. Department of Transportation.
Hawaiian Airlines had the best on-time performance for 2009, with 92.1 percent. With 69 percent on-time arrivals, Comair recorded the industry's lowest rate in this category, the report said.
Airline Quality Rating rankings, with the 2009 ranking in parentheses:

1. Hawaiian (1)
2. AirTran (2)
3. JetBlue (3)
4. Northwest (4)
5. Southwest (6)
6. Continental (8)
7. Frontier (7)
8. US Airways (10)
9. American (9)
10. ExpressJet (not ranked in 2009 report)
11. Alaska (5)
12. Mesa (14)
13. United (11)
14. SkyWest (13)
15. Delta (12)
16. Comair (15)
17. Atlantic Southeast (17)
18. American Eagle (16)
The report said Hawaiian was the best-performing airline in 2009, followed closely by AirTran Airways. JetBlue, Northwest and Southwest rounded up the top five.
Among major carriers, Continental was ranked sixth, U.S. Airways eighth, American ninth, United 13th and Delta 15th.
Compared with 2008, the airline industry scored higher in every category except for denied boardings, which shouldn't come as a surprise, said Dean Headley, a Wichita State professor and one of the report's authors.
"You would expect denied boardings to increase as you tighten up on the number of seats that are available," Headley said in a statement. "When you look at the past 10 years, you find that the airline industry performs most efficiently when the system isn't stressed by high passenger volume."
There's also an explanation for why the airlines did better in the other areas, said Claes Fornell, a professor of business at the University of Michigan and creator of the American Customer Satisfaction Index.
"What has happened is that because there are fewer flights, fewer passengers, you know airlines have been able to lose fewer bags and arrive on time more often, and that's what's driving the numbers up," he said.
"But of course they are losing money also, so this is not a sign that the airlines have really improved. It's a sign of weak demand, and it's easy to handle fewer customers than many customers."
Joe Brancatelli, who flies several times a month and runs JoeSentMe.com, a Web site for business travelers, said he is no fan of the report.
The report "is such a small part of the overall experience, it's almost unimportant, in my opinion," he said.
"There is nothing in this that the government hasn't already reported and it doesn't address the issues the government doesn't address, which is the waits at airports, the fact that there are no empty seats on the plane, which makes the experience terrible, the fee issue -- all those things also go into the experience."
One of the reasons why low-cost carriers are at the top of the ranking is because people know what to expect from their experience, Brancatelli said.
"The ones that do the best -- JetBlue, Southwest, AirTran -- it's not that they're smaller, it's that they're more consistent. They do the same thing every flight, every seat, every route, every day," he said.
CNN's A. Pawlowski and Marnie Hunter contributed to this report.