STORY HIGHLIGHTS
Air traffic across Europe will be severely disrupted for a second day Friday, says NATS.
Closures include Charles de Gaulle in Paris, London's Heathrow, Frankfurt in Germany
Difficult to predict how long volcano activity will last says gegeophysicistatthew Watson
Closure due to fear volcanic ash from Iceland could cause engine failure
London, England (CNN) -- Volcanic ash from Iceland snarled air traffic across Europe for a second straight day Friday, causing the cancellation of thousands of flights, according to the intergovernmental body that manages European air travel.
The plumes have closed some of Europe's busiest airports, including Charles de Gaulle in Paris, London's Heathrow and Schiphol in Amsterdam.
Airspace over much of the United Kingdom was closed to all flights except emergencies at least until 7 p.m. (2 p.m. ET) on Friday, Britain's air traffic authority, NATS, said.
"In general, the situation cannot be said to be improving with any certainty," the NATS Web site said.
iReport: Have your plans been disrupted? Send your images, videos

Video: Pilot recalls ash cloud horror

Video: Massive ash cloud closes airspace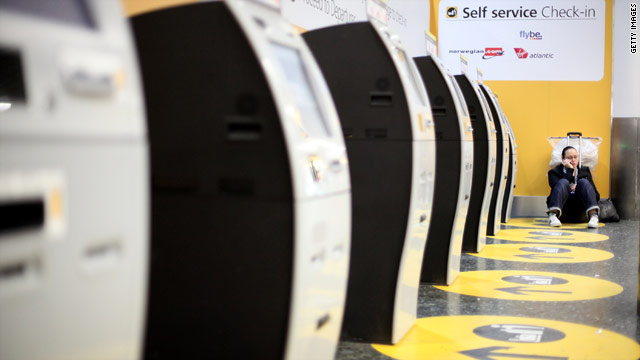 Video: Air traffic disrupted by volcanic ash

Video: How long could ash pose problems?

Video: Ash cloud causes travel chaos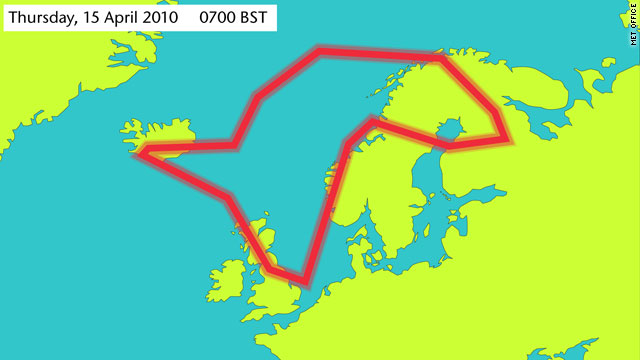 Gallery: Path of volcano ash cloud
France, Germany, Ireland, Sweden, Norway, Belgium, Denmark, Poland and the Netherlands also announced the complete or partial closure of their airspace, authorities in each country said.
Norway's airspace closure included cancellation of helicopter flights to off-shore oil installations.
"All flight[s] are canceled at all airports in Norway," Avinor, the Norwegian agency responsible for the Norwegian airport network, said late Thursday.
"The closure also includes the oceanic control area, affecting intercontinental flight."
Germany closed its airports in Berlin and Frankfurt, airport officials told CNN.
Volcanic ash can cause jet engines to shut down.
iReporter captures footage of eruption
Delta Air Lines canceled 65 international flights from its U.S. hubs scheduled over Thursday night and Friday morning in response to the ash cloud. The decision affected flights to Amsterdam, London, Dublin, Brussels in Europe and to Mumbai in India. Whether the airline resumes flights to such destinations will be determined later Friday, Delta said.
Air China announced the cancellation of most of its Friday flights to Europe. "Air China will pay close attention to the effects of the volcanic ash," the airline said.
Hong Kong-based Cathay Pacific also canceled or delayed flights from Hong Kong to London, Paris, Frankfurt and Amsterdam.
It's hard to predict how long it will be before air travel can resume, said Matthew Watson, a geophysicist, at England's Bristol University.
"You really need two things to happen: you need the volcano to stop emplacing ash to the altitude that commercial aircraft fly at, 30-35,000 feet, and you then need the upper level winds to blow the ash and disperse it out of the airspace," he told CNN.
How long that will take "depends very much on the volcano. If this is it and it's stopped right now and it doesn't do anything else... I imagine you are looking at 24 to 48 hours to clear U.K. airspace," he said.
Many airports were already shut and flights were grounded across the United Kingdom on Thursday because of the ash, which came after an eruption under an Icelandic glacier early Wednesday, airport authorities said.
The eruption -- the latest in a series that began on March 20 -- blew a hole in the mass of ice and created a cloud of smoke and ash that went high into the air.
The volcano was creating floods in the area and producing a lot of volcanic ash, a spokesman for Iceland's Department of Civil Protection and Emergency Management told CNN.
Belgium
Full closure from 4:30 p.m. CET Thursday
Britain
Closed until at 7 p.m. BST Friday
Denmark
From 6 p.m. CET Thursday
France
8 airports in north closed, another 16 from 11 p.m. CET Thursday
Ireland
From noon BST Thursday
Finland
"Heavily restricted" Thursday
Netherlands
From 7 p.m. CET Thursday
Norway
From 10 a.m. CET Thursday
Poland
Until 6 p.m. CET, except Krakow
Sweden
From 10 p.m CET Thursday

An emergency evacuation affecting 800 people was conducted near the volcano due to flash flooding from glacier waters, according to Rognvaldur Olafsson of Iceland's civil protection agency. The same people had fled the area the night before and allowed to return to the area early Thursday.
The disruption caused havoc for air travel around the world.
"There will be an immediate impact today in terms of passengers not being able to travel," said independent air transport consultant John Strickland, of JLS Consulting in England. "The key thing is we don't know how long it's going to last ... but even if that were to be resolved, it will take some significant time for airlines to recover."
Flights to the United Kingdom from Japan, China, Hong Kong, India and Australia were affected, and Etihad Airways announced the cancellation of flights between Abu Dhabi and England.
The Air Transport Association of America said member airlines canceled about 165 flight to and from Europe on Thursday due to the volcanic activity. U.S. carriers operate 337 flights to and from Europe each day, according to the association, whose members carry more than 90 percent of U.S. passengers.
The U.S. Air Force said two bases in England, RAF Mildenhall and RAF Lakenheath, will be shut down for at least two days. That meant dozens of U.S. Air Force F-15s and other fighter jets and tankers are not flying, and flights to Iraq and Afghanistan flying through that airspace are being diverted to other routes.
The ash wasn't necessarily visible in the air, but Manchester Airport spokesman Russell Craig said it can still pose a threat to aircraft.
"If you think about the way an aircraft engine works, it sucks in air, it compresses it, forces it out on the other side. That creates thrust," Craig told CNN.
April 1982: British Airways flight 009 to Auckland, New Zealand, from London, England, flew into a cloud of ash thrown up by the eruption of Mount Galunggung, Indonesia, causing engines to fail. Crew was eventually able to restart three engines and land in Jakarta after gliding through the cloud.

December 1989: KLM flight 867 to Anchorage, Alaska, from Amsterdam, Netherlands, flew into a volcanic ash cloud caused by eruption of Mount Redoubt in Alaska, resulting in failure of its engines as it tried to climb out of the cloud. Pilots were able to restart engines, two at a time, before landing the badly damaged airliner.
"If that air were mixed with ash, it can cause engine failure and electrical difficulties with an aircraft. It's happened before, and the aircraft didn't come out the other end in one piece."
Eric Moody was the pilot aboard a British Airways flight that managed, barely, to fly through volcanic ash thrown up by Mount Galunggung in Indonesia in 1982. All four of the engines stopped because of the ash, and the plane glided through the air for about 15 minutes, he told CNN on Thursday.
"The engines just ran down," Moody said. "We couldn't see out the windscreen and half the electronic aids to landing weren't working, either."
Explainer: Why ash cloud endangers aircraft
Passengers were told to prepare for an emergency crash landing, with Moody making this now-famous announcement to passengers: "Good evening, ladies and gentlemen, It's Captain Eric Moody here. We've got a small problem in that all four engines have failed. We're doing our utmost to get them going, and I trust you're not in too much distress."
Eventually at 13,000 feet, the engines started working again and the plane was able to land. That, said Moody, is why this Icelandic ash could be so dangerous.
"I don't know how thick this ash is, but I wouldn't go anywhere near it," Moody said.
Nick Grahame, a chief forecaster at Britain's weather service, the Met Office, said it is hard to predict where the ash cloud will go next.
"The Met Office forecast at the present time, based on the emissions at the moment, suggests that the plume will come across the U.K., and also Scandinavian countries in particular, over the next 24-36 hours," Grahame told CNN. "If the volcano continues to erupt through Friday into the weekend, then obviously the ash will spread further, but that's something we are not clear about at the moment."
Capt. Bob Jones of the Civil Aviation Authority said Britain will not reopen its airspace until the threat is over.
"It very much depends on the location of the ash, but needless to say, we're taking extreme caution," Jones told CNN.
CNN's Claudia Rebaza, Melissa Gray, Mike Ahlers, Per Nyberg and Carol Jordan contributed to this report.