U.S. airlines cancel Europe flights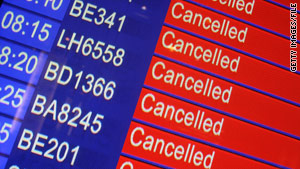 The closure of United Kingdom airspace prompted the cancellation of numerous flights.
STORY HIGHLIGHTS
NEW: Continental cancels 32 flights to Europe, offers changes, refunds to passengers
Domestic airlines cancel flights into and out of United Kingdom
Passengers urged to check with airlines for flight status, rebooking
Flights to Belgium, Netherlands and Denmark likely to be affected

(CNN) -- Americans scheduled to fly to Europe on Thursday or Friday are in for some bumps in their itineraries as clouds of volcanic ash from Iceland close airspace in parts of Europe.
The United Kingdom's airspace will be closed until at least 7 a.m. (2 a.m. ET) Friday, air traffic authorities said.
Belgium, the Netherlands, Ireland, France, Denmark, Finland, Norway and Sweden also have closed or plan to close airspace.
Delta Air Lines suspended service in and out of the UK on Thursday morning and later canceled 65 international flights scheduled to depart Thursday evening or Friday morning to destinations in France, the UK, Ireland and Belgium.
Passengers may request refunds for canceled flights. The airline also will allow travelers to make a one-time change to tickets to or from affected destinations free of charge for travel scheduled through April 18, according to its Web site. Rescheduled flights must originate no later than May 31.
American Airlines canceled 35 flights to and from London, Paris, Zurich, Brussels, Manchester and Dublin, spokesman Tim Smith said.
"Not knowing for sure when the airspace will be re-opened, we are also planning to cancel a handful or two of flights out of UK/Europe tomorrow morning ... probably about 10-12 flights so far that depart UK/Europe for the U.S. around 10 to 11 a.m. local time over there," Smith said in an e-mail.
American was able to operate 15 flights into and out of the UK on Thursday before airspace was closed, Smith said. "Aircraft encountered no ash," he said.
Continental Airlines canceled 34 flights Thursday and pre-canceled "a couple of dozen" Friday flights, according to spokeswoman Mary Clark. The airline is allowing passengers with flights to or from more than a dozen European cities through April 18 to change their tickets once without penalty. Refunds will be offered for canceled flights.

Video: Air traffic disrupted by volcanic ash
One British Airways flight was en route to Dulles International Airport near Washington on Thursday morning, but other flights due to arrive there from the UK were canceled, said Rob Yingling, a spokesman for the Metropolitan Washington Airports Authority.
Other destinations connected directly to Dulles -- including Amsterdam, Netherlands; Copenhagen, Denmark; and Brussels, Belgium -- were likely to be affected, he said.
Yingling urged passengers with flights to or from affected areas to check with their airlines about flight status and rebooking.
"Almost like we would do in snow. Of course, this situation is not affecting our end of the trip; it's the other end of the trip. But that obviously cascades to this end of the trip," he said.