STORY HIGHLIGHTS
CNN's Ben Wedeman is living in Cairo for the third time
"In Cairo you quickly learn to thrive off of anarchy," he says
For peace and quiet, Wedeman hikes in Wadi Digla, a winding canyon south of Cairo
CNN's Insider Trip Tips taps staffers around the globe for a local's look at places where they work and live. Ben Wedeman, CNN's Cairo correspondent, is living in the Egyptian city for the third time. He was a student in Cairo in the early 1980s, worked for CNN from 1998 until 2006, and returned for a second CNN posting in 2009.
Cairo, Egypt (CNN) -- Cairo is a city of 18 million people crammed into a narrow strip along the Nile. It's crowded, chaotic, polluted and noisy. Like New York, it's a city that never sleeps and can cater to almost every taste.
Egyptians call Cairo "Umm ad-Dunya," the "Mother of the World," in recognition of its place in history. They have a profound and sometimes prickly sense of Egypt's central role in human existence.
Cairo's glory has faded in recent decades, but it is still a regional centre for the arts and literature. And despite all the stresses of life here, Egyptians manage to remain by-and-large polite and friendly, with a raucous sense of humour renowned throughout the Arab world.
Brace yourself for the traffic, the smog, the crowds, the sheer cacophony of the place. Take it all in stride. Before long, you'll see the beauty of the place. CNN.com asked me to share some of my favourite spots.
Where can you get the best view of the city?
There are two places. The most accessible is from the Cairo Tower on the island of Zamalek. The late Egyptian President Gamal Abdul Nasser built the tower with funds funneled by the CIA in the 1950s in hopes Egypt would throw in its lot with the United States in the Cold War.
Nasser built the tower, cocked his snoot at the U.S. and threw in his lot with the Soviet Union. The tower is 187 metres (about 614 feet) tall -- taller than the Great Pyramids. The viewing deck provides a panoramic view of Cairo second only to the Khufu or Cheops Pyramid.
The view from atop the Khufu Pyramid is stunning, but the climb, especially if you are lugging television equipment, is no easy feat.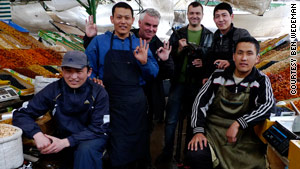 CNN's Ben Wedeman, third from left, makes new friends while on assignment this week in Bishkek, Kyrgyzstan.
There is a catch, however. Alarmed at the number of tourists who paid bribes to the guards to climb the pyramids at night (and then fell and died), the Egyptian authorities have strictly banned pyramid climbing.
For that, you now need special permission from the Egyptian Supreme Council of Antiquities, which involves writing and signing a statement absolving the Egyptian government of any responsibility in the event you are injured or killed while ascending the pyramid. (To get that permission, you probably need to be CNN's Cairo correspondent ... and at the moment that position is occupied).
Which restaurant would you take your loved one to for an anniversary or other special occasion?
I would jump on the next train to Alexandria and head to Qaddoura (pronounced Addoura), a Spartan fish restaurant where you sit at picnic tables on a backstreet near the port. The fish, prawns and calamari are fresh out of the sea, cooked and seasoned to perfection, the service rushed but cheery, and the bill? Strictly working class. No wine or beer is served, but the food is intoxicating.
Where is the best place to people watch?
Talaat Harb Square in the centre of the city. There you see the upper class, the working class and everything in between, plus the occasional tourist.
What is your favorite neighborhood?
My favourite part of Cairo is Champollion Street, off Tahrir Square in the middle of the city. It's named after Jean-François Champollion, the French savant who broke the hieroglyphic code. It was my home for a year, many years ago.
It's a typical Cairo neighbourhood, with everything you could need within a five-minute walk. The doorman of our building sold beer around the clock, there was a 24-hour bakery selling fatayer (Egyptian crepe with the filling -- savory or sweet -- of your choice) just across the street, a kebab stall around the corner, plus a café, a butcher, a green grocer, a stall that sold grilled fish and about two dozen mechanics (who were always friendly, even if I didn't have a car).
How do tourists stick out and what's the best way to blend in?
In Cairo, tourists stick out; there's no getting around it. Spend a few years here, and you will develop the "I've seen it all" look that Egyptians are so good at, and no one will give you a second glance.
What's the biggest misconception about your city?
That chaos is a bad thing. In Cairo, you quickly learn to thrive off of anarchy, or work around it. Anything else is dull.
Where do you go to relax?
I go for hikes in Wadi Digla, a winding canyon south of Cairo. There you can find quiet and solitude, disturbed only by the occasional whiff of burning garbage from a nearby dump. If you have the time, go on a four-wheel drive safari into the Sahara Desert to get away, absolutely, from it all.
What essential thing should visitors see/experience if they only have a few hours?
The Pyramids at Giza. I never cease to be amazed that these mind-blowing, architecturally perfect structures were built 4,500 years ago. There is something utterly sublime about the pyramids, leaving me with the conviction there's an ancient mystery crying out to be solved.
What's the biggest tourist trap? Is there a tourist trap that's actually worth seeing?
Khan Al-Khalili, Cairo's main souq, or market, is the closest thing to a tourist trap. But it is also the heart of Fatimid Cairo, with some of the best examples of medieval Islamic architecture on Earth. There are hundreds of tourist shops where you will be invited in "just to look" and for a cup of tea, but in general Egyptians try the soft approach to trap the tourists. So my advice is go ahead, allow yourself to be trapped. It's all part of the experience.
Where was your most memorable meal?
Not a meal per say. Back in early 1981, I was traveling with some friends by rail from Luxor to Aswan in Upper Egypt when the train stopped, without explanation, for hours next to another train full of sugar cane. Everyone in our car reached over and grabbed the long stalks, stripped off their outer covering and chewed on the stuff, for hours, spitting the pulp on the floor. By the time the train started moving again, everyone was on a massive sugar high, the floor of the car a soggy mat of pulp half a metre deep.
Where's your favorite place to spend a night out on the town?
The island of Zamalek, in the middle of the city. It boasts almost all Cairo's best bars and restaurants, and a few wild clubs I haven't been to in years. And closing times are optional.
Are there local specialty dishes or drinks that visitors must try?
Unlike the food in places like Lebanon and Syria, where a meal is composed of dozens of dainty dishes to slowly sample as you sip Œaraq, the local firewater, Egyptian cuisine is strictly working class. My favourite food-for-the-masses is kushari, a blend of lentils, pasta and chickpeas, topped with fried onions and hot sauce. It's wholesome, filling and a small bucket will put you back just three Egyptian pounds -- just over 50 cents.
Otherwise there are two other favourites: fuul and ta'amiya.
Fuul, often referred to as "reinforced concrete," is a faba bean puree mixed with garlic, oil and salt. You can get a fuul sandwich, with a plate of pickles on the side, for one Egyptian pound. But keep in mind the following bit of Egyptian folk wisdom: fuul is breakfast for the prince, lunch for the poor, dinner for the donkey (it rhymes in Arabic). This stuff sticks to your ribs and can make you drowsy, so unless you're going to take a nap, drink some tea or coffee with your fuul.
Ta'amiya, deep fried balls of ground faba beans mixed with spices, is often eaten with fuul, and like fuul, will set you back a pound. I'm getting hungry just writing this.
What is a good local souvenir?
There are all sorts of souvenirs available in Egypt. Don't forget, tourism here is almost as old as the pyramids, so you will not lack for choices. The souvenir I have always wanted to buy, but never gotten around to, is a pair of life-size Pharaonic guards holding spears. I will post them outside my front door to ward off evil spirits.