STORY HIGHLIGHTS
NEW: About 5,000 flights took place Sunday in European airspace
NEW: German airspace will remain closed until 2 p.m. (8 a.m. ET) Monday
NEW: Restrictions across Britain remain in effect until at least 7 p.m. (2 p.m. ET) Monday
Test flights show "no impact" from ash on European Union air space, official says
(CNN) -- Here are the latest highlights regarding problems for air travel caused by the volcanic eruption in Iceland.
Hopeful results from test flights
-- If the ash cloud continues "moving as it moves, then tomorrow almost 50 percent of European [Union] space will be risk free," EU Transport Commissioner Siim Kallas said.
-- Results of test flights show "there's no impact" in European Union air space from the volcanic ash that has disrupted air travel this week, according to EU Secretary of State Diego Lopez Garrido.
-- A spokeswoman for KLM -- one of the airlines that conducted test flights -- told CNN the flights show European air space is safe with the exception of Iceland.
-- About 5,000 flights took place Sunday in European airspace, according to traffic authority Eurocontrol. About 24,000 flights happen on most Sundays.
Calling in the Royal Navy?
-- The British government says it is looking at whether to call in the Royal Navy to help people stranded by the current travel crisis. The government says that work will take place overnight to see what military and commercial vessels are available for possible deployment to help people cross the English Channel.
Some airports reopening, if only temporarily
Airports in several northern European nations Sunday were reopening or planning to, because of favorable weather conditions.

Video: How long will delays last?

Video: 'Search terms' for stranded travelers

Video: Can't fly home, so she marched in Paris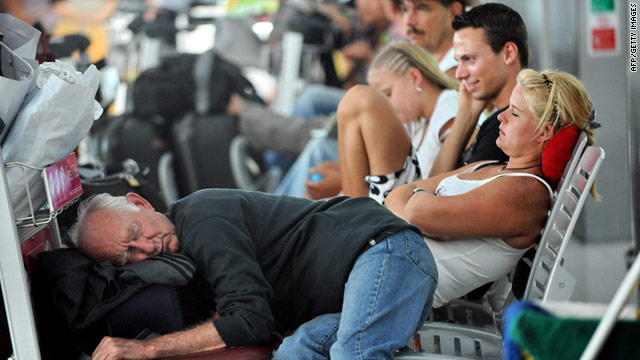 Gallery: Volcano ash causes travel chaos
-- The Italian Civil Aviation Authority (ENAC) will re-open the entire Italian air space to all flights beginning at 7 a.m. (1 a.m. ET) Monday.
-- France is reopening airports in Toulouse, Montpellier, Pau, Tarbes, Biarritz, Bordeaux, Nice and Marseilles until at least 3 p.m. (9 a.m. ET) Monday.
-- Six German airports -- Hannover, Leipzig, Erfurt, Berlin Tegel, Frankfurt-Hahn and Berlin Schoenefeld -- are open Sunday from 4 p.m. to 8 p.m. (10 a.m. to 2 p.m. ET), because the "weather situation is such that there is a hole which allows this to happen," said Kristina Kelek, spokeswoman for the German flight safety authority.
-- All 16 airports that were closed in Spain were scheduled to reopen at 3:30 p.m. Sunday (9:30 a.m. ET) -- several hours earlier than previously expected, the government announced.
Many remain closed
-- Restrictions across British air space will remain in effect until at least 7 p.m. (2 p.m. ET) Monday.
-- German air space will remain closed until 2 p.m. (8 a.m. ET) Monday.
-- There will be no flights in Danish airspace before 2 p.m. (8 a.m. ET) Monday.
-- Scandinavian airline SAS canceled all flights over north European air space on Sunday and Monday. It said a few domestic flights will operate in Norway. Flights departing from the United States on Sunday are not canceled but may be rerouted to Norway.
-- There are restrictions on civil flights across most of northern and central Europe. This swath includes Austria, Belgium, Croatia, the Czech Republic, Denmark, Estonia, Finland, most of France, Germany, Hungary, Ireland, northern Italy, the Netherlands, Norway, Poland, Romania, Serbia, Slovenia, Slovakia, Sweden, Switzerland, Ukraine and the United Kingdom.
-- Upper air space has been made available in some of these restricted areas, depending on the observed and forecast area of ash contamination, air traffic officials said.
Are you stranded because of flight issues? Share your story with CNN
-- British airport operating company BAA warned passengers not to travel to its airports -- Heathrow, Stansted, Southampton, Edinburgh, Glasgow and Aberdeen. British Airways canceled all flights in and out of London on Sunday and Monday, the airline announced.
-- Ireland extended its air space closure through 1 p.m. local time (8 a.m. ET) on Monday and said restrictions past then were "likely" in light of current weather forecasts. Irish budget carrier Ryanair canceled all flights to northern European destinations and Milan, Italy, until Monday.
-- Switzerland is not permitting flights before 2 p.m. local time (8 a.m. ET) Monday, the government said.
-- There will be no flights in or out of Finnish airports before 6 p.m. local time (11 a.m. ET) on Monday.
-- Swedish air space is closed until further notice.
-- There will be no flights in Danish air space before 2 a.m. local time on Monday (8 p.m. Sunday night ET).
-- Air China and China Southern Airlines, the nation's two major international flight operators, said Sunday they have canceled the majority of their flights to Europe.
-- In France, Paris' Charles de Gaulle and Orly airports will remain closed until 8 a.m. local time Monday (2 a.m. ET) by order of the French Civil Aviation, Air France said on its Web site late Saturday. Meteorological conditions permitting, Air France said it will operate three flights out of Toulouse on Sunday, bound for Pointe-a-Pitre, Guadeloupe; Montreal, Quebec; and Fort-de-France, Martinique.
-- Lufthansa has extended its flight cancellations until 8 p.m. Sunday German time (2 p.m. ET).
-- Parts of southern Europe, including the southern Balkan area, southern Italy, Bulgaria, Greece and Turkey remain open and flights are taking place in these areas, the officials said.
-- Russia's 10 international airports, including Moscow and St. Petersburg, are all experiencing flight delays or cancellations because of the ash, the Russian Transport Ministry said. Russian national railway company RZHD said it has added extra cars to trains running between Europe and Russia.
-- Australian airline Qantas canceled all flights Saturday to and from London, England, and Frankfurt, Germany, its only two European destinations. Further cancellations are likely, the airline said.