STORY HIGHLIGHTS
British Airways flight from Vancouver, British Columbia, lands at Heathrow airport
All other British airports will reopen at 10 p.m., transport secretary says
25 British Airways flights headed to London, will go elsewhere if ash is a problem
Eruptions are weakening, but volcanic ash already in the air is still headed toward Britain
CNN's Gary Tuchman reports live from the scene in Iceland, where a volcano is creating a travel nightmare. Tune into "AC360," 10 ET on CNN.
London, England (CNN) -- A British Airways flight from Vancouver, British Columbia, landed at London's Heathrow airport late Tuesday, the first commercial airliner to do so in five days after ash from a volcano in Iceland disrupted air travel across Europe.
Passengers aboard British Airways Flight 084 broke out in applause as the plane landed shortly before 10 p.m. (5 p.m. ET), just over an hour after Britain's Civil Aviation Authority announced that it would reopen British airspace.
No commercial flight had landed at Heathrow, one of the busiest airports in the world, since Thursday afternoon. All other British airports were also set to reopen at 10 p.m., Transport Secretary Lord Andrew Adonis said after the aviation authority's announcement.
Airspace will reopen in phases, and some "no-fly zones" will remain in place where concentrations of ash are at unsafe levels, the CAA said. The restrictions, however, will be much less than what commercial airliners faced in the past week.
NATS, the country's air traffic control agency, issued a statement late Tuesday saying that most restrictions on British airspace had been lifted "with the exception of an area over the northwest of Scotland which continues to be affected by a dense concentration of volcanic ash."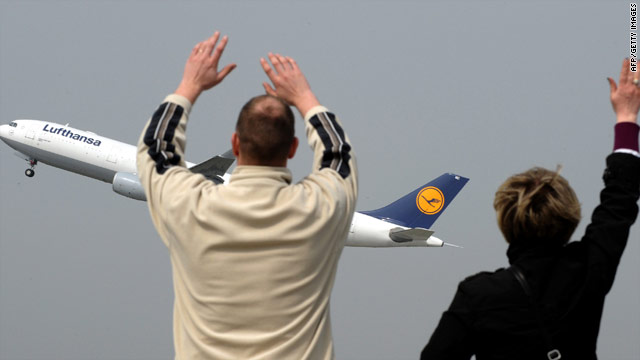 Video: Rare flight amid ash disruption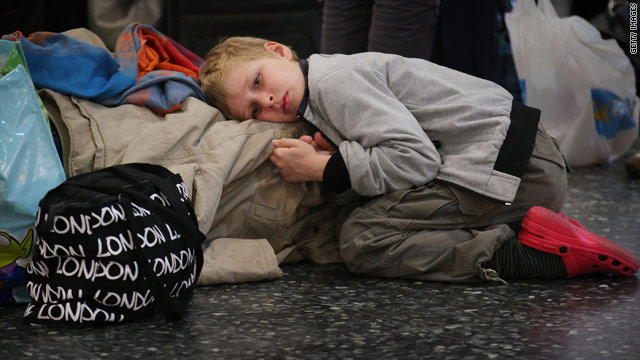 Video: Ash clouds British travel picture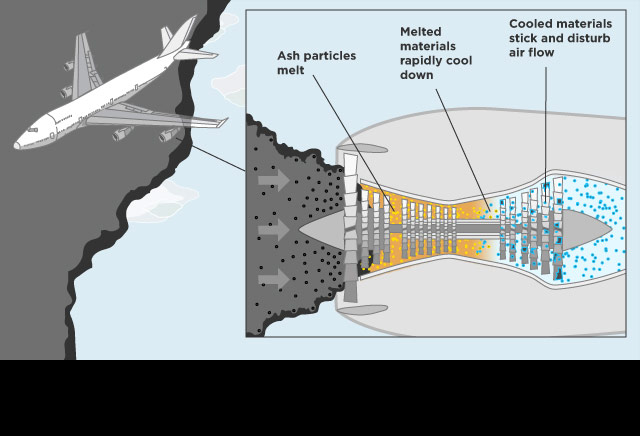 Explainer: How ash affects aircraft engines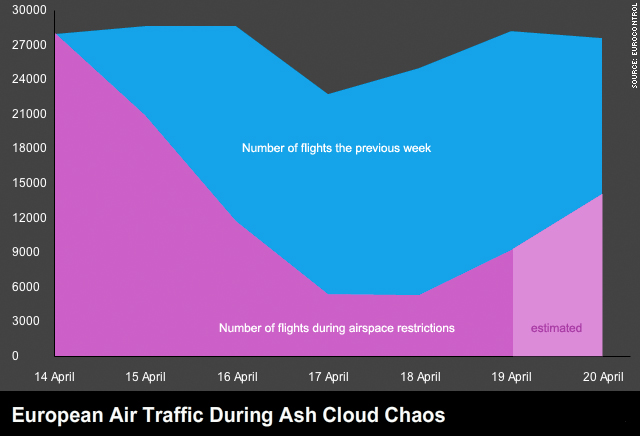 Flight cancellations
The flight from Vancouver was one of more than two dozen British Airways flights already in the air bound for London when the CAA announcement was made.
They took off hoping there would be a window of opportunity to land the planes at Heathrow or Gatwick airports, a company representative said.
The 25 planes took off from the West Coast of the United States, Africa, India and other locations in Asia. A 26th plane that had hoped to reach London was sent to Brussels, Belgium, instead, British Airways said.
"We are very pleased that the aviation authorities have opened U.K. airspace to enable us to begin in earnest the task of bringing our stranded customers home," British Airways said in a statement.
But the airline warned it would take "some considerable time" before it can get its full schedule back on track.
The airline said it hopes to operate all long-haul flights out of Heathrow and Gatwick airports by Wednesday.
"This will help to get more aircraft, pilots and cabin crew back who are currently in the United Kingdom out to cities around the world to help customers still awaiting a flight," BA said.
Eruptions from the Eyjafjallajokull volcano are weakening, authorities in Iceland reported, but volcanic ash already in the air continued to blow toward Britain.
The decision to reopen airspace came after the CAA issued new guidance on the massive ash cloud snarling air traffic.
Data analysis and testing of flights through the ash cloud determined that aircraft have a higher tolerance to low-density ash levels than previously thought, allowing for the reopening of airspace, the CAA said.
Elsewhere, half of all Europe's flights were back in the air Tuesday.
Latest air travel developments
About 14,000 flights were expected to operate in European airspace Tuesday -- half of scheduled air traffic, according to Eurocontrol, the intergovernmental body that manages European air travel. Two-thirds of scheduled flights were canceled Monday, and nearly 80 percent did not fly over the weekend.
Flights on Monday were restricted to those above 20,000 feet, Eurocontrol said. Lower airspace is closed or severely restricted across Europe, it said.
Planes were back in the air in France, Germany and Italy. Around 75 percent of scheduled flights were expected from France's two main airports: Charles de Gaulle and Orly, French Minister for Ecology Jean-Louis Borloo told French radio network RTL.
Germany's air authority, DFS, allowed flights to take off and land in German airports at low altitude under visual flight rules to reduce the risk of damage to airline instruments. The country's main carrier, Lufthansa, said it hoped to operate as many as 330 flights, including some long-haul flights, Tuesday.
Italy has reopened its airspace nationwide, the Italian aviation authority ENAC announced.
While airports were open in Spain, the ban on flying in British airspace left thousands of Britons trapped there. A British Navy vessel, HMS Albion, was dispatched to pick up 300 civilians from Santander, Spain, along with hundreds of British military personnel who were returning from Afghanistan, Britain's Ministry of Defense said.
Is your government doing enough to help stranded travelers?
Some countries opened their airspace to travel, while keeping airports closed.
Norway opened part of its airspace near Bergen briefly Tuesday and predicted Gardermoen, just north of Oslo, would be open all day, the country's air traffic control service AVINOR said.
Meanwhile, Finland confirmed that all Finnish airports would remain closed until 9 a.m. (2 a.m. ET) Wednesday.
Would you be afraid to fly through the ash cloud?
Meteorologist Derrick Ryall of the Met Office in London said there is no "defined safe limit" for volcanic ash.
"No one has said what a safe limit for aircraft is, so therefore it's very difficult for these judgments to be made
--Derrick Ryall, meteorologist
"No one has said what a safe limit for aircraft is, so therefore it's very difficult for these judgments to be made," he said.
We really need to work out what the minimum ash concentration is ... for safe flight. We need to establish what that is, because if we don't, we can expect to see repeats of this sort of disruption," said Simon Day, a volcanologist at University College London.
Since the volcanic eruption worsened last week, sending an ash cloud into the skies, airlines have been losing at least $200 million a day, according to the International Air Transport Association, the trade group representing airlines.
Airports had lost close to 136 million euros ($184 million) as of Sunday, said Olivier Jankovec, director general of Airports Council International, Europe.
Tell us your stories -- send videos, photos
More than 6.8 million passengers had been affected, Jankovec said in a statement, adding that the effect is worse than after the September 11, 2001, terrorist attacks on the United States.
Thousands of people have been living in airports.
"I have been living out of my carry-on for five days," said Paulo Wu, stranded in Amsterdam, Netherlands.
After two nights sleeping on a cot at the airport, he was able to get into a hotel with an actual bed, he said.
"I have no bags. My bags are somewhere, I think, at the airport. I just have my carry-on," he said.