STORY HIGHLIGHTS
Airspace over UK, Denmark, Norway, Belgium, Ireland, Sweden, Germany reopens
Airport in Helsinki, Finland, briefly open Wednesday but then closed again
Budget carrier Ryanair indicates it does not plan to pay compensation to passengers
London, England (CNN) -- Airports across Europe began reopening Wednesday, six days after ash from an Icelandic volcano forced the shutdown of airspace and stranded thousands of passengers around the world.
The airspace over most of the United Kingdom, Denmark, Norway, Belgium, Ireland, Sweden and Germany was open again, air traffic authorities said.
The airport in Helsinki, Finland, was briefly open on Wednesday but then closed again, airport officials said.
Latest air travel developments
A British Airways flight from Vancouver was the first to land at Heathrow Airport late Tuesday, and a total of 25 mostly long-haul flights had landed by morning, the airport said. There were a handful of takeoffs Wednesday morning, but the airport warned that not all flights would operate right away.
Manchester Airport said flights were both taking off and landing Wednesday. That raised hope for a team of British cheerleaders who were trying to fly Wednesday from Manchester to Florida for the world cheerleading championship this week, though team member Georgina Evett said she wasn't holding her breath just yet.

Video: UK airports re-open

Video: British airport reopens

Video: German flights resume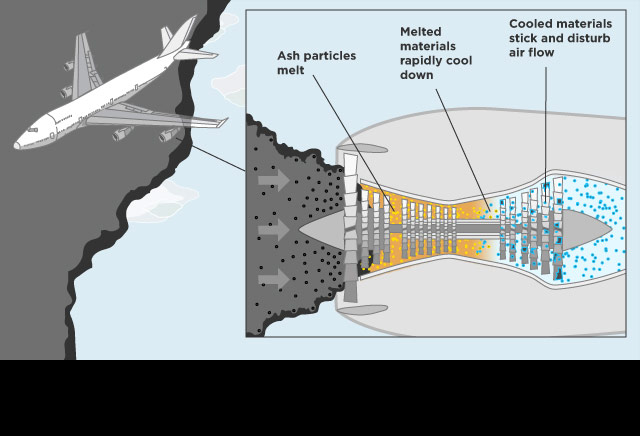 Explainer: How ash affects aircraft engines
"I think when we land down in America, then we'll know we're there. But at the minute, we're a bit cautious," Evett said.
Passengers arriving on the Vancouver flight to Heathrow late Tuesday said they circled over Ireland for a couple of hours before getting approval to land in London, which prompted a big cheer in the cabin.
Tell us your stories -- send videos, photos
"It was pretty harrowing," said one woman who was aboard the flight. She said she had a "dizzy, kind of sickly feeling" in her stomach as they circled.
The closure of so much European airspace for nearly a week left untold numbers of travelers stranded, and it's not clear how long it will take to get everyone home. Many airlines added or rearranged flights to try to clear the backlog.
The crisis set off a surge of emergency requests from stranded Americans, prompting the U.S. State Department to scramble to arrange everything from dialysis treatment to housing.
"In Berlin today, consular officers assisted a group of U.S. citizens and concentration camp survivors who had been forced to change hotels in Munich," State Department spokesman P.J. Crowley said Wednesday.
"The consulate helped more than 100 high school students find temporary lodging."
U.S. officials helped arrange dialysis for an elderly patient in Frankfurt, Germany, "and gave emergency power of attorney to stranded citizens that would allow them to complete business deals in the United States," Crowley said.
At its peak, the crisis affected 1.2 million passengers a day and 29 percent of all global aviation, according to the International Air Transport Association.
"The scale of the crisis eclipsed 9/11 when U.S. airspace was closed for three days," said IATA Director-General and Chief Executive Giovanni Bisignani.
The British government scrapped plans to make the Madrid, Spain, airport a hub for stranded British travelers. It said any British citizens who have been unable to return home because of travel restrictions should now contact their airlines for the latest advice on available flights.
British Embassy staff are at the Madrid airport, as well as the Calais, France, ferry terminal, to assist any travelers who went there before British airspace was reopened, the government said.
Airlines face financial headaches as well as logistical ones.
Budget carrier Ryanair indicated Wednesday it does not plan to pay compensation to passengers other than lost ticket costs.
Ryanair will "consider all passenger receipts for reimbursement of reasonable receipted expenses over the past week," Ryanair chief executive Michael O'Leary said in a written statement.
But, he added, reimbursement "will be limited ... to the original fare paid by each passenger."
The European Union's top official for transport had said Monday that airlines were responsible for taking care of passengers while they were stranded. They have "the right to care -- that means food, drink, and accommodation as appropriate," European Commissioner Siim Kallas said.
Matthew Bath of the consumer magazine Which Holiday said, "If you're an EU carrier, and you're carrying a passenger and they are stranded, and they complete that flight with you, you have to pick up the bill for" any reasonable cost, he said.
"Ryanair signed up to fly in Europe. Well, they are responsible for those out-of-pocket costs. There's no argument about that," he said, advising passengers to check with their airlines to see what is covered.
"Obviously it is bad news for the airlines and it is not the airlines' fault that a volcano erupted, but the regulations are the regulations. It's the law," Bath said.
IATA estimated Wednesday that the Icelandic volcano crisis cost airlines more than $1.7 billion in lost revenue through Tuesday. Between Saturday and Monday, when disruptions were greatest, IATA said lost revenues reached $400 million each day.
The crisis began after the volcano beneath the Eyjafjallajokull glacier erupted Wednesday and sent a cloud of ash into the atmosphere. By the next day that cloud had reached Europe, where authorities quickly closed the airspace because of safety fears.
Volcanic ash can shut down engines and electrical systems and damage a plane's windscreen.
By Tuesday, however, airlines had started to complain that the measures were too restrictive. Ash levels in most parts of Europe, they said, were low enough to allow the safe operation of flights.
Scientists in Iceland said Wednesday the volcano had decreased its ash output by 80 percent compared to the first day of eruption, April 14. Armann Hoskuldsson, a volcanologist at the University of Iceland, told a briefing that the volcano's output is now "insignificant," though it will continue to be active for a while.
That reduction in volcanic activity appeared to be the main reason that flights resumed operating in Europe on Wednesday, along with European countries relaxing their restrictions on flight, according to a spokeswoman for Eurocontrol, the intergovernmental body that manages European air travel.
In Britain, the Civil Aviation Authority (CAA) issued revised guidance on flying through volcano ash clouds, allowing airlines to conduct their own risk assessments and requiring them to report any ash damage to the authorities.
The 27 countries of the European Union also agreed with Eurocontrol to split the airspace into zones based on their ash content and to allow flights in the unaffected areas, said Spanish Minister of Public Works Jose Blanco.
"Airspace was being closed based on theoretical models, not on facts," said Bisignani, of IATA. "Test flights by our members showed that the models were wrong."
He said the EU's decision to categorize airspace based on risk was a "step in the right direction," but Europe still needs uniform rules on air travel to avoid a repeat of the chaos of the past week.
The Daily Telegraph newspaper in London ran a banner headline asking, "Why was ban ever imposed?" British Airways Chief Executive Willie Walsh, who had pushed for airlines to be allowed to fly, told Sky News that lessons could be learned about how the situation was handled, and that authorities should sit down and examine "what could have been done better."
However, NATS, the air traffic authority in Britain, said it is confident it had made the right decision in restricting flights.
"The primary concern for all the people involved -- the regulator, the government, and NATS -- has been to ensure flight safety," NATS Senior Manager Alex Bristol said. "Until such time as we had evidence to give us different assurances, then the regulations which existed, and which we were using eight days ago ... then we had to restrict the airspace, and we did the right things."
CNN's Charley Keyes contributed to this report.