STORY HIGHLIGHTS
Eight strangers run three days across Panama's remote jungle and beaches
Adventure racing -- "Survivor" meets "Amazing Race" -- is a popular way to explore exotic locales
TCC Island Run is a bargain compared with other events in the sport
Bocas del Drago, Panama (CNN) -- There's no surer sign you're running a different kind of race than when there's a Boa constrictor blocking the course.
It was mid-April, and I had come to Bocas del Drago, a Central American island about an hour's flight from Panama City to run for three days through a muddy jungle. And I paid to do this. $800. A bargain, actually, in the world of adventure racing, a sport defined by its unpredictable courses and exotic locales. Evoking your inner Bear Grylls during these events can run thousands of dollars.
I found the Coastal Challenge Island Run in a Google search, as did an ER doc from Miami, an equity analyst from Denver, a reporter from Mexico City, a couple from New Jersey, a business adviser from Atlanta and a cardiologist from Pennsylvania.
And now here we were in a cluster at the starting line, a dirt trail lined with mangrove and banana trees. The sun hadn't been up for more than a few hours, and it was boiling.
And it was loud. I looked up in the direction of the island's howler monkeys, hysterical mounds of black fur, swinging from branches, screeching at us.

Video: Adventure racing in Panama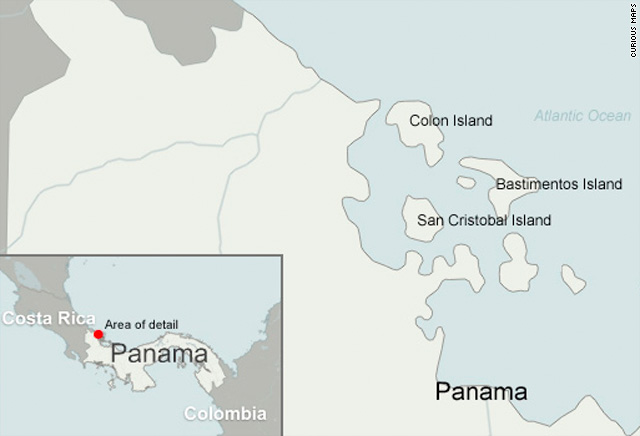 Map: Coastal Challenge Island Run
On the dirt road ahead, a village boy, maybe 7, stood barefoot and shirtless, staring, smiling, curious what these odd-looking Americans were about to do. I'd seen him the previous night, after we'd arrived by fishing boat, his shy face hiding behind his aunt's red and white patch-work dress.
The boy's family, one of the few clans who live in Drago, had greeted us by performing a tamborito, or traditional Panamanian folk dance, after we ate a pre-race meal of patacones, coconut rice and fish at the island's only restaurant, a no-shirt, no-shoes spot perfectly situated for an after-dinner swim. Or maybe a rinse.
There will be mud, a lot of mud, race director Tim Holmstrom repeatedly warned. Tie your shoes, or you'll lose them, said Holmstrom, who has adventure raced from Morocco to Costa Rica.
Follow the orange ribbons, watch out for snakes
Holmstrom began a count-down -- "three, two, one." Within five strides of hearing "go!," we ran down an embankment and were shin-deep in mud.
I negotiated every step, trying not to twist my ankle as I ran along the narrow trail, along foot-wide logs and over bulbous stumps and thick roots that twisted along the path. Everyone kept an eye out for orange ribbons tied to trees that designated the route. Miss a ribbon, and you're lost.
I took a drag off my CamelBak, my only source of water for the next three hours. The race's only "aid station" that offered watermelon and Gatorade seemed like a mirage, tucked in the middle of a deserted beach that looked like a "Lost" set.
I ate and gulped and climbed on top of a boulder-size rock chutes not far from one of the island's natural spring caves for a short rest. While I stopped again a mile ahead, snapping a picture of a blue crab and a farmer's gray stallion tied to a tree on a dirt road, David Bassett, a lean 32-year-old equity analyst, was far ahead.
Bassett quickly made it into El Tigre, the first indigenous village of many we ran through. Barefoot kids and men in overalls and work boots hospitably ran alongside. He jogged past an emaciated cow, waded through thigh-deep water, dodged wild pigs, climbed over mossy boulder-huge reefs and carefully avoided the islands' tiny red poisonous frogs (if you don't mess with them, they don't mess with you). He had emerged onto miles of deserted crystalline beaches and, following the orange ribbons, ducked back into the jungle.
He managed to see the Boa constrictor winding out into the running path before tripping over it.
"There it was right in front of me, keeping absolutely still. I was in awe for a few moments," said Bassett, the classic adventure racer who never forgets the experience is a competition, even if it's only a challenge to yourself.
"The clock doesn't pause for snakes on a trail," he said.
Watch Bassett run up on the Boa
Avoid the ouch, prepare
I was, however, ready to pause. It's embarrassing for me to admit that running 16 miles was hard. That might sound ridiculous to some, but there are thousands of people who run that distance several times a week. I am one of those people -- but I tend to run on flat roads or a treadmill. So I never really appreciated that 16 miles in blistering heat through knee-high mud, charging up and down hills and constantly picking my feet up whip-fast so I didn't break my leg was going to be just as tiring as running a marathon. And I had two days and 20 miles to go.
Many adventure races give competitors time to relax. While our mornings were busy running through more jungle and beaches, afternoons and evenings were spent drinking Balboa beer and swimming in the ocean.
We were taken by catamaran (for a few dollars, the acceptable currency in Panama) to snorkel off Zapata Island, a coral platform inside the Bastimentos Island National Marine Park filled with starfish, sponges, gorgonians, fish and morey eels. We spent a night in a Robinson Crusoe-inspired thatched bungalows at Al Natural Resort on the eastern shores of Bastimentos Island after savoring wine and a chef-prepared meal of freshly caught fish.
I never felt spoiled about the momentary luxury. We were obliging a tenet of adventure racing: be a traveler who prefers the dirty back roads that lead to locals. There were no tourist traps where we ran; we were jumping over fences and into villagers' farms, giving their cows, pigs and baby goats a good scare.
Holmstrom and other race organizers -- a few from the area -- had scouted all our running paths, developed relationships with villagers and told them days ahead that we were coming.
As they had on the past two days, San Cristobal's barefoot children dashed several strides ahead of us. I stopped trying to keep up and stopped for a few minutes to eat cocoa beans a woman was harvesting on a steaming corrugated tin platform outside her hut. It was the energy I needed to run the last mile, finishing near a field where village boys had started their daily after-school baseball game.
We spent an hour in the village, the San Cristobal kids excited to wear our race numbers. I gave into their pleas to eat my mostly melted chocolate Odwalla bar. Before we left by boat, at the urging of race officials, we donated anything in our bags we didn't want -- T-shirts, jackets and running shoes.
I spent that evening at Caracol Aqua Resort, a postcard of a place. I snorkeled, read and dozed in the sun. From my deck, which jutted out to the middle of the azure water, I watched a barracuda chase a tuna. It was nice, for the first time in days, to see something else moving fast.