Budget airline unveils ash cloud detector
STORY HIGHLIGHTS
Infrared cameras will allow pilots to detect ash up to 62 miles (100 km) ahead, says maker
Technology uses the same principles as aircraft weather radar detecting storms
The system was developed by Dr Fred Prata of the Norwegian Institute for Air Research
Volcanic ash reduces visibility, can lead to engine failure
London, England (CNN) -- British budget airline easyJet unveiled a volcanic ash detector on Friday that it says will allow aircraft to safely navigate around potentially lethal ash clouds.
The system uses tiny infrared cameras mounted on the tail wings that will allow pilots to detect atmospheric ash up to 62 miles (100 km) ahead and at altitudes between 5,000ft and 50,000ft, its makers say.
Data from the infrared sensors would also be sent to flight control centers, allowing ground staff to build up a detailed 3D map of atmospheric ash, says easyJet.
The technology employs similar principles to aircraft storm-detecting weather radar and has the potential to help lessen the large scale disruption experienced by the commercial aviation industry when the Icelandic volcano Eyjafjallajokull erupted in April.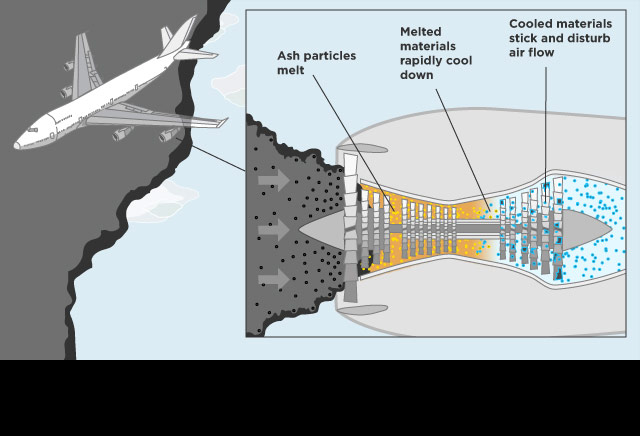 Explainer: How ash affects aircraft engines
Volcanic ash can be a serious hazard to aircraft, reducing visibility, damaging flight controls and ultimately causing jet engines to fail.
The new system -- dubbed the Airborne Volcanic Object Identifier and Detector (AVOID) - was developed by Dr Fred Prata of the Norwegian Institute for Air Research and has the backing of the British Civil Aviation Authority (CAA).
A CAA spokesman told CNN: "This is what we have been calling for, we're not allowed to endorse products but we will back the certification for this. It is a very minor modification to aircraft and realistically it should be a straightforward matter to get certification."
Final certification will come from the Cologne-based European Aviation Safety Agency (EASA).
The first test flight will be conducted by Airbus on behalf of easyJet within the next two months using an Airbus 340. EasyJet says the testing and initial installation will cost about £1 million and that it wants the technology to be available to all commercial airlines.
The airline says 215,000 of its passengers had their flight plans affected because of the Icelandic volcano, which also cost it £75 million.
EasyJet Chief Executive Andy Harrison said in a written statement: "This pioneering technology is the silver bullet that will make large-scale ash disruption history. The ash detector will enable our aircraft to see and avoid the ash cloud, just like airborne weather radars and weather maps make thunderstorms visible."
Andrew Haines, Chief Executive of the CAA said in a written statement: "It is essential that the aviation community works together to develop solutions to minimize disruption, should ash return. The CAA welcomes the fact that airlines are considering innovations such as this and we will do all we can to facilitate them."
Until recently jet engine manufacturers had stipulated a zero-ash tolerance for their engines, but this was changed in the aftermath of the Icelandic eruption when European aviation regulators, after consultation with manufacturers, introduced new measures that let planes fly at higher ash densities.
FOLLOW THIS TOPIC


Part of complete coverage on

The current travel chaos is not the first time an Icelandic volcano has impacted the world, explains a scientist.

Here are some common questions and answers about the ash cloud crisis.

Aviation safety officials in Europe defend the closure of parts of the continent's airspace for six days.

However you pronounce it, Eyjafjallajokull is proving difficult for the world's English speakers.


Today's five most popular stories