STORY HIGHLIGHTS
Couple quit their jobs and decided to sail around the Caribbean
"People thought we were crazy," Ann Vanderhoof says
She and her husband live on the boat most of every year; come back during hurricane season
They feast on local dishes like curried crab and dumplings, explore local culture
(CNN) -- Sitting in mind-numbing traffic, dealing with another deadline at work, feeling stuck in a concrete city, you may start hearing that little voice that says, "Wouldn't it be nice to quit your job and go sailing around the Caribbean?"
Meet a couple who did just that.
Ann Vanderhoof and her husband, Steve Manley, interrupted their careers in 1997 -- she was a magazine editor and he was an art director -- and took off for two years to sail around the Caribbean.
Reflecting their love of food, the couple called their 42-foot sailboat Receta -- the Spanish word for "recipe" -- and their dinghy Snack.
In 2006, they took off again -- a journey that's ongoing and chronicled in Vanderhoof's new book, "The Spice Necklace."
The couple lives on the boat most of every year, coming back to Toronto, Ontario -- their home base -- for a few months during hurricane season.
While sailing, they get to see a Caribbean few resort-bound tourists ever do. They also feast on local dishes like curried crab and dumplings, seacat (the West Indian term for octopus), and torments of love (pastries filled with coconut jam).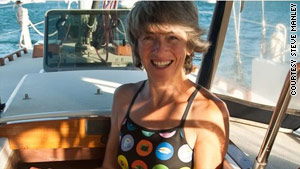 Ann Vanderhoof on board her sailboat Receta in the Caribbean.
Then there's the rum, banana wine and Saba Spice ("an eye-crossing" fennel-flavored liqueur based on 151-proof rum, Vanderhoof writes) to keep things interesting.
Vanderhoof recently talked about her experiences with CNN.com. The following is an edited version of that interview:
CNN: What made you interested in sailing?
Ann Vanderhoof: I met Steve, my husband, and he was a sailor. I had never been on a sailboat and he would take me out and I absolutely loved it.
But I had no interest beyond that.
One cold winter night in Toronto, I came home from the office complaining about the weather, complaining about the deadlines and Steve jokingly said, "Why don't we just sail south?" That planted the seed of an idea and it grew and grew until we finally decided it was better to take the risk and go than forever think, "Oh gee, what if we had done that?"
CNN: You quit your jobs?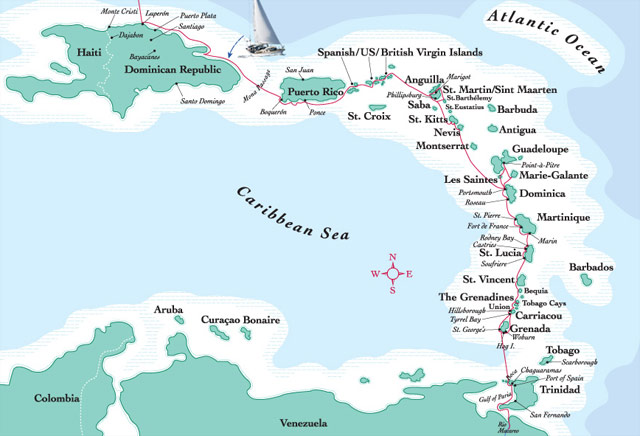 Map: Receta's route
Vanderhoof: Yes, I'm afraid we did. We quit our jobs, we put our house up for rent and our belongings into storage and moved on board the sailboat with very few possessions.
CNN: How hard was the decision to quit your jobs?
Vanderhoof: It was extremely difficult because we both had terrific jobs that we loved. People thought we were crazy.
CNN: For most people the biggest obstacle would be the money. How do you make a living?
Vanderhoof: We set a five-year plan to see if we could save the money for the [first] two years away and pay down the mortgage on our house so that it could be rented out and make some income for us while we were gone. We really set a savings plan and it worked for us.
We do some work, writing and editing on my side and Steve as well does some work from the boat.
I realize that not all professions allow that, but we've met in our travels software developers, computer programmers... [who] find that with the availability of wireless [access] that they can do business from the boat.
CNN: You're living everyone's dream. Is it as idyllic as it sounds?
Vanderhoof: People say that to me all the time and I have to say that this isn't like a two-week holiday, where you go to a resort and you're laying on the beach all the time and the palm trees are swaying. It's a lifestyle. Being on the boat requires constant maintenance.
Things are harder on a boat. For instance, to do some shopping could be the better part of a day.
But... if I were living on land where things were easy back in my house, I wouldn't have adventures like catching our own tuna for dinner and turning it into boat-made sushi a couple of hours later.
So, yes, there are wonderful, wonderful rewards.
CNN: What is your favorite island?
Vanderhoof: It's hard to pick a favorite. ... I have a very soft spot for Grenada, also for Trinidad, Carriacou, and others, including Dominica. For different reasons. Each place seems to have something special about it.
CNN: What does banana wine taste like?
Vanderhoof: How am I going to put this delicately: I don't think I would return for another bottle. Your first flash on it isn't banana, your first flash is kind of a sweet, almost sherry-like taste. But it's not like as if you were going to scent a banana or scent a banana extract.
CNN: Can you explain the importance of "liming" in Trinidad?
Vanderhoof: Liming means just kind of chilling out, kicking back, relaxing with friends, it usually involves good conversation, music and always food and drink.
One of the things that I learned when I left my job and left my old way of life behind is the importance of liming, the importance of relaxing and not running your life according to a schedule all the time.
I find that when I'm back in North America, Steve has to remind me to take time to lime.
CNN: You write that you had to get used to what you call "GMT" -- Grenada Maybe Time. What's that?
Vanderhoof: When someone says something is going to happen just now, we assumed that meant it was imminent. But that just means it's going to happen sometime soon and Grenada Maybe Time [means] things don't take place according to this same fixed time schedule. I wear a watch a whole lot less than I do when I'm back [in the city].
Things happen, but they happen a bit more slowly.
CNN: Many people who go to the Caribbean just go to the resorts. What do you wish they knew about the real Caribbean?
Vanderhoof: I wish they would, when they're at the resorts, take an opportunity to get outside that resort community and see something of the island. Since my love is food, I always suggest that people find out where the local market is, take an empty bag, and a pocket full of small change and go off and visit the market. They're often great places to buy real souvenirs, but also buy a bit of fruit, ask the person you're buying it from how to eat it.
CNN: What's your advice to people who want to escape to the Caribbean like you did?
Vanderhoof: I guess what I would say, without being flippant, is just do it.
We didn't want to find ourselves in the position of being -- 10 years from now -- looking at each other and saying we really wish we had done that.
Make a plan, even if it's a few years off ... then see how you can make that plan work. It may be you can carve out a year.
Don't view it as an impossible dream, see if there's a way you can make a plan and put it into action.
CNN: How long do you want to continue doing this?
Vanderhoof: As long as I can. Steve and I say to each other, we'd like to keep doing it for part of every year as we're doing now, as long as our health and our family situations and our finances permit.
FOLLOW THIS TOPIC