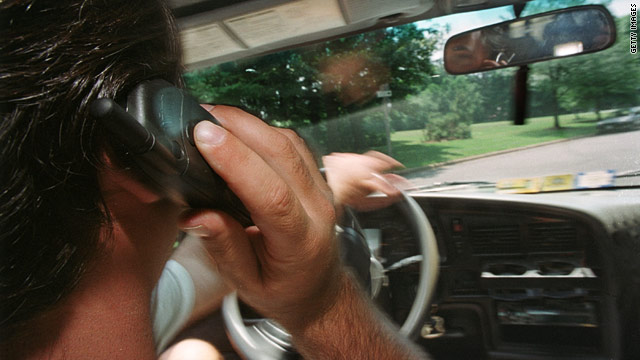 STORY HIGHLIGHTS
NEW: New regulations in place to prevent distracted driving
Study: Distracted driving was involved in 16 percent of traffic fatalities in 2009
The summit will look at ways to curb inattentive driving
Crashes linked to distracted driving kill 5,474 in 2009
Washington (CNN) -- Transportation Secretary Ray LaHood kicked off a summit on distracted driving Tuesday by announcing new regulations intended to prevent accidents involving drivers trying to text or talk on cell phones while operating a vehicle.
The regulations target drivers transporting hazardous materials, train operators and commercial truck and bus drivers. In addition, LaHood identified more than 550 U.S. companies -- employing 1.5 million people nationwide -- that have committed to enacting anti-distracted driving policies in the next year.
"We are taking action on a number of fronts to address the epidemic of distracted driving in America," LaHood said in a written statement. "With the help of the experts, policymakers, and safety advocates we've assembled here, we are going to do everything we can to put an end to distracted driving and save lives."
According to numbers released Monday, crashes linked to distracted driving claimed 5,474 lives and led to 448,000 injuries across the United States in 2009. That amounts to 16 percent of the traffic fatalities in 2009, the same percentage as in 2008, said the figures from the National Highway Safety Administration.
The proportion of fatalities associated with driver distraction has increased from 10 percent in 2005, the report says, and the greatest proportion of distracted drivers was in the under-20 age group.
The summit brought together leading transportation officials, safety advocates, law enforcement personnel, industry representatives, researchers and the family members of victims to address challenges and identify opportunities for national anti-distracted driving efforts, according to the transportation department.
LaHood announced he is starting the process of implementing new rules to prohibit commercial truck drivers from texting while transporting hazardous materials. In addition, LaHood said, two rules proposed at a distracted-driving summit last year have now become law, banning commercial bus and truck drivers from texting on the job and restricting train operators from using cell phones and other electronic devices.
The Department of Transportation also released initial results Tuesday on a pilot enforcement campaign operating in Hartford, Connecticut, and Syracuse, New York. Called "Phone in One Hand, Ticket in the Other," the figures showed a reduction in distracted driving behavior in both cities, according to a Transportation Department release.
In January, federal safety regulators proposed a set of guidelines for states to create laws that would ban text messaging while driving.
The proposed legislation, prepared by the traffic safety agency and industry advisers, would authorize law enforcement officers to stop a vehicle and issue a citation to drivers who are texting while driving.
Under the proposed guidelines, drivers caught typing on a handheld device while behind the wheel would face a minimum fine of $75 and unspecified action against their driving privileges. In cases resulting in serious injury or death, a driving while texting offense could be considered a felony.
Broad bans on texting behind the wheel have already been enacted in 30 states and the District of Columbia; 11 of those laws were passed this year. Eight other states have bans that apply only to novice drivers.
Regulators said texting is particularly dangerous because it distracts drivers in three ways: visually, manually and cognitively.
The sample state law is modeled on rules implemented last year directing federal employees not to engage in text messaging while driving government-owned vehicles or with government-owned equipment.
Under the new federal law, truck and bus drivers who text while driving commercial vehicles may be subject to civil or criminal penalties of up to $2,750.
CNN'S Ben Rooney contributed to this report.
FOLLOW THIS TOPIC