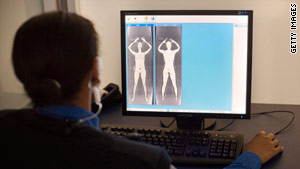 More than 60 airports are using body-scanning machines to screen passengers.
STORY HIGHLIGHTS
TSA: There are 400 scanning machines at 69 airports nationwide

About 24 million travelers are expected to fly over the Thanksgiving holiday

Many will bypass scanning, and the vast majority unlikely to be patted down

(CNN) -- Many Americans planning holiday travel have expressed concern -- even outrage -- over the the Transportation Security Administration's use of full-body scanning and enhanced pat-downs, but a large number of fliers are likely to bypass both screening procedures.
There are 400 full-body scanning machines at 69 airports nationwide, according to the TSA.
About 24 million air travelers are expected to fly over the Thanksgiving holiday period, according to the Air Transport Association of America, an airline trade group.
The group expects daily passenger volumes to range from 1.3 million to 2.5 million fliers. Certainly, some number of those will be asked to step into one of the full-body scanning machines. The rest will go through the metal detector lines as usual.
What do you think about the scanners, pat-downs?
Passengers in either line may be selected for additional screening, including the enhanced pat-down procedure that allows security officers of the same sex to touch sensitive areas of a passenger's body. Fliers who decline the optional full-body scan will receive alternative screening, including a thorough pat-down, according to the TSA.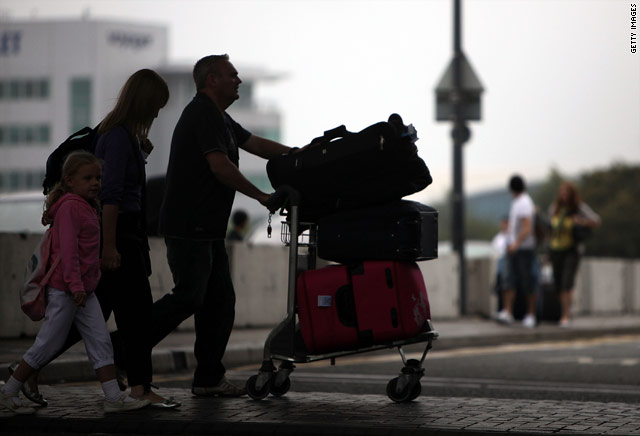 Travel tips: Surviving the airport crush
"It's important to remember that TSA screens nearly 2 million passengers daily and that very few passengers are required to receive a pat-down," according to a post on the TSA Blog.
The body-scanning machines use two separate means of creating images of passengers -- backscatter X-ray technology and millimeter-wave technology. About 190 backscatter machines have been installed in airports; the remainder are millimeter-wave machines.
The TSA website lists all the airports using advanced-imaging technology to screen passengers. The website does not specifiy which type of machine is used in each airport.
Airports that currently have imaging technology, according to the website:
• Albuquerque International Sunport Airport
• Hartsfield-Jackson Atlanta International Airport
• Baltimore/Washington International Thurgood Marshall Airport
• Boston Logan International Airport
• Houston's George Bush Interncontinental Airport
• Boise Airport
• Bradley International Airport
• Brownsville-South Padre Island Airport
• Buffalo Niagara International Airport
• Charlotte Douglas International Airport
• Chicago's O'Hare International Airport
• Cincinnati/Northern Kentucky International Airport
• Cleveland Hopkins International Airport
• Corpus Christi International Airport
• Dallas/Fort Worth International Airport
• Denver International Airport
• Detroit Metro Airport
• Dulles International Airport
• El Paso International Airport
• Fort Lauderdale-Hollywood International Airport
• Fort Wayne International Airport
• Fresno Yosemite International Airport
• Gulfport-Biloxi International Airport
• Grand Rapids, Michigan's Gerald R. Ford International Airport
• Harrisburg International Airport
• Valley International Airport in Harlingen, Texas
• Honolulu International Airport
• Indianapolis International Airport
• Jacksonville International Airport
• John F. Kennedy International Airport
• Kansas City International Airport
• LaGuardia Airport
• Lambert-St. Louis International Airport
• Laredo International Airport
• Lihue Airport
• Los Angeles International Airport
• San Juan Luis Muñoz Marín International Airport
• McAllen-Miller International Airport
• Las Vegas' McCarran International Airport
• Memphis International Airport
• Miami International Airport
• Milwaukee's General Mitchell Airport
• Mineta San José International Airport
• Minneapolis/St.Paul International Airport
• Nashville International Airport
• Newark Liberty International Airport
• Louis Armstrong New Orleans International Airport
• Oakland International Airport
• Omaha Eppley Field Airport
• Orlando International Airport
• Palm Beach International Airport
• Philadelphia International Airport
• Phoenix International Airport
• Pittsburgh International Airport
• Port Columbus International Airport
• Raleigh-Durham International Airport
• Richmond International Airport
• Greater Rochester International Airport
• Ronald Reagan Washington National Airport
• Salt Lake City International Airport
• San Antonio International Airport
• San Diego International Airport
• San Francisco International Airport
• Seattle-Tacoma International Airport
• Spokane International Airport
• T.F. Green Airport
• Tampa International Airport
• Tulsa International Airport
FOLLOW THIS TOPIC