Moscow-bound jet lands safely after engine trouble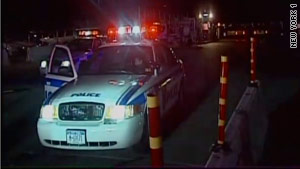 Authorities responded in large numbers to the flight emergency.
STORY HIGHLIGHTS
NEW: Another Delta flight suffers an apparent engine failure after departing Atlanta
The Delta flight from New York was headed for Russia
Its left engine automatically shut down, FAA says
193 passengers were aboard
New York (CNN) -- A Delta Air Lines flight to Russia made an emergency landing Sunday evening after encountering an engine problem shortly after takeoff from New York, the Federal Aviation Administration reported.
Delta Air Lines Flight 30 landed without incident at John F. Kennedy International Airport about 6 p.m. ET, roughly 50 minutes after takeoff, according to an airline statement.
The Moscow-bound Boeing 767 carrying 193 passengers and 11 crew members was forced to turn back after its left engine automatically shut down, FAA spokeswoman Holly Baker said.
Steve Abraham, the president of JFK's air traffic control office, spoke to the controller who handled the flight.
The controller described "what he thinks could have been a flame followed immediately by a good-sized plume of black smoke," Abraham told CNN.
But Baker said no fire was involved with the flight.
The incident occurred about a mile from the airport at an estimated altitude of 1,500 feet, Abraham said, adding that "the engine may have suffered a compressor stall," similar to a car backfiring.
The plane dumped fuel over the Atlantic Ocean before landing, Abraham said.
The flight's passengers were put on another jet scheduled to depart at 8 p.m. for the nearly 10-hour flight to Moscow.
Also Sunday, a Delta flight departing Atlanta, Georgia, was forced to return to Hartsfield-Jackson Airport after declaring an engine failure. The plane, also a Boeing 767, scraped its tail upon landing, according to the FAA, but taxied to the gate without assistance. There were no reports of injuries.
CNN's Susan Candiotti, Jessica Naziri and Greg Morrison contributed to this report.