STORY HIGHLIGHTS
NEW: New York airports expected to remain closed until 4 p.m. Monday
NEW: Amtrak resumes limited service between New York and Boston
NEW: Airlines cancel 2,000 flights, stranding thousands of passengers
The storm could dump as much as 30 inches of snow and include up to 80-mph gusts
iReport: Are you there? Send images, video
(CNN) -- Thousands of travelers spent the night camped out on airport floors and thousands more were stranded in hotel rooms and relatives' homes as blizzard conditions halted flights at New York's three major airports, slowed rail travel and continued to create treacherous conditions on roads throughout the East Coast on Monday.
The storm brought high winds -- in some cases as much as 80 miles per hour -- and blinding snow to much of the East Coast beginning Sunday. Some places were forecast to receive as much as 30 inches of snow overall. Blizzard warnings remained in effect through noon Monday for much of coastal New England.
Incoming and departing flights were suspended at New York's John F. Kennedy and LaGuardia airports Sunday night, as well as at Newark Liberty International Airport in neighboring north New Jersey, Port Authority spokeswoman Sara Joren said.
The airports are now not expected to reopen until 4 p.m. ET Monday, according to the Federal Aviation Administration.
Amtrak, which had canceled service between Boston and New York on Sunday, said Monday morning that it had resumed limited service between the two cities. But spokesman Cliff Cole warned that many trains may already be sold out.

Storm ruins holiday travel

Snow snarls traffic

What to do when your flight is canceled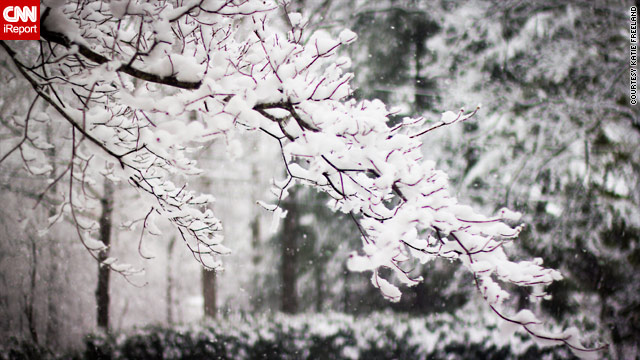 Gallery: iReporters shoot winter weather
The passenger train service's decision to cancel service on Sunday affected some 10,000 passengers.
Travel by road was also difficult. Emergency declarations were in place Monday in Virginia, Maryland and Massachusetts, among other places.
Connecticut Gov. M. Jodi Rell has asked people to stay off the state's roads unless absolutely necessary, said Peter Boynton, the commissioner of the Connecticut Department of Emergency Management.
"If you have to be on the road, of course, the rule of the day is take it slow," he said.
Airlines have canceled some 2,000 flights since the storm began, leaving airports that normally would have been flush with activity after Christmas largely quiet. Many would-be travelers stayed away, thanks in part to many airlines' pre-emptive cancellations.
But not all. Shabaz Motan came to LaGuardia on Sunday afternoon even though he knew his flight to Chicago had been canceled. He was hoping to get a free hotel room or flight voucher from the airline, but he ended up sleeping on a cot because airline officials told him it wasn't their fault he couldn't fly.
"It's been tough," he said.
Julie Stratton also spent the night at LaGuardia. She was scheduled to fly to Indianapolis, Indiana, on Sunday, but said Monday she is now being told she may not be able to fly out until Thursday.
"It's not the best of scenarios, no," she said. "But you just have to make the best of it. There's nothing else you can do."
Most carriers were waiving penalties for passengers traveling Sunday and Monday to airports from North Carolina to Boston and beyond. Affected customers were being urged to contact the relevant airline either by phone or online.
The mayors of Philadelphia, Boston, Providence and Portland, Maine, also called snow emergencies, while New York City launched a winter snow storm operation and encouraged people to stay off the roads by taking mass transit or staying put.
"Unfortunately, our city is directly in the path," New York City Mayor Michael Bloomberg said Sunday afternoon, amid a blizzard warning that extends until 6 p.m. Monday. "It's hard to stand up in a 55-mph wind, so this really is dangerous."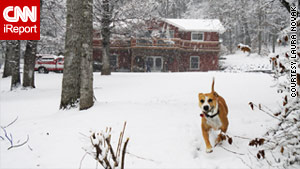 Snow covers the ground on Christmas Day in Rutherfordton, North Carolina.
The Northeast was not the only area being affected. In North Carolina, icy road conditions were blamed for three deaths.
The storm's timing, coming over a holiday weekend, was fortuitous for some and disastrous for others. City and state officials predicted that the blizzard's impact on the economy and otherwise might be muted, because many people had the holiday weekend off and fewer were expected to be commuting into work than normal on Monday.
"With the people who are staying home for the holidays, it's great, but we know a lot of people who are trying to get home," said Brett Martin, claiming his hometown of Virginia Beach, Virginia, had received almost a foot of snow. "We're just playing games and hanging out by the fire."
Metropolitan New York could see snow totals between 15 and 20 inches of accumulating snow, with sustained winds of 25 to 35 mph and gusts of up to 50 mph, the National Weather Service said Monday.
Meanwhile, the NFL announced that a game between the Minnesota Vikings and the Philadelphia Eagles -- originally scheduled for Sunday night -- had been postponed until 8:20 p.m. Tuesday.
"It was dangerous for the players, dangerous for the fans," said Philadelphia Mayor Michael Nutter, who called a state of emergency in anticipation of up to 14 inches of snow. "People still have to get out of the parking lot (and get in) their cars."
Massachusetts Gov. Deval Patrick told reporters Sunday that 1,000 plows, sand and salt trucks were working to keep state roads clear and that as many as 4,000 would be deployed as the storm worsens.
"We expect visibility to be very low and travel to be extremely dangerous," Patrick said.
CNN's Allan Chernoff, Greg Botelho, Nick Valencia, Chuck Johnston, Nina Golgowski and Susan Candiotti contributed to this report.
FOLLOW THIS TOPIC