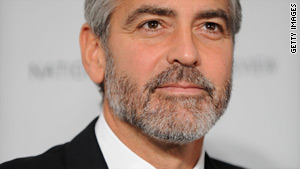 George Clooney is scheduled to host a telethon Friday, January 22, to raise money for Haiti relief.
STORY HIGHLIGHTS
Movie star among hosts of telethon to raise money for Haiti relief efforts
Lone doctor works with limited resources in quake aftermath
Student launches campaign to bring a bookstore to town
Editor's note: Every weekday, CNN focuses on a handful of people in the news. This is a chance to find out more about what they've done -- good or bad -- what they've said or what they believe, and why we think they're intriguing.
(CNN) -- George Clooney
The Oscar-winning actor and other celebrities have signed on for a telethon to aid Haitian earthquake victims. "Hope for Haiti" will air on ABC, CBS, NBC, FOX, CNN, BET, The CW, HBO, MTV, VH1 and CMT starting at 8 p.m. ET/PT on Friday. MTV said Clooney will serve as a host in Los Angeles, California, while musician Wyclef Jean will be in New York, and CNN's Anderson Cooper will appear from Haiti.
Clooney, born in Lexington, Kentucky, in 1961, manages to balance Hollywood stardom and serious activism. He's been People magazine's "Sexiest Man Alive" and also supports environmental concerns and visits Darfur refugee camps. He appears in comedies such as "One Fine Day" or the "Oceans" series, and also makes movies with a conscience, such as "Good Night and Good Luck," "Syriana," "Michael Clayton," and his current hit, "Up in the Air." He not only stars in films, but writes, produces and directs, and seems to pull it off with the suave effortlessness and precision of a modern-day Cary Grant.
The BBC reports that when Clooney was named a United Nations "messenger of peace" in 2008, U.N. Secretary-General Ban Ki-moon told Clooney, "You have seen firsthand the pain experienced by the victims of war and made it your personal mission to help end violence and human suffering."
CNN: Celebrity telethon to raise money for Haiti efforts
BBC: Clooney becomes U.N. peace activist
Yahoo! Movies: Clooney biography
Dr. Louise Ivers
There are thousands of Americans -- military personnel, doctors, fire and police rescuers and other volunteers -- who are now working around the clock and in terrible conditions to aid Haitian earthquake victims. Today we highlight Ivers as one example of the many selfless people working there now. Last week, Ivers was at a meeting of the U.N. World Food Programme in a United Nations building in Port-au-Prince when the earthquake hit. She escaped to the building's driveway unharmed. Within minutes, 350 injured Haitians gathered in the driveway, looking for medical help. Ivers, an infectious disease specialist at Harvard Medical School, was the only doctor.
"It was overwhelming," she told CNN. "Several people bled to death while I tried to treat them. A father handed me a baby who was minutes away from dying, and I had to say 'I'm sorry, there's nothing I can do.' "
Ivers, the country director for Haiti for Partners in Health and an assistant professor of medicine at Harvard, got to work. She and Kim Cullen, her research assistant, set out to find materials they could turn into medical supplies. "We ripped license plates off cars to use as splints. We took shirts off of people to use as tourniquets," Ivers says. She is still in the Haitian capital, doing what she can.
Paging Dr. Gupta: The only doc
Jean-Claude "Baby Doc" Duvalier
In an exclusive e-mail to The Daily Beast's Eric Pape, Duvalier, the former Haitian leader, pledged $8 million to aid his homeland. Duvalier, 59, has been living in France since his exile in 1986. His father, Francois Duvalier, was known as Papa Doc and had proclaimed himself Haiti's president for life. When he died in 1971, his son, Jean-Claude -- known as "Baby Doc" -- was installed as the country's leader. He was ousted in a popular revolt in 1986. Both father and son have been widely accused of corruption and government mismanagement.
The Daily Beast reports that Baby Doc's multimillion-dollar pledge may only have symbolic meaning, as Swiss authorities now control his family's money which resides in a foundation named for his late mother
The Daily Beast: 'Baby Doc' speaks
Mo'Nique
The actress, comedienne and talk show host took home a Golden Globe Award last night in Beverly Hills, California. For her portrayal of an abusive mother in "Precious: Based on the Novel 'Push' by Sapphire," she won in the category Best Performance by an Actress in a Supporting Role in a Motion Picture.
When Mo'Nique was growing up in Baltimore, Maryland, she longed for something. "I've always wanted to be famous," she told CNN in a December interview. "I enjoyed watching famous people and so I wanted to be that. I just wasn't sure how I was going to do it." She remembered, "It wasn't until I saw this woman named Oprah Winfrey doing this show called 'People Are Talking' [a local talk show Winfrey co-hosted while she was at Baltimore's WJZ-TV] that I said, 'That is what I want to do right there.' "
Mo'Nique has achieved that dream -- she's now hosting a late-night talk show on Black Entertainment Television -- and a lot more. In addition to the Golden Globe and a Screen Actors Guild Award for her movie performance, she was singled out as one of People magazine's most intriguing persons of 2009, and she won a Special Jury Prize for Acting at the Sundance Film Festival.
She has been open about the sexual abuse she says she suffered as a child at the hands of a family member and says she had already faced those memories before she started filming. She told CNN, "It wasn't difficult at all because I had already dealt with it. I had already gone through therapy. When Mr. [Lee] Daniels [the film's director] called me for the role, I was excited. I thought, 'Oh good, this story is going to get told. It's not going to get swept under the rug anymore.' I knew Mary Jones, I knew that character. So when Mr. Daniels said 'Action,' I wanted to bring as much honesty as I could, so people know that this is real. Like she really exists and it can be you."
CNN: Mo'Nique takes stardom in stride
CNN: List of Golden Globe winners
Zhuara Rivera
The junior high school student decided she would do something when the only bookstore in her city of a quarter million people announced it was pulling out of town. She organized a petition campaign to attract a new book store to Laredo, Texas. The Laredo Sun reports that Rivera is a devoted reader who feels it's essential to have a bookstore there. But Saturday, Laredo became the largest U.S. city without one. According to the National Center for Education Statistics, the area has a high illiteracy rate, with nearly half the population of the surrounding county lacking basic literacy skills. Rivera hopes to collect thousands of signatures to demonstrate to other chains that Laredo would be a good place to open a new store.
Laredo Sun: Local student wants new bookstore in town
What makes a person intriguing?
There are people who enter the news cycle every day because their actions or decisions are new, important or different. Others are in the news because they are the ones those decisions affect. And there are a number of people who are so famous or controversial that anything they say or do becomes news.
Some of these people do what we expect of them: They run for office, pass legislation, start a business, get hired or fired, commit a crime, make an arrest, get in accidents, hit a home run, overthrow a government, fight wars, sue an opponent, put out fires, prepare for hurricanes and cavort with people other than their spouses. They do make news, but the action is usually more important than who is involved in the story.
But every day, there are a number of people who become fascinating to us -- by virtue of their character, how they reached their decision, how they behaved under pressure or because of the remarkable circumstances surrounding the event they are involved in.
They arouse our curiosity. We hear about them and want to know more. What they have done or said stimulates conversations across the country. At times, there is even a mystery about them. What they have done may be unique, heroic, cowardly or ghastly, but they capture our imaginations. We want to know what makes them tick, why they believe what they do, and why they did what they did. They intrigue us.
FOLLOW THIS TOPIC