STORY HIGHLIGHTS
In 1960, four black students were refused service at lunch counter, sparking a movement
Member of Greensboro Four recalls: "For the most part, we were too angry to be fearful"
Despite success of sit-ins, Franklin McCain says, "Most people thought we were crazy"
Sit-ins will be commemorated with opening of International Civil Rights Center & Museum
(CNN) -- As the elderly white woman approached the four black students at the Woolworth's whites-only lunch counter, Franklin McCain braced for the worst.
"I was thinking to myself, she must have knitting needles and scissors in that handbag of hers and they're about to go right through me," McCain recalled. "I mean, we were invading her space, a space we were told we could not inhabit."
Fifty years ago Monday, McCain and three other freshmen at North Carolina A&T University took a stand by sitting at the lunch counter in the national chain's Greensboro, North Carolina, store.
The store had no qualms selling toothpaste or light bulbs to blacks, but a cup of coffee at the lunch counter? Out of the question. The Greensboro Four, as they came to be known, were fed up.
Instead of pulling a knitting needle on the young men, the woman placed her hand on McCain's shoulder and smiled warmly.
"She says, 'Boys, I am so proud of you. I only regret that you didn't do this 10 years ago,' " McCain said.
"That was the greatest source of inspiration to me, probably for all my life, primarily because it came from a very unexpected person," he said. "You picture 1960 in the South in a little old white lady's space and you are acting out of place, and she compliments you."
McCain, Joseph McNeil, Ezell Blair Jr. and David Richmond were refused service February 1, 1960, but they sat their ground.
The Greensboro Four's act of civil defiance will be commemorated Monday with the grand opening of the International Civil Rights Center and Museum in Greensboro. Three members of the Greensboro Four will attend the ceremony without their companion Richmond, who died in 1990 at age 49.
Located in the 1929 F.W. Woolworth building where the sit-ins were launched, the museum boasts a section of the actual lunch counter where the Greensboro Four sat. The counter and stools have never been moved from their original footprints.
The February 1 sit-in was only the beginning of the Greensboro Four's work. After the store closed for the day, the students returned to campus and recruited others, the only prerequisite being that fellow demonstrators refrain from violence.

Video: Reflections on historic sit-in
Twenty-five students, including four women, took part in the protests the following day. By February 4, more than 300 students, including whites, were involved. A group returned to the store every day for several weeks.
The sit-ins, eventually more than 70 of them, spread across the South, making the Greensboro Four an important catalyst in the nation's budding civil rights movement.
"That was our intent," McNeil told CNN last week, "to bring attention to how evil this was, and so a lot of people apparently felt the same way we did. Given the opportunity to express themselves, they came forward in large numbers."
Watch how 'four musketeers' followed destiny
McCain says it wasn't always that way, and he recalls facing plenty of doubts when the foursome first shared their ambitions with fellow students.
"Never request permission to start a revolution," he said. "We had talked to several students about this fractured and unequal democracy and what we wanted to do about it and, quite honestly, most people thought we were crazy."
The New York Times, in a February 14, 1960, article headlined "Negro Sitdowns Stir Fear Of Wider Unrest in South," reported that the protests were initially ignored, but that couldn't last.
"The demonstrations were generally dismissed at first as another college fad of the 'panty-raid' variety," the newspaper reported. "This opinion lost adherents, however, as the movement spread from North Carolina to Virginia, Florida, South Carolina and Tennessee and involved 15 cities."
McNeil, now 67 and a retired major general in the Air Force Reserve, said that neither sparking a national movement nor entering the annals of history was the Greensboro Four's top concern when they took perches on the forbidden stools.
Rather, he said, the students were angered by the persecution their parents and grandparents had faced. If they didn't take action, the group thought, their children's lives would be no better.
Share memories, photos of civil rights movement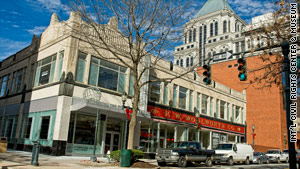 The Greensboro Woolworth's where the sit-ins occurred will open Monday as a civil rights museum.
In particular, McCain says, he was stirred into defiance by "the big lie" his parents had passed on to him about how to succeed as an African-American. As a youngster, McCain embraced the Ten Commandments, sought a good education and did good deeds with no expectation of reward, just as his parents had imparted.
"When I turned 13 or 14, I saw that I'd been screwed. I was still denied the rights and privileges that were to be afforded citizens of this country," he said. "I was angry as hell at a system that I felt had betrayed me."
Emboldened by the A&T students, other angry black youths followed suit across the South. The New York Times reported that white youths, some carrying Confederate battle flags, heckled protesters in High Point, North Carolina. Forty-three demonstrators were arrested at a Woolworth's in Raleigh, North Carolina. In Rock Hill, South Carolina, a bottle of ammonia was hurled through a drugstore door, the paper said.
Store managers, fearing melees, closed their lunch counters and posted signs with messages like "Closed in the interest of public safety" and "We reserve the right to service the public as we see fit."
"In a few cases, the Negroes were elbowed, jostled and shoved. Itching powder was sprinkled on them and they were spattered with eggs," according to the 1960 Times article.
Students march on 50th anniversary of civil rights sit-in
High-ranking officials, including the Raleigh mayor and North Carolina attorney general, denounced the sit-ins, but as journalists disseminated news of the demonstrations, advocacy groups and President Eisenhower joined a chorus of support.
"Now let me make one thing clear," Eisenhower was quoted as saying at the time. "I am deeply sympathetic with the efforts of any group to enjoy the rights of equality that they are guaranteed by the Constitution."
McNeil said he and his fellow protesters were not daunted by attempts to intimidate them -- not even those of the Ku Klux Klan.
"For the most part, we were too angry to be too fearful," he said. "The heckling and all those things were a concern, but I think it made us stronger for the process.
"When I turned 13 or 14, I saw that I'd been screwed. ... I was angry as hell at a system that I felt had betrayed me."
--Franklin McCain of Greensboro Four
"The fact that you could get people to go back into harm's way day after day and take physical abuse and verbal abuse is a testament to the fact that we were responding on solid principles and morals."
The four men pursued various paths after the sit-ins, according to the civil rights museum:
• McNeil spent six years on active duty in the U.S. Air Force, sold computers for IBM and worked as a commercial banker and stockbroker. He and his wife have five children.
• McCain became a chemist at the Celanese Corp. and went on to lead the company's office in Shelby, North Carolina. He and his wife have three sons.
• Blair attended law school at Howard University and became a member of the New England Islamic Center. He now goes by the name Jibreel Khazan and works with the developmentally disabled in Massachusetts. He and his wife have three children.
• Richmond worked as a counselor and coordinator for the Comprehensive Employment Training Act program in Greensboro. He also cared for his aging parents and worked as a porter at the Greensboro Health Care Center. He had two children.
In July 1960, the Greensboro Woolworth's desegregated its lunch counter. Four store employees were the first African-Americans to eat there.
McNeil said he felt "elation" upon learning the news.
"At the end of something difficult, you like to come out on the winning side," he said.
McNeil said he felt obligated to visit Woolworth's one last time for "ceremonial" reasons when he returned to school in September 1960.
"I ordered coffee and pie," he said. "I never did that again. The pie wasn't very good."
CNN's Eliott C. McLaughlin contributed to this report.