STORY HIGHLIGHTS
Some Prius owners complain of cruise control problems that sent them on wild rides
Toyota maintains it has not heard of problems with Prius cruise control
Lawmakers seek answers about growing Toyota woes
2005 Prius owner: "It just fully accelerated and kept going"
Atlanta, Georgia (CNN) -- The Toyota Prius sometimes accelerates while in cruise control, rocketing past the set speed and sending drivers on wild rides, according to some owners and auto safety experts.
The most prominent Prius owner to voice concern over the issue is Steve Wozniak, the co-founder of Apple and owner of several Priuses, including a 2010 model.
"This new model," Wozniak said during the Discovery Forum 2010 earlier this month, "has an accelerator that goes wild but only under a certain condition of cruise control."
The computer guru blamed the problem not on floor mats or a sticky accelerator pedal, as Toyota has maintained, but on bad software. An exasperated Wozniak expressed frustration with his efforts to contact Toyota and the National Highway Traffic Safety Administration.
"I don't know a way to get heard," he said. "I don't know a way to get through to the government, the government safety people."
Clarence Ditlow, the executive director of the Center for Auto Safety, a Washington-based group focused on car safety, said his group has received about 10 cruise-control complaints from Prius owners -- roughly 5 percent of the overall complaints his organization has received about the hybrid.
"We do have reports from some consumers that the vehicle does some things erratically," Ditlow said. "Do we know what's causing it to do that? No. But it's not what the agency [NHTSA] is looking at."

Video: Feds and Toyota too close?

Video: Toyota problem electronic?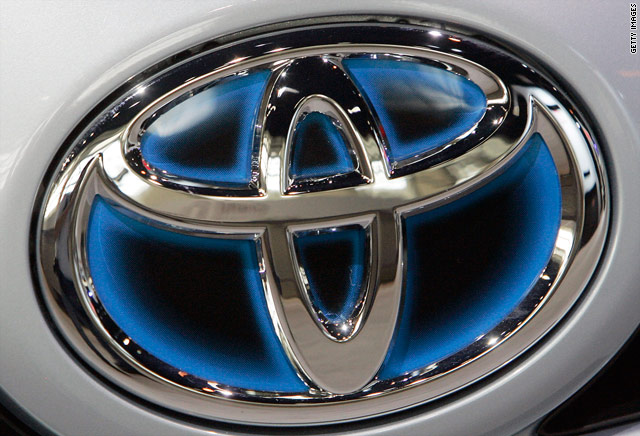 Toyota timeline
The Prius is among the 8.5 million Toyota vehicles recalled in recent months for problems related to gas pedals and brakes. Just this week, Toyota recalled hundreds of thousands of 2010 Priuses for problems associated with its brake system.
Timeline of Toyota's recall woes
But the company insists the problems with the world's best-selling hybrid end there.
"There aren't any other issues we're looking at with this vehicle," said Brian Lyons, a Toyota safety and quality communications manager.
CNN spoke with several owners of previous Prius models who say they were experiencing the same problem: When they resumed cruise control, the car took off as if it had a mind of its own and resisted when they slammed on the brakes. At least two filed reports with NHTSA, but said they never heard from the agency.
A spokeswoman for NHTSA refused comment for this story, saying the government agency is looking at the Prius braking system but not potential cruise-control problems.
Federal lawmakers also want answers from Toyota about the recent recalls, as well as a better explanation about sudden acceleration issues.
The chairman of the House Committee on Oversight and Government Reform, Rep. Edolphus Towns, asked if the automaker looked into whether computer problems were to blame for acceleration issues.
"Is Toyota confident that the electronics are not involved in this problem?" Towns asked in a February 3 letter to Toyota CEO Yoshimi Inaba.
Watch: Experts say recalls may not solve problem
Towns' committee will hold a hearing on February 24 to press officials about the safety of Toyota vehicles.
'I was just praying'
Grover Walton repeatedly slammed on the brakes of his 2008 Toyota Prius on a road trip to visit his granddaughters in South Carolina last October. The car lurched back and forth, and gained speed.
"I can't get the cruise control off," he said to his wife, who was in the back seat.
Barbara Walton looked up from playing Scrabble on her laptop. She figured her husband's lousy driving was to blame.
Yet the hybrid kept zipping along the wet four-lane highway in tight traffic. "I was just praying he could get the car stopped," she told CNN iReport.
Waltons' ask: Are we driving a death trap?
Grover Walton rode the brakes and looked for the best place to pull over. He turned onto a dirt road and popped the car into neutral.
When the car stopped, the two front brakes "had a red glow to them," he said.
"My wife was panicking. She didn't know if she should take the stuff out of the car or what."
The incident began, he said, when he hit the "resume" button on his cruise control, thinking he'd speed back up to around 63 mph. The car got up to 75 mph.
Herb Kuehn of Battle Creek, Michigan, said the same thing happened to him in 2005 on a two-lane highway. He said he tried to resume cruise control at 58 mph.
"Instead, it just fully accelerated and kept going," Kuehn said.
He frantically pushed the power button. It didn't respond. The car wouldn't shift into neutral. His last hope: mashing on the brakes as hard as he could while speeding at 76 mph.
The car came to a stop on the shoulder of the road. An overwhelming battery smell wafted through the inside of the car, he said.
Root cause often difficult to pin down
Many automakers have had cruise-control problems over the years, including Ford, which last October added 4.5 million older model vehicles to a recall over a faulty cruise control switch that could overheat.
Donald Friedman, an electrical engineer in Santa Barbara, California, has spent 62 years working on issues within the auto industry, including nearly two decades with NHTSA.
It's not surprising to him to hear of Prius owners complaining about possible cruise-control problems. The last 10 years have seen the production of more sophisticated automobiles built with an array of computer processors that control everything from anti-lock brakes to the throttle.
Hybrid vehicles are among the most complex. The cars have separate electric and gasoline engines and a regenerative braking system that uses energy from the car's wheels to help charge its battery.
The car's multiple processors "don't always know how to talk to each other in a coordinated way," said Friedman, who worked on the Lunar Rover and who helped developed an electric car in the late 1960s known as the Minicar.
"It doesn't happen all the time. It happens more frequently because of the extra processors in hybrids, and that's of concern."
Finding the root cause of the problem, Friedman said, gets tricky. "If you test them independently, they all work perfectly well."
Owners: It's not the floor mat
Barbara Walton never uses the cruise control any more, and she stays in the right lane just in case she needs to pull over quickly.
She and her husband always bragged about their Prius. But ever since the October incident, she worries, "If that happens again ... what will I do?"
The dealership that fixed the car blamed the problem on floor mats. "Initially, we thought Toyota would be pretty receptive," her husband said. "But they were pretty poo-poo about it. They wanted to say it was the floor mat and driver's error."
Herb Kuehn said he got a similar runaround. He said the dealer initially told him they replicated the cruise-control problem. "That's great news," he responded, "because I don't want to be called an idiot."
The dealer later said its employee who ran the test was not qualified to make that assessment. Kuehn said he was then told the problem was with the floor mat -- "which is complete, utter nonsense."
Nearly five years later, he's put more than 100,000 miles on his hybrid. The problem has not resurfaced.
"With a good conscience," he said, "I cannot sell this car to anybody nor can I put this car back at the dealer because if something happened to somebody, I couldn't forgive myself."
Toyota's Lyons said the automaker plans to meet with Wozniak, the Apple co-founder, about his complaints about his 2010 model.
He had a possible explanation for Wozniak: The cruise control in the 2010 Prius has a new feature called "adaptive cruise" that allows the driver to increase speeds at 5 mph intervals.
"Those of us who don't read the owner's manual, myself included," Lyons said, "didn't realize that."