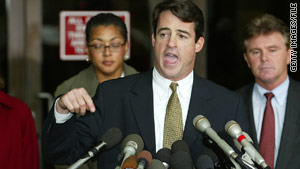 Douglas Gansler prosecuted John Mohammed and Lee Boyd Malvo in the D.C. sniper case in 2002.
STORY HIGHLIGHTS
Maryland attorney general says state can recognize same-sex marriages
Obama judicial nominee would be first Asian-American appellate judge
'Star Trek' actor searching for missing son in Vancouver, British Columbia
Editor's note: Every weekday, CNN focuses on a handful of people in the news. This is a chance to find out more about what they've done -- good or bad -- what they've said or what they believe, and why we think they're intriguing.
(CNN) -- Douglas F. Gansler: Maryland's attorney general said Wednesday that the state may legally recognize same-sex marriages performed in other states. The 45-page opinion from Gansler was addressed to state Sen. Richard Madaleno Jr.
"You have asked whether those marriages may be recognized under state law. The answer to that question is clearly 'yes,'" Gansler wrote. He noted that his opinion is "not itself the law of Maryland in the same sense as a statute enacted by the Legislature or court decision elaborating the common law or construing a statute." Rather, it is an interpretation of law intended to guide courts and government agencies, he said. "Thus, what we say in this opinion is a prediction, not a prescription, as to how the court would approach this issue under current law," Gansler wrote.
According to his official biography, Gansler was elected in November 2006 as Maryland's 44th attorney general. He received the Ally for Equality Award for being the first statewide elected official in Maryland to support marriage equality. Before becoming attorney general, he was state's attorney for Montgomery County, and is most widely known for leading the Joint Sniper Task Force and successfully prosecuting John Mohammed and Lee Boyd Malvo for the six "Beltway" murders they committed in Maryland in October 2002. He also prosecuted boxer Mike Tyson after he assaulted two men following a minor traffic accident in August 1998.
CNN: Maryland AG: State could recognize same-sex marriages
Office of the Attorney General: Gansler bio
Goodwin Liu: President Obama this week nominated the 39-year-old law professor from the University of California, Berkeley to the U.S. 9th Circuit Court of Appeals. The Los Angeles Times reports that if Liu is confirmed, he would be the only full-time Asian American judge serving on a federal appellate court. Another Asian-American, Denny Chin, has been nominated to the U.S. 2nd Circuit Court in New York, but has not been confirmed.
According to the newspaper, Liu testified against Supreme Court Justice Samuel Alito Jr. at his confirmation hearings, criticizing his record on capital punishment. Liu is also chairman of a group that opposes "the activist conservative legal movement."
Liu, the son of Taiwanese immigrants, was born in Georgia and grew up in Sacramento, California. A Rhodes scholar at Oxford University, he graduated from Yale Law School and in 2000 was a clerk for Supreme Court Justice Ruth Bader Ginsburg.
"He's as sharp as they come, with a kind demeanor and a good temperament," Sen. Dianne Feinstein, D-California, told the Times. "And he's someone who has earned the broad respect of his colleagues on the left and the right."
Los Angeles Times: Obama picks law professor for 9th Circuit post
John Napier: The driver for two of Team USA's six men's bobsled teams would love to win gold at the Winter Olympics in Vancouver, British Columbia. He finished 10th, with partner Steve Langton, in the two-man bobsled and is considered a dark horse medal favorite for the four-man bobsled in competition on Friday and Saturday.
Sports Illustrated reports Napier, 23, has been in bobsleds since he was 8 years old -- both his parents drove bobsleds -- and began competing in 1994, eventually winning America's Cup and World Cup titles.
ESPN reports that after his mother got $25,000 into debt financing his bobsledding dream, Napier joined the Vermont National Guard three years ago to pay her back. He's also part of the Army World Class Athlete Program, which provides soldiers with world-class potential the training to compete for a place on the U.S. Olympic Team.
Napier says when the games are over, he wants to join his friends in the Army who are now serving in Afghanistan. According to ESPN, it's a profound decision: Napier raced for a year with a soldier named Brian Freeman, who in 2007 was ambushed in Iraq, taken hostage and then killed.
"I'm at the Army's mercy," he says. "If I serve a better purpose by staying in the sports program -- if my story inspires other athletes and soldiers better -- then I'll keep spreading that story. But if it's my turn to serve, I'll serve."
ESPN: John Napier: The good teammate
Letitia Long: This week, the Federal Times reported that Defense Secretary Robert Gates announced that Long would become the next director of the National Geospatial-Intelligence Agency. When she takes over this summer, she will become the first woman to head a major intelligence agency, Gates said.
Director of National Intelligence Dennis Blair called it a historic appointment. "She is highly respected throughout the intelligence community and Department of Defense," Blair said. "Her strong leadership skills and understanding of the entire intelligence enterprise will ensure that NGA can continue to deliver outstanding information to policymakers and operators in support of our national security objectives."
As far as we can tell, NGA makes really cool, useful and accurate maps. From the NGA Web site: "NGA develops imagery and map-based intelligence solutions for U. S. national defense, homeland security and safety of navigation. NGA can create highly accurate terrain visualization maneuvering to give 3D fly-throughs and motion video for better access of a point on the Earth. NGA can also create point targeting, route analysis, and site selection products."
According to the NGA, Long, who is now the agency's deputy director, has served in the federal government for 32 years -- 20 of them in the intelligence community. She began her career as a civil naval engineer.
Federal Times: Gates names first woman to head major intel agency
Walter Koenig: A familiar face on television in the '60s, Koenig reappeared on our TVs this week, this time making an emotional plea to his missing son. "I just want to know you're OK," he said at a news conference in Vancouver, British Columbia. "If it means you just want to stay here, that's OK. You don't have to come back. Just let us know that's your intention."
Walter Koenig is the father of Andrew Koenig, the 41-year-old actor who disappeared almost two weeks ago in Vancouver. Friends and family have been worried that the former child star had appeared despondent in recent weeks. The elder Koenig says Andrew had been prescribed medication for depression but stopped taking it about a year ago. His son was last seen by those who know him at a friend's Vancouver home on February 14.
Walter Koenig played the Russian crew member Pavel Chekov on the original "Star Trek" series. He is actually a native of Chicago, Illinois, but his parents were Russian immigrants, and he has attributed Chekov's accent to the one he heard as a kid: his father's. Walter's son, Andrew, followed in his father's footsteps as an actor, most notably appearing on 25 episodes of "Growing Pains" from 1985 to 1989.
Today, Walter and his wife, Judy, remain in Vancouver, hopeful they will soon hear from their son.
CNN: Missing actor's father: 'I just want to know you're OK'
The official Walter Koenig Site
What makes a person intriguing?
There are people who enter the news cycle every day because their actions or decisions are new, important or different. Others are in the news because they are the ones those decisions affect. And there are a number of people who are so famous or controversial that anything they say or do becomes news.
Some of these people do what we expect of them: They run for office, pass legislation, start a business, get hired or fired, commit a crime, make an arrest, get in accidents, hit a home run, overthrow a government, fight wars, sue an opponent, put out fires, prepare for hurricanes and cavort with people other than their spouses. They do make news, but the action is usually more important than who is involved in the story.
But every day, there are a number of people who become fascinating to us -- by virtue of their character, how they reached their decision, how they behaved under pressure or because of the remarkable circumstances surrounding the event they are involved in.
They arouse our curiosity. We hear about them and want to know more. What they have done or said stimulates conversations across the country. At times, there is even a mystery about them. What they have done may be unique, heroic, cowardly or ghastly, but they capture our imaginations. We want to know what makes them tick, why they believe what they do, and why they did what they did. They intrigue us.
FOLLOW THIS TOPIC