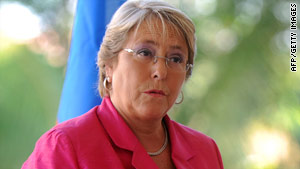 President Michelle Bachelet is the first woman to hold Chile's highest government office.
STORY HIGHLIGHTS
Chilean president is first woman to hold position
Lone U.S. senator blocks vote on unemployment benefits extension
"Harry Potter" star tapes public service announcement for gay crisis hotline
Editor's note: Every weekday, CNN focuses on a handful of people in the news. This is a chance to find out more about what they've done -- good or bad -- what they've said or what they believe, and why we think they're intriguing.
(CNN) -- Michelle Bachelet: The president of Chile was born in Santiago in 1951. Her Web biography tells a remarkable story. The mother of three children is trained as a doctor, with graduate studies in military sciences.
Her father, Alberto Bachelet, was a general in the Chilean air force. When Gen. Augusto Pinochet led a coup against Salvador Allende's government on September 11, 1973, her father was arrested that same day and later died in prison, "having suffered a heart attack as a result of the strain on his body from the torture to which he was submitted."
In January 1975, two agents from Pinochet's secret police arrested Bachelet and her mother. They were interrogated and tortured. Once freed, Bachelet studied medicine in Berlin, and returned to Chile in 1979. She was named minister of health in President Ricardo Lagos' administration in 2000 and two years later was appointed minister of defense, the first woman both in Chile and in Latin America to hold such a position.
After a runoff election in January 2006, Bachelet became the first woman in Chilean history to hold her country's highest office. Her successor, President-elect Sebastion Piñera, is scheduled to be sworn in on March 11.
Chilean Government: Biography of Michelle Bachelet
Jim Bunning: The Senate adjourned Friday without approving extensions of cash and health insurance benefits for the unemployed after a lone senator -- retiring Republican Jim Bunning of Kentucky -- blocked swift passage due to his insistence that Congress first pay for the $10 billion package.
Bunning led a spirited Senate debate with Democrats over the issue. He said he doesn't oppose extending the programs -- he just doesn't want to add to the deficit. Two Democratic aides on the Senate floor Thursday night said Bunning muttered "tough s---" as Sen. Jeff Merkley, D-Oregon, criticized Bunning's stance on the package.
Bunning maintained on Friday that if all senators could agree that the benefits are so important, then they should find a way to pay for them. "If we can't find $10 billion somewhere for a bill that everybody in this body supports, we will never pay for anything," he said.
According to his Senate biography, Bunning began his second Senate term in 2004, after serving 12 years in the House of Representatives. "As a youngster in Northern Kentucky, Bunning fell in love with baseball," reads his biography, "and even then he displayed a competitive spirit and a willingness to work hard. That combination carried him on to a highly successful 17-year career as a Major League Baseball player after his graduation from Xavier University with an economics degree." Bunning pitched primarily for the Detroit Tigers and Philadelphia Phillies and was selected to the Baseball Hall of Fame in 1996. After Cy Young, he was the second pitcher in history to achieve 1,000 strikeouts and 100 wins in both the American and National leagues.
He and his wife, Mary Catherine Theis, raised nine children and have 35 grandchildren and 4 great-grandchildren.
CNN: Lone senator blocks unemployment benefit extensions
Office of Sen. Bunning: Biography
Patty Skolnik: Malpractice survivors and family members from five states will hold their first meeting with White House staff on Monday, coordinated by the Center for Justice & Democracy, a meeting Skolnik says they have been requesting since 2003. Advocates are concerned that proposals to limit injured patients' rights are becoming a bargaining chip in the health care debate.
Skolnik, of Centennial, Colorado, will be at today's meeting. She told CNN on Sunday, "Lawmakers can't look at the consumer as the problem, saying that we are bringing frivolous lawsuits. This is not the patient's fault. The White House needs to bring the consumer into the conversation."
Skolnik said that in 2001, a surgeon misdiagnosed what was wrong with her son, Michael, and performed unnecessary brain surgery on him. She says the surgeon told her "he had done many of these surgeries, when he had only done one before. He went on a fishing expedition inside my son's brain."
This marked the beginning of a 32-month nightmare of more brain surgeries, infections, partial blindness, paralysis, and other problems, leading to total disability. Her son could not eat, speak, or move anything but his right hand. Nearly every day during this traumatic time, she says, "Michael used the only limb control he had to shape his fingers into a gun, and held them to his forehead, repeatedly throughout the day." He had the cognitive ability of a third-grader.

Video: 'Let's be strong, Chile'

Video: Buzz: Daniel Radcliffe's PSA
The Skolniks sued the doctor, and when Michael died in 2004, they settled out of court. After his death, Patty Skolnik founded an organization that, in 2009, became the Citizens for Patient Safety. On her Web site, she says, "You can suffer a great loss, but you have a choice as to how to handle it. Anger and grief has a place, but taking that and transforming it into a solution is the best healer and the best reward for everyone."
Citizens for Patient Safety Web site
Center for Justice & Democracy Web site
Julianna Smoot: The White House on Saturday announced that the Democratic Party fundraiser and North Carolina native had been named deputy assistant to the president and social secretary. Smoot replaced Desiree Rogers, who stepped down on Friday.
Rogers' office came under scrutiny after a couple who lacked an invitation were allowed into President Obama's first state dinner. In December, the White House was accused of stonewalling as Congress investigated the party-crasher security breach. At issue was whether the White House was protecting Rogers from testifying about how Tareq and Michaele Salahi were able to crash the dinner planned by Rogers' office.
In 2007, The Washington Post profiled Smoot, calling her "The $75 Million Woman," and reporting that, as Obama's finance director, "she helped transform a fledgling campaign into a fundraising machine. By the end of September [2007], the senator from Illinois had raised more money for his primary bid than any other candidate in either party -- more than $75 million."
Smoot was chief of staff for U.S. Trade Representative Ron Kirk. She also served as national finance director for the Democratic Senatorial Campaign Committee, senior adviser to former Senate Majority Leader Tom Daschle, and finance director for former Sen. John Edwards' race for U.S. Senate. She also worked for Sens. Richard Durbin and Chris Dodd.
CNN: White House social secretary to step down
Washington Post: The $75 million woman
Daniel Radcliffe: The actor, best known for his portrayal of wizard-in-training Harry Potter, has just taped a public service announcement for The Trevor Project, which operates a 24/7 crisis and suicide prevention hotline for lesbian, gay, bisexual, transgender and questioning youth.
"It's something I've always been quite passionate about," Radcliffe told MTV. "Because I grew up around gay men, it was always a natural thing to me. It was never something I ever gave a second thought to."
The Trevor Project was founded by the creators of the 1994 Academy Award-winning short film "Trevor," about a gay 13-year-old boy who attempts to take his life when he's rejected by friends because of his sexual orientation. Radcliffe told MTV that he didn't encounter the idea of homophobia until later in his academic career. "When I went to my second school, I heard terms like 'puff' and 'homo' getting thrown around. It never occurred to me that some people might have a problem with it."
The internationally known actor was born in 1989 in a London suburb. He has appeared in six Harry Potter movies, with two more on the way. Harry's highly anticipated first onscreen kiss -- a heterosexual one -- occurred in the fifth installment of the series, "Harry Potter and the Order of the Phoenix," released in 2007.
MTV: Radcliffe 'passionate about' The Trevor Project
The Trevor Project Web site
What makes a person intriguing?
There are people who enter the news cycle every day because their actions or decisions are new, important or different. Others are in the news because they are the ones those decisions affect. And there are a number of people who are so famous or controversial that anything they say or do becomes news.
Some of these people do what we expect of them: They run for office, pass legislation, start a business, get hired or fired, commit a crime, make an arrest, get in accidents, hit a home run, overthrow a government, fight wars, sue an opponent, put out fires, prepare for hurricanes and cavort with people other than their spouses. They do make news, but the action is usually more important than who is involved in the story.
But every day, there are a number of people who become fascinating to us -- by virtue of their character, how they reached their decision, how they behaved under pressure or because of the remarkable circumstances surrounding the event they are involved in.
They arouse our curiosity. We hear about them and want to know more. What they have done or said stimulates conversations across the country. At times, there is even a mystery about them. What they have done may be unique, heroic, cowardly or ghastly, but they capture our imaginations. We want to know what makes them tick, why they believe what they do, and why they did what they did. They intrigue us.
FOLLOW THIS TOPIC