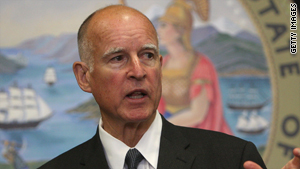 California Attorney General Jerry Brown was governor of the state for two terms from 1975 to 1983.
STORY HIGHLIGHTS
Former California Gov. Jerry Brown wants his old job back
Son of Hamas founder reportedly an informant for Israel, tells his story in new book
A 19-year-old pianist wins $20,000, Carnegie Hall recital at Chopin competition
Editor's note: Every weekday, CNN focuses on a handful of people in the news. This is a chance to find out more about what they've done -- good or bad -- what they've said or what they believe, and why we think they're intriguing.
(CNN) -- Jerry Brown: California's attorney general on Tuesday launched his bid to regain the top office in Sacramento. Brown was California's governor for two terms from 1975 to 1983. His father, Edmund G. "Pat" Brown Sr., was also a two-term governor.
Hollywood heavyweights Steven Spielberg, David Geffen and Jeffrey Katzenberg are among those who have publicly endorsed Brown and contributed to his reported $12 million war chest. He may need the support, as Republican candidate and former eBay CEO Meg Whitman is willing to contribute her dot-com millions to her campaign.
Brown, a San Francisco native, will be 72 in April. When he left office in the '80s, his ideas were controversial. Now they are more commonplace. He blended celebrity with politics by dating singer Linda Ronstadt. He chose to cut costs at the Governor's Mansion by bedding down on a futon in an apartment. He was dubbed "Governor Moonbeam" for suggesting that California's emergency management system use satellites for communication.
The former Jesuit student also has studied Buddhism, reportedly lived in a commune and traveled with Mother Teresa. He returned to politics as a two-term mayor of struggling Oakland, California. Brown sought the Democratic nomination for the presidency in 1976, 1980 and 1992 without success.
CNN: Brown seeks governor's office again
Jerry Brown 2010: Jerry's career highlights
Mosab Hassan Yousef: The son of Palestinian Islamic movement Hamas founder Sheikh Hassan Yousef was an informant for Israel's domestic security service known as the Shin Bet, beginning in 1997, according to the Israeli newspaper Haaretz. He had been recruited while serving time in prison.
Yousef was the Jewish state's "most valuable source in the militant organization's leadership," Haaretz reported. The information Yousef passed on saved many lives and was instrumental in the arrest of a number of top Palestinian officials, the paper said. In 2007, Yousef left the region for asylum in the United States and spoke publicly about his conversion to Christianity and his renunciation of Hamas, terror and violence. Yousef tells his story in a new memoir "Son of Hamas," released Tuesday.
In a phone interview, Yousef told Haaretz that he was speaking out about his informant activities as a means of sending a message of peace to Israel. "Hamas cannot make peace with the Israelis," Yousef is quoted as saying, "That is against what their God tells them. It is impossible to make peace with infidels. ... The Hamas leadership is responsible for the killing of Palestinians, not Israelis."
CNN: Report: Hamas founder's son worked for Israel
Tyndale House Publishers: 'Son of Hamas'
Roger Ebert: Since 2006, the noted film critic has been unable to eat, drink and speak. Technology, however, is giving him back his voice.
Not only has the former Chicago Sun-Times editor gained more than 85,000 followers on Twitter since joining in October, Ebert will speak again publicly for the first time to Oprah Winfrey using a technology he calls "Roger Jr." The program, which was taped last week, is set to air Tuesday.
Using a text-to-speech technology built by Scottish company CereProc, Ebert can emit words in his own voice while typing from a keyboard. Writing in the Sun-Times, Ebert explained the sounds come from commentary tracks he once did for movies released on DVD.
He became nationally known for his "thumbs up-thumbs down" film reviews with Gene Siskel on the syndicated program "At the Movies." Siskel died of brain cancer in 1999.
Ebert had surgery in 2002 for thyroid cancer and in 2003 for the removal of his salivary glands. In 2006, the cancer returned to his jaw, causing doctors to remove it. After other medical complications, Ebert has been speechless until now.
In an Esquire magazine profile, Ebert acknowledged that doctors would like to restore his voice surgically. He won't have it. Nor will he have any further attempts to extend his life.
"We must try to contribute joy to the world," he wrote to the Esquire reporter on a blue Post-it. "That is true no matter what our problems, our health, our circumstances. We must try. I didn't always know this, and am happy I lived long enough to find it out."
CNN: Ebert debuts his 'new voice' on 'Oprah'
RogerEbert.com: Hello, this is me speaking
Esquire: Roger Ebert: The essential man
Lil Wayne: The rapper, who was born Dwayne Michael Carter Jr., was to be sentenced Tuesday on gun charges, but a fire at a Manhattan courthouse delayed his hearing, a court spokesman said. A new sentencing date has not been set, the spokesman said.
Lil Wayne pleaded guilty to felony gun charges in a deal with prosecutors in October. He is expected to get a one-year prison sentence. His sentencing already had been delayed three weeks so he could get some dental work done.
The plea agreement was a result of the rapper's 2007 arrest outside a New York City theater, where, according to police, a .40-caliber pistol was found on his tour bus. In an unrelated case, he also faces felony drug possession and weapons charges in Arizona.
Lil Wayne has sold millions of records since bursting on the hip-hop scene at 16 as a member of the Hot Boys. Growing up in New Orleans, Louisiana, he accidentally shot himself when he was 12. He was also an honor student who dabbled in the drama club in middle school.
His hits include "The Block Is Hot" and "Lollipop," and his album "Tha Carter III" was the top-selling disc of 2008. His latest album, "Rebirth," was released last month.
In 2008, he allowed a film crew full access to his hectic life. Cameras rolled as he smoked marijuana, drank soda mixed with prescription cough syrup, recorded rap lyrics almost constantly and seemed to enjoy the trappings of fame. The finished product, a documentary called "The Carter," premiered to critical acclaim at the 2009 Sundance Film Festival.
According to published reports, the movie's release was delayed when Lil Wayne filed a lawsuit against its producers, saying he had been given final-cut approval of the documentary.
The performer once told CBS' Katie Couric, "I'm a rapper. That's who I am, Miss Katie. And I am a gangsta, and I do what I want."
CNN: Lil Wayne's sentencing postponed to March 2
CNN: The battle over controversial Lil Wayne film
Claire Huangci: The 19-year-old pianist from Lansdale, Pennsylvania, won first prize in the Eighth National Chopin Competition of the United States this past weekend in Miami, Florida.
The South Florida Classical Review reports that "the competition was grueling, certainly for the audience, which heard five performances of Chopin's Piano Concerto in E Minor over the course of two days," including Huangci's winning interpretation, which was highly praised.
Her prize includes $20,000, a debut recital at Carnegie/Weill Recital Hall in New York, a concert tour of more than 20 cities in the United States and abroad, and automatic acceptance in the prestigious International Frédéric Chopin Competition in Warsaw, Poland, next October. Huangci is a graduate of the Curtis Institute of Music in Philadelphia, Pennsylvania, and she is studying at the Hannover Hochschule Für Musik in Germany.
Her sixth birthday present was a grand piano, and lessons began at age 7. She told CNN on Monday, "I never think about winning -- that would detract from the level of performance. I try to just interpret the music in the most personal and expressive way I can. And for me, what really matters any time I am on stage is just the purity of the music, the beauty of music."
The announcement of Huangci's win coincided with the arrival of midnight in Warsaw, which celebrated the 200th anniversary of Chopin's birth (March 1, 1810).
National Chopin Piano Competition
ChopinMusic.net: Chopin biography
South Florida Classical Review: 19-year-old captures top prize
What makes a person intriguing?
There are people who enter the news cycle every day because their actions or decisions are new, important or different. Others are in the news because they are the ones those decisions affect. And there are a number of people who are so famous or controversial that anything they say or do becomes news.
Some of these people do what we expect of them: They run for office, pass legislation, start a business, get hired or fired, commit a crime, make an arrest, get in accidents, hit a home run, overthrow a government, fight wars, sue an opponent, put out fires, prepare for hurricanes and cavort with people other than their spouses. They do make news, but the action is usually more important than who is involved in the story.
But every day, there are a number of people who become fascinating to us -- by virtue of their character, how they reached their decision, how they behaved under pressure or because of the remarkable circumstances surrounding the event they are involved in.
They arouse our curiosity. We hear about them and want to know more. What they have done or said stimulates conversations across the country. At times, there is even a mystery about them. What they have done may be unique, heroic, cowardly or ghastly, but they capture our imaginations. We want to know what makes them tick, why they believe what they do, and why they did what they did. They intrigue us.
FOLLOW THIS TOPIC