UC Santa Cruz scheduled to reopen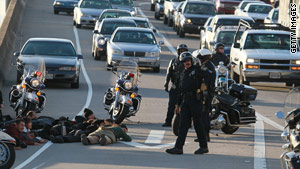 Protesters block a portion of Interstate-880 during Thursday's National Day of Action against school funding cuts.
STORY HIGHLIGHTS
Demonstrations on Thursday caused administrators to close the northern California campus
Students, educators, supporters hit the streets to challenge cuts, tuition hikes
Funding cuts spur tuition and fee hikes, program cuts, bigger classes
(CNN) -- Universities nationwide were recovering Friday, a day after protests over education budget cuts hit campuses from coast to coast.
Though many of the demonstrations were peaceful, some turned chaotic.
On the West Coast, the University of California, Santa Cruz, was scheduled to reopen Friday. The crush of demonstrators on Thursday caused administrators to close the northern California campus.
"Please check back for information on the campus's planned return to service on Friday," the university Web site said.
The protest, dubbed the March 4 National Day of Action, sent thousands of students, educators and supporters to the streets to challenge budget cuts and tuition increases.
In Oakland, California, police arrested 160 protesters who shut down a freeway, authorities said.
Police stopped students from shutting down a freeway near the University of California, Davis, in northern California.
Demonstrations occurred in other states including Colorado, New York and Wisconsin. A blog called Student Activism, which compiled a list of the protests, said 122 events were slated in 33 states, most on campuses and some at state capitols.
Many of Thursday's demonstrations focused on cuts in state funding for colleges and universities, which supporters say drive up tuition, limit classes and make higher education unobtainable to many.
State funding for the California State University system was reduced by nearly $1 billion for the academic years between 2008 and 2010. Schools have responded by increasing fees, canceling classes, cutting student support programs and furloughing professors. Fees have increased 182 percent since 2002. Class waiting lists have doubled or tripled.
"The less affordable education becomes, the less likely low-income students will be able to get a college education," said Lillian Taiz, president of the California Faculty Association and a professor of history at California State University, Los Angeles.