Diplomat in plane scare being sent home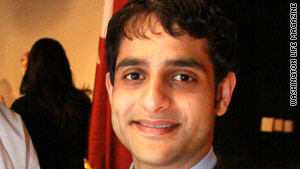 Diplomat Mohammed al-Madadi will be sent back to Qatar, State Department officials say.
STORY HIGHLIGHTS
Mohammed al-Madadi will return to Qatar, State Department sources say
Al-Madadi was at center of brief terror scare aboard United Airlines flight
He was on consular business when apprehended by air marshals
Diplomat made "unfortunate comment" after apparently smoking in lavatory, official says
Washington (CNN) -- The Qatari diplomat involved in a security scare aboard a Colorado-bound flight will be sent home, two State Department officials said.
The State Department and Qatari government agreed that was the best way to handle the matter, the sources said.
Mohammed al-Madadi had been en route to Colorado for a series of consular visits, including a visit with a convicted terrorist at a federal facility, on Wednesday night, a spokeswoman for the Qatari Embassy said.
Two F-16 fighter jets escorted his flight to Denver after reports that he may have attempted to set a shoe on fire -- a report that may have stemmed from what one U.S. official called an "unfortunate comment" by the diplomat.
The U.S. official said that al-Madadi was in a lavatory for a long time and may have been smoking. Air marshals questioned him aboard the United Airlines plane, and the FBI spoke to him once the plane landed.
Al-Madadi will not face charges, a federal law enforcement official said.
CNN's John King and Elise Labott contributed to this report.