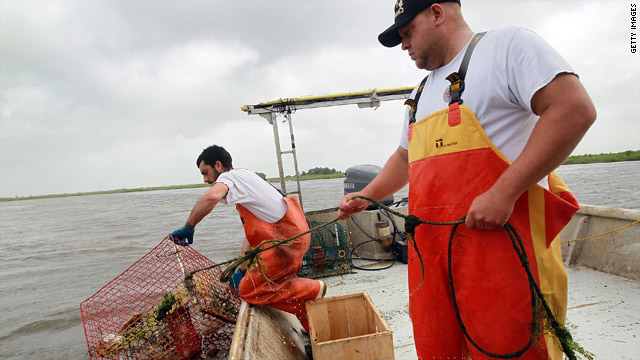 STORY HIGHLIGHTS
Spill and response already have taken toll on seafood, tourism industries
Dauphin Island, Alabama, city official: Seafood crop could take a decade to recover
Forty percent of fish harvested in the Lower 48 states comes from the Gulf
Vacationers spend billions in the region, but many Americans have canceled plans
(CNN) -- As Gulf Coast residents wait for a huge oil slick to reach their shores, the spill and the massive response already have begun wreaking havoc on livelihoods in a region where jobs are largely dependent on two ocean intensive industries: seafood and tourism.
Stephen Denmark, a city council member in Dauphin Island, Alabama, said Saturday that local scientists are predicting that the seafood crop could take a decade to recover from the oil slick.
"The last two years have been tough already," Denmark said, referring to the recession. "This will be catastrophic to the mom-and-pop businesses, which is 90 percent of the business down here on the island."
Louisiana Gov. Bobby Jindal said Saturday that heavy oil is likely to begin hitting the state's coast by Sunday or Monday.
U.S. Coast Guard Commandant Adm. Thad Allen -- the Obama administration's national incident commander for the slick -- said Saturday that oil also is likely to reach shorelines in Mississippi and Alabama in coming days.
But some Gulf Coast oyster beds and other seafood harvesting grounds are already awash in oil, according to Casi Callaway, executive director of the Alabama-based environmental group Mobile Baykeeper.
"It's already covering shrimp beds and shrimp grounds in the Gulf," she said. "So it's here and it's now and it's happening."
Callaway said that the oil could ruin oyster beds for up to two decades.
Forty percent of the fish harvested in the lower 48 states comes from the Gulf of Mexico.
Vacationers, meanwhile, spend billions of dollars every year in the region. But this week, many Americans canceled plans to travel to the Gulf Coast over the summer.

Video: Time runs out for Alabama fishing town

Video: Oil slick hinders boat tour business
"I'm pretty much on pause right now ... it's just a big waiting game," said David Boola, a fisherman who leads boat trips out of Venice, Louisiana.
"I'm extremely worried because I have customers that [have] already canceled trips," Boola said Saturday. "I should be out taking people fishing today and I'm not. I'm not making money today. Or tomorrow. I'm worried about the 'now' factor, you know?"
Besides the oil, the deployment of hundreds of thousands of feet of floating booms along the Gulf Coast to protect sensitive land areas has kept many fishing boats tied up at the dock.
In Florida's Panhandle, where Saturday was the deadline for tourists to cancel summer plans at many hotels, phones were ringing off the hook.
"In the hurricane season, you know you can't stop the hurricane, but you can prepare ... and we're great at that," said Jewel Cannada-Wynn, deputy mayor of Pensacola, Florida. "But how do we deal with an oil spill? It's a helpless feeling."
Blows to seafood and tourism are likely to be felt in other industries in the Gulf Coast and beyond.
"It affects the people that truck it, the people that make the ice, the people that [provide] fuel -- the labor just to transport it is just monumental," said Denmark, describing the long chain of workers involved in harvesting and shipping seafood. "It's not just the people that catch it and process it."