Colorado man goes to Nepal to seek missing daughter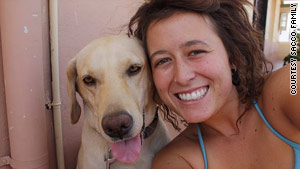 Aubrey Sacco's relatives say they last heard from her on April 20, before she started a hike in Nepal.
STORY HIGHLIGHTS
Colorado woman, 23, disappeared after starting hike in Nepal last month
Recent University of Colorado graduate was on six-month Asian trip
Father, brother and guide leaving Colorado to help search for Aubrey Sacco
"I want to get to her because I'm starting to worry," Paul Sacco says before flight
(CNN) -- A Colorado man and his son began flying to Nepal on Monday evening to help search for his 23-year-old daughter, who he says failed to contact her family after hiking there alone last month.
Paul Sacco says his daughter, Aubrey Sacco, last e-mailed her family on April 20, when she started what was to be a roughly 10-day trek through the Langtang valley region north of Kathmandu.
"I want people to see me and know more about my daughter, and feel the urgency that we need to have to search for her," Sacco said by phone Monday about his decision to fly to Nepal. "I understand, from talking with world travelers and others, that nothing substitutes for being there [during a search]."
Aubrey Sacco of Greeley, Colorado, was near the end of a six-month Asian trip, during which she taught and took yoga classes at a Sri Lankan resort and traveled through southern India, according to her family.
The 2009 University of Colorado graduate told her family she'd gone to Nepal, would be hiking in Langtang National Park at the base of the Himalayas and would check back with them around April 29, according to her family. Having not heard from her, the family started contacting the U.S. Embassy in Nepal around May 4.
The embassy, Nepali authorities and people in Nepal that the family contacted through word of mouth have helped to look for her, Paul Sacco said. He's happy with the attention her case has received there and praised everyone who has helped, but now he wants to join the search, including walking trails if need be.
"I want to get to her because I'm starting to worry. But I think she's tough enough to make it," Sacco said.
Joining Sacco and his son is a Nepali man living in Colorado -- a nephew of a family friend -- who will serve as a translator and guide.
Sacco's concerns were stoked by Maoist protests that disrupted businesses in Kathmandu in the first week of May. He speculated that his daughter might have had difficulty finding a bus back to Kathmandu because of the unrest there, and either went back into the park or decided to hike back to the capital city.
Aubrey Sacco typically had contacted her relatives by Skype or e-mailed them every four days or so during her Asian trip, said Aileen Berlin Barry, a friend and spokeswoman of the Saccos, in a written statement.
The most recent post in a blog that Aubrey Sacco had been been keeping for the trip was made on April 15. The post mentions a train ride she'd taken to northern India but didn't include anything about Nepal.
Sacco said U.S. Embassy representatives are to meet him when he lands in Nepal on Wednesday. He said that if anyone could make it through a difficult situation, it'd be Aubrey.
"She's a yoga instructor and in excellent physical shape," he said. "So even if she did get altitude sickness, it's not like she's some couch potato trying to do something she shouldn't."

CNN's Pamela Sellers contributed to this report.