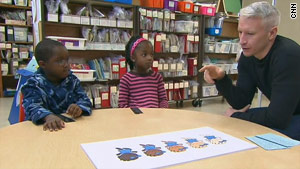 CNN's Anderson Cooper talks to two children about their skin color preferences.
STORY HIGHLIGHTS
More than 4,500 CNN.com users comment on story on children and race

New study shows black and white children are biased toward lighter skin

One user says parents are the biggest influence

Some users suggest results should be questioned
Singer John Legend joins the discussion as AC360's" special coverage "Black or White: Kids on race," continues tonight at 10pm ET
(CNN) -- The discussion of race is never a black and white issue, and recent "AC360°" and CNN.com reports about young children's attitudes on race became one of the most discussed stories on the site, eliciting more than 4,500 comments.
In the study, white children had an overwhelming bias toward white, and black children also had a bias toward white, but it was not nearly as strong as the bias shown by the white children.
Many users of the site thought parenting was the issue behind the results, some thought the kids were too naive and others thought the testing method was flawed.
Kids' test answers on race brings mother to tears
Margaret Beale Spencer, a leading researcher in the field of child development, designed the pilot study for CNN's "AC360." Beale Spencer used a team of three psychologists to implement it: two testers to execute the study and a statistician to help analyze the results.
Her team tested 133 children from schools that met very specific economic and demographic requirements. In total, eight schools participated: four in the greater New York area and four in Georgia.
Spencer's test aimed to re-create the landmark doll test from the 1940s. Those tests, conducted by psychologists Kenneth and Mamie Clark, were designed to measure how segregation affected African-American children.

Video: Mother reacts to daughter's doll test

Video: Father reacts to daughter's doll test

Video: Inside the AC360 doll study
Many people who read the story commented that racism is a learned behavior.
"I do believe that parents must take an active role [regardless of race] to inform their children that they are no better or no worse than anyone because of race," Kejohn03 wrote. "These lessons were taught to me and when I have children I will do the same. Once this happens, then there will be less misconceptions and negative perceptions regarding race."
Another reader thought many people missed the point of the results of the study. No one says the children are racist, Trumpet01 wrote.
"The problem here is that if parents do not talk to their kid about race and how to perceive people that are 'different from them', they would simply form their opinions based on whatever [right or wrong] they gather from society. To suggest that anyone is labeling these innocent kids to be racist is merely unfortunate," the writer said.
Watch the psychologist who devised the test talk about the role of parents

One person said they had done a mini-survey with a much smaller sample set -- their children -- and said the results showed the influence television has on our lives.
Realjoe said the same questions were posed as were new ones. The writer said that where they live, there is a big Native American population. The children chose a brown figure as the one most likely to have a drinking problem, the white figure as the one that was gay and the black doll was picked for the sports questions, he wrote.
"I say, thank you media/TV," realjoe wrote.
A few readers thought the study was flawed. Some thought more children should have been studied while others thought that 5-year-olds won't give answers that prove anything.
"For one thing, 5-year-old children don't have a broad base of experience and are inclined to pick the familiar," andme2 wrote. "If the child doesn't have any brown or black friends, chances are he or she will gravitate toward white children because children of a different color are unknowns in his or her life."
The reader thought it would have been better if the children were observed interacting with each other in different groups, but acknowledged that might have been an issue, too, "because the children would realize something was expected of them and might behave accordingly."
Others said children -- and adults -- were conditioned to think of light objects as good and dark as bad. It's "something human beings have been doing for thousands of years," reader timmy2136 said.
But others said the study's results were the most important thing and the discussion over the methodology drew attention away from the revelations of the tests.
"I think it's interesting how many people want to fight the results, rather than conclude, 'Hey, maybe it is a good idea to teach our kids when they are really young that we shouldn't judge people by the way they look,' " FrustratedMI wrote.
iReport: Where do we go from here?
Watch Anderson Cooper 360° weeknights 8pm ET. For the latest from AC360° click here.