STORY HIGHLIGHTS
NEW: BP's COO says more time is needed to determine if top kill procedure is working
BP did hours of testing before starting top kill Wednesday afternoon
Florida Sen. Ben Nelson calls for military to intervene if top kill fails
Oil has washed ashore in nine locations in Louisiana, affecting 100 miles of coastline
Venice, Louisiana (CNN) -- More than six hours after BP's latest attempt to cap the runaway leak in the Gulf of Mexico got under way Wednesday afternoon, officials said it was too soon to say whether it was working.
In Robert, Louisiana, BP Chief Operating Officer Doug Suttles would not comment on the impact of the "top kill."
"It's too hard to say," he said. "I think we just need to take the next 24 hours and actually see what the results are."
But the operation was going according to plan, he said, with more than 7,000 barrels of drilling mud applied by 7 p.m. (8 p.m. ET) at a rate of up to 65 barrels per minute, he said.
CNN.com Live: Underwater view of top kill procedure
Coast Guard Rear Admiral Mary Landry, the federal on-scene coordinator, was equally reluctant to draw conclusions.
"While we're very encouraged by some aspects of this procedure, I don't want to express optimism until I know for sure that we've secured the well and the leak has stopped," she told reporters.

Video: Carville to Obama: Tell BP I'm your daddy

Video: Oil still flowing after 6 hours of 'top kill'

Video: Nungesser fed up with BP, Coast Guard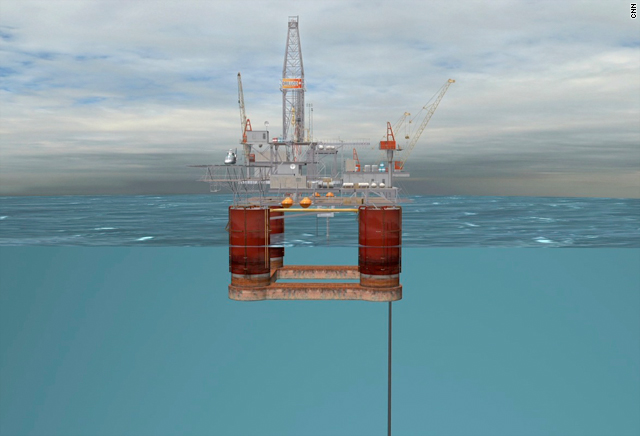 Explainer: Stopping the leak
Speaking from BP's command center in Houston, Texas, BP Chief Executive Officer Tony Hayward cautioned against drawing conclusions based on the live video feed of the stricken well a mile below the surface.
"It's unlikely to give us any indication of what's really going on," he said. "Increases or decreases are not an indicator of success or failure at this time."
The 24-hour timetable diverged from one offered by Louisiana Gov. Bobby Jindal, who told reporters in Venice, Louisiana, that he expected to know Wednesday night whether the attempt was working.
"What they have told us is it will take a couple of days for it to be fully implemented, but that they should know in a matter of hours," he said late in the afternoon. "We should, hopefully, know something later tonight," he said.
WWL-TV: Fishermen hear from Alaskans on '89 oil spill
Whatever the timing, patience was in short supply. More than a month after the April 20 blast that killed 11 workers and uncorked the oil flow into the Gulf, Plaquemines Parish President Billy Nungesser on Wednesday blasted the federal government's response and called for its point man to step aside.
"Thad Allen should resign," Nungesser said, referring to the U.S. Coast Guard admiral who has been leading the government's effort. "He's done absolutely nothing. He's an embarrassment to this country."
Read more about what Nungesser said
Nungesser, who had just completed a tour of the stricken area, bemoaned what he had seen. "The same oil that's been out there two weeks ago is still out there, and nothing is being done," he said. "The marsh is dying. It's dead."
He said the Coast Guard should demand that BP begin cleanup efforts immediately. "They had no plan to keep the oil out, even though they said it wouldn't come ashore," he said. "They had no plan to clean it up. They have no plan to make the fishermen whole. It's like it's being run with a bunch of seventh-graders. This is absolutely ridiculous."
Nungesser said he was holding out hope that President Barack Obama's return visit to the region on Friday would result in action. "When he comes back, he needs to change the command that's in charge of this," Nungesser said.
The parish president specifically called on Obama to support plans touted by Jindal for the Environmental Protection Agency to issue dredging permits so that berms can be constructed to protect the state's threatened marshlands.
The EPA has said it is studying the proposal.
Landry defended Allen's work. "I would hope that Adm. Allen, who has been at this since day one, would not even consider taking that recommendation," Landry told reporters. "I don't think the president would back that up either."
She added, "I don't think we can spare to have anyone leave at this point. I think we're right in the middle of the fight."
She also disputed the assertion that little was being done. So far, BP has spent more than $750 million on the spill, and federal authorities have spent more than $100 million, which BP will reimburse, she said.
More than 20,000 people and an armada of vessels and equipment from a number of federal and state agencies as well as from the private sector are being used, she said. "Nobody is not involved in this spill in this region," she said.
Wednesday's effort to cap the flow got under way at 1 p.m. (2 p.m. ET), when BP began pumping thick, viscous fluid twice the density of water into the site of the leak. If all goes according to plan, the well would then be sealed with cement.
Hayward, noting that the effort has never been carried out at such depths, has said there was a 60 percent to 70 percent chance of success.
"If it's successful, and there are no guarantees, it should greatly reduce or eliminate the flow of oil now streaming into the Gulf from the sea floor," Obama said after discussing the top kill procedure with Energy Secretary Steven Chu, who was in Houston at the command center. "And if it's not, there are other approaches that may be viable."
Obama plans to announce Thursday "strengthened inspections" and an effort to tighten safety regulations for offshore drilling, an administration official said.
iReport: Share your views on the oil spill response
He is also expected to discuss other recommendations that came from a 30-day review he ordered shortly after the April 20 explosion aboard the drilling rig Deepwater Horizon that triggered the leak and left 11 men missing and presumed dead.
If the "top kill" does not succeed, pressure for the White House to take action is sure to increase.
"If this thing doesn't work, then the president ought to turn this over to the military," said Sen. Bill Nelson, a Democrat from Florida. "You've got to have BP's cooperation because they have the best technical instruments, but we have got to have somebody in charge and I think the U.S. military is best suited to do that."
Administration officials have said BP is best equipped to plug the leak. In preparation for the operation, BP put equipment into place early Wednesday. A team of experts examined conditions inside the five-story blowout preventer to determine how much pressure the injected mud will have to overcome.
A blowout preventer is a critical piece of equipment designed to shut down the well in the event of an emergency, but it failed in the BP leak.
Oil spill demystified: A glossary
On Tuesday, congressional investigators reported that the oil giant had had three indications of trouble aboard the rig. The well unexpectedly spouted fluid three times in the 51 minutes before the explosion and pressure on the drill pipe "unexpectedly increased" before the blast.
A House Energy and Commerce Committee memo summarized preliminary findings of BP's own investigation into the disaster and said it "raised concerns about the maintenance history, modification, inspection and testing" of the rig's blowout preventer.
Hayward said Wednesday that the industry was dealing with an "unprecedented accident."
"Well, as in all major accidents of this sort, what we're seeing here is a whole series of failures," he said. "We've identified in our initial assessment, at least seven. That investigation is far from complete."
Meanwhile, fishermen and tour boat captains sat idle Wednesday as oil blotted more than 100 miles of shore in Louisiana, where fishing is a $2.4 million industry, officials said.
The oil has washed ashore in nine locations in Louisiana, affecting 100 miles of coastline. The shores of Alabama, Mississippi and Florida remain unblemished, Suttles said.
Online maps, apps help track oil spill
After EPA's admonition that the amount of dispersant used in the ocean be reduced, none was used on Wednesday, Landry said. Instead, efforts were focused on skimming and in situ burning, she said.
If the "top kill" fails, an attempt would be made to contain more of the flow than is currently being siphoned through a riser insertion tool, according to Suttles.
That would likely be followed by an attempt to place another blowout preventer on top of the existing one, which failed, he said.
"Everyone has experienced a great deal of frustration that we're 30-some odd days into this oil spill and we haven't yet contained the flow," Suttles said. But, he added, "We're doing everything we can to bring it to closure."