Oil spill reaches all way to White House
STORY HIGHLIGHTS
Gulf Coast oil spill has become Obama's most pressing problem
"Plug the damn hole," Obama told aides, according to Washington Post
CNN poll shows 51 percent disapproval with Obama's response
Obama on Gulf Coast on Friday, partly to show his involvement
(CNN) -- The oil spill off the south coast of the United States now reaches practically all the way to the White House and President Barack Obama is being soiled by it.
"Plug the damn hole," the Washington Post reports he told his aides in frustration.
Obama is leading two wars and pushing reforms ranging from hospital care to high finance, but "that hole" is becoming his biggest immediate problem, an ongoing environmental disaster that he has been unable to stop.
He was scheduled to make his second visit to the region on Friday, at least in part to demonstrate his involvement.
So far, the demonstrations haven't compared to live underwater video that Americans are watching on TV and the internet, showing oil spewing out of the damaged well on the ocean floor around the clock.
"It's just beginning. It's going to get worse and worse," said historian David Brinkley. "Those visuals are infuriating the American people."

Video: Oil spill 'top kill' day two

Video: President Obama's moment of truth

Video: Oil industry fights back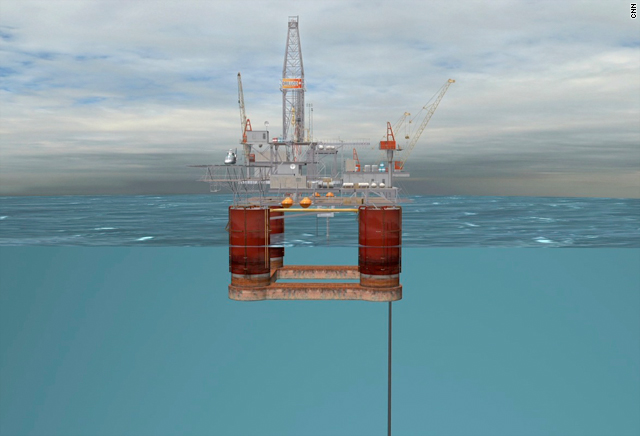 Explainer: Stopping the leak
Their anger has had time to grow. It's been more than a month since an explosion ripped apart an oil rig that was drilling for BP, killing 11 workers and setting off the spill.
BP has led efforts to plug it, both because of its legal obligations and its access to industry equipment and expertise the government doesn't have.
But Americans are frustrated that the Obama administration isn't doing more.
A new CNN poll finds that by 51 percent disapprove of how the president has responded and even some of his prominent Democratic supporters can see the political damage.
"The perception is that we're fumbling around," said Senator Bill Nelson of Florida, one of the southern states that fears for its coastline.
Obama has established a special commission to investigate the leak and ordered better safety measures and inspections to prevent future mishaps.
But those are long-term plans that won't remedy the short- term disaster.
From the oyster houses of New Orleans to the beaches of Miami, Americans are waiting to see how much oil will escape before it's finally stopped.
And what the president will do to stop it.

Oil disaster: Tracking the numbers
Part of complete coverage on

A number of organizations are recruiting volunteers to help clean up coastal areas

Get the numbers, see the images and learn how the worst U.S. oil spill has changed lives, ruined economies and more.

These stories help us look into the lives of the hardworking people of the Gulf as they watch this disaster take its toll.

Is your area being affected by the spill? Help CNN track the oil slick and its effects on Gulf Coast communities and wildlife


Today's five most popular stories