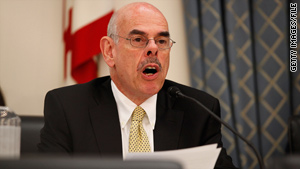 Rep. Henry Waxman says the congressional investigation alleges that BP took a cost-cutting and speedy approach.
STORY HIGHLIGHTS
Documents released by congressional investigators raise more questions about BP
Drilling engineer testified that BP assured safety of Gulf of Mexico well
E-mails show the company was less than confident, calling the well a "nightmare"
BP skimped on recommendations by cement subcontractor Halliburton, e-mails show
(CNN) -- What did BP know about its troubled Gulf of Mexico well and when did they know it?
More questions arose this week as congressional investigators released confidential documents, some of which contradict testimony the company's drilling engineer made a few weeks ago.
At a federal hearing in May, Mark Hafle said under oath that BP was confident about the safeguards on its Gulf well.
But in an e-mail sent on April 14, six days before the deadly explosion aboard the Deepwater Horizon drilling platform, Hafle was the opposite of confident. He called the Macondo well sitting a mile below the ocean's surface "a crazy well."
Brian Morel, another drilling engineer who worked with Hafle, described Macondo to colleagues as a "nightmare well which has everyone all over the place."
The e-mails were part of documents obtained by the House Energy and Commerce Committee, which is investigating the blast aboard the Deepwater Horizon and the massive oil spill that followed.
BP declined Wednesday to comment on the e-mails.
Committee Chairman Rep. Henry Waxman, D-California, penned a letter to BP Chief Executive Officer Tony Hayward earlier this week warning Hayward that he would face tough questioning when he appears before the panel Thursday.
Waxman said the congressional investigation alleges that BP took a cost-cutting and speedy approach to drilling the troubled well. Our "investigation is raising serious questions about the decisions made by BP in the days and hours before the explosion" that created the spill, Waxman noted.
The letter -- co-signed by Oversight and Investigations Subcommittee Chairman Bart Stupak, D-Michigan -- asserts that BP saved $10 million in part by skimping on a process to properly cement the well. It also asserts that BP ignored advice from Halliburton, its cementing subcontractor.
Read documents and transcripts at the House committee's website
In question are the oil giant's decisions on the well design and testing of the cement job.

Video: Obama, BP set for showdown

Video: Oil execs taken to task over safety
Hafle testified in the federal hearings in New Orleans that BP worked with Halliburton on the design of the cement job and that "several changes to the casing designs" were made to address problems with the well's cement walls and leaking drilling fluid. He said the problems had been addressed.
"No one believed there was going to be a safety issue with pumping that cement job," Hafle said.
But confidential e-mails obtained by Waxman's committee show otherwise.
Halliburton recommended that BP increase safety by using 21 devices to center the production casing at the wellbore, but the documents reveal that BP decided to go with only six.
"It's a vertical hole so hopefully the pipe stays centralized due to gravity," Morel wrote on April 15. "As far as changes, it's too late to get any more product to the rig, our only options [sic] is to rearrange placement of these centralizers."
In another case, only four days before the rig blast, Brett Cocales, a BP operations drilling engineer, told colleagues that normal procedures had not been followed to ensure a pipe in the drilling hole was properly cemented in place.
''Who cares, it's done, end of story, will probably be fine and we'll get a good cement job,'' he said in an April 16 e-mail.
Four days later, an explosion that killed 11 workers aboard the drilling rig led to the rupture of the Macondo well, and oil began gushing into the Gulf at a rate of millions of gallons a day.
CNN's Moni Basu and Vivian Kuo contributed to this story.
FOLLOW THIS TOPIC