Wisconsin parking garage collapse kills one, injures two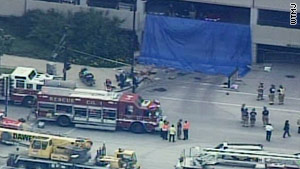 The parking deck was filled more than usual due to the start of a music festival in Milwaukee, Wisconsin.
STORY HIGHLIGHTS
30-foot concrete slab cracked off the structure, fire official says
The deck was used by music festival concertgoers
Summerfest events will continue but a main road and the garage are closed for inspection
(CNN) -- One person was killed and two people were injured Thursday when a portion of a parking garage collapsed in Milwaukee, Wisconsin, according to authorities.
A 30-foot concrete slab cracked off the parking structure for O'Donnell Park, a lakefront urban park, Assistant Fire Chief Michael Jones told reporters.
The parking deck was filled more than usual due to the start of Summerfest, which is billed as Wisconsin's largest music festival. The festival is scheduled to run until July 4, and Milwaukee Police Chief Ed Flynn said Thursday that concerts will continue as planned.
The affected parking deck and adjoining street, however, will remain closed, Flynn said.
Dave Jenkins said he saw the collapse occur from across the street. He said there was no warning, no noise, and that he feared that the entire structure would fall down.
"Stuff like that happens in the spur of a moment," Jenkins said.
People who parked in the garage will not be able to retrieve their cars until county structural engineers as well as external engineer firms inspect the structure, Milwaukee County Executive Scott Walker said.
Once the vehicles are removed, the deck will remain empty until its safety can be assessed again, Walker said. He did not have a time estimation for either inspection processes and said ensuring the deck's safety is the top priority.
"We need to know what happened here and why," he said.
Walker said there was no report of maintenance backlog that would have caused the collapse, but said maintenance records will be reviewed.
The garage needed $600,000 worth of repairs for a deteriorating retaining wall in December 1996, county officials disclosed to the Milwaukee Journal Sentinel at the time.
FOLLOW THIS TOPIC