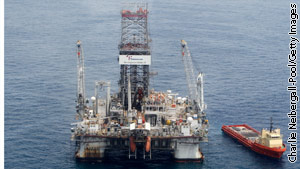 A federal judge issued an injunction against a government moratorium on oil drilling.
STORY HIGHLIGHTS
Obama administration demands BP gameplan answers within 24 hours
One relief well could intercept the main well in seven to 10 days
Cleanup could make great strides as better weather moves in
A court battle over a ban on offshore drilling begins Thursday
New Orleans, Louisiana (CNN) -- The first relief well BP is drilling in the Gulf of Mexico could intercept the leaking Deepwater Horizon well in seven to 10 days, the man heading the federal response to the oil crisis said Thursday.
Retired Coast Guard Adm. Thad Allen said the length of time it will take to seal the well will depend on "where the oil is coming up through, where they can intercept, where they can put the mud in, where they can put the cement plug."
He reiterated that despite that accelerated time frame, he's sticking with mid-August as the expected time for the "bottom kill" procedure to be completed. "Certain things could move that up," Allen said, but for the second time in as many days, he couched that optimism, saying, "It's better to under-promise and over-deliver."
Two senior Obama administration officials responded to news reports saying BP was touting a July 27 kill date, saying that was not a reasonable timeframe and stressing that the process needed to be done with safety in mind.

Video: Oyster population decimated by oil

Video: Oil clean-up health concerns

Video: Louisiana officials dealing with oil

Video: Accountability for the oil spill?
BP is in the final stages of drilling one of two relief wells, which is now 17,780 feet deep, Allen said. He called it "the slowest, most meticulous part." A second relief well -- a redundancy measure taken at the direction of the Obama administration --has reached a depth of approximately 13,900 feet.
After several days of rough seas, improved weather Thursday was allowing oil skimmers to restart their cleanup efforts in the Gulf, said Allen. He added that forecasters expected good weather for the next seven to 10 days, and he hoped to make significant progress in the operation during "a weather window that we may not see again this summer."
To take advantage of the pleasant weather, "it might make sense to go quickly," a senior Obama administration official told CNN. The administration sent a letter signed by Allen to BP Chief Managing Director Bob Dudley demanding answers on how viable it is to move forward on two new major actions simultaneously: concurrently hooking up the oil-recovery vessel, the Helix Producer, and replacing the existing containment cap with a larger, more permanent one the Obama administration is calling the "sealing cap."
Two senior administration officials told CNN that BP has been expecting the letter, so the White House expects answers as early as tonight, and if BP answers the questions to the government's satisfaction, the administration will try to get the simultaneous actions going this weekend. Allen said it would make sense to replace the containment cap and hook up the Helix Producer at the same time.
Rough seas earlier in the week delayed plans to deploy the Helix Producer, which could bring in up to 25,000 barrels of oil a day from the ruptured well, upping the total possible collection to 53,000 barrels of oil a day, which Allen said is the maximum amount of oil capturable in the current setup. BP says it recovered about 24,575 barrels on Wednesday, bringing the total number of barrels removed from the Gulf to about 706,700.
Allen also said switching out the containment caps would increase the potential oil gathered each day to between 60,000 and 80,000 barrels -- more than the 35,000-60,000 barrels scientists estimate is spewing from the breached well each day. However, while the caps are being switched out, the 15,000 or so barrels of oil the Discoverer Enterprise ship is currently swallowing daily would flow freely into the Gulf, so having the Helix Producer up and running to gulp up the gushing oil would be crucial.
Two other ballyhooed response tools still have obstacles to pass before responders can use them. Before the giant converted cargo ship A Whale can start official skimming operations, it will undergo one more week of testing, said Bob Grantham, spokesman for the company, TMT Offshore, that owns the ship.
"Since the A Whale arrived in the Gulf last week, we have faced difficulties in performing a good test of her capabilities," said Grantham. "The ship encountered rough seas for effective skimming, being deployed for testing at the very time almost all other skimmers had to head to port. We faced engineering challenges that needed to be addressed."
"As with any new tool, adaptations are necessary to make it more effective. You learn as you work. We have already made mechanical and operational changes designed to adapt to the conditions we found in the Gulf. We designed, fabricated and installed an innovative new system of conduits to direct oily water from the vessel's intake jaws to its tanks. This system was fabricated by one of the most experienced regional marine repair hands, the Buck Kreihs shop from right here in New Orleans. In short, one of the most sophisticated cargo ships built by Hyundai in South Korea was adapted to the oily waters of the Gulf by Louisiana ingenuity." said Grantham.
He added, "Even with these innovations now complete, there is more work to be done."
And a blimp specially fitted for aerial observation is still on its way to the Alabama AFB, said Coast Guard Lt. John Budiao. He added that just like A Whale, the blimp will need to undergo many tests before it's ready to use.
While the relief-well drilling and Gulf cleanup continue, the battle over President Obama's effort to suspend deepwater drilling moves Thursday to a federal appeals court in Louisiana.
Oral arguments in a case that challenged the Obama administration's six-month ban on deepwater drilling start in the afternoon in New Orleans.
An advocacy group called Alliance for Justice made a pre-emptive strike against the court on Wednesday. It released a report alleging that many appeals court judges have extensive ties to the oil industry, including the three-judge panel that will preside over the drilling ban hearing.
If the federal government ban is stopped, the state of Florida may enforce its own ban on offshore drilling. Gov. Charlie Crist called Thursday for a special session of the Florida Legislature from July 20 through July 23 to address a constitutional amendment banning offshore drilling in Florida waters. Crist's spokeswoman Jessica Freud told CNN the Florida senate has expressed interest in the ban and state senator Alex Villalobos from Miami will sponsor the senate's version. The governor's had not yet heard from the Florida House of Representatives, said Freud.
The extended cleanup time is wreaking havoc on Gulf coast businesses. Oysterman Vlaho Mjehovich told CNN the damage to the local waters has long-term repercussions.
"I've seen areas go for 10 years without oysters coming back. This is not going to be done and fixed overnight. People have to understand. This will take years to come back. What do you do? I had a business. Now, I don't have a business. My business was taken from me overnight. I have to go look for a job now," Mjehovich said.
CNN's Senior White House Correspondent Ed Henry, John Couwels and Vivian Kuo contributed to this report
FOLLOW THIS TOPIC