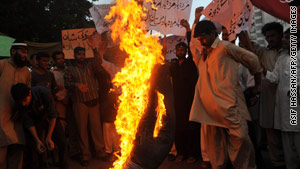 Pakistani Muslims burn an effigy of cartoonist Molly Norris during a protest in May in Karachi, Pakistan.
STORY HIGHLIGHTS
Cartoonist Molly Norris began a controversy with an online cartoon in April
She proposed "Everybody Draw Mohammed Day"
Many Muslims find depictions of the Prophet Mohammed to be deeply offensive
The FBI says Norris has been warned about death threats
Seattle, Washington (CNN) -- A Seattle cartoonist who drew a cartoon about the Prophet Mohammed has been warned by the FBI about death threats made against her by a radical cleric with ties to al Qaeda, an FBI agent said Tuesday.
"She should be taken as a prime target of assassination," terror suspect Anwar al-Awlaki purportedly wrote about cartoonist Molly Norris in an English-language magazine called Inspire that claimed to be a publication of al Qaeda in the Arabian Peninsula.
"This campaign is not a practice of freedom of speech, but is a nationwide mass movement of Americans" who are "going out of their way to offend Muslims worldwide," the article signed by al-Awlaki continued. Al-Awlaki is himself being sought in Yemen for his alleged role as a planner of the failed bombing of a Detroit-bound passenger plane on Christmas Day last year.
Norris has been advised to take precautions to ensure her safety, said FBI Special Agent Marty Prewett.
"The FBI is always reviewing and assessing information it receives," Prewett said. "Whenever the FBI comes into possession of information of a threatening nature to an individual, we let that person know so they can take appropriate security measures. That is the case here."
Prewitt declined to comment on where Norris is and whether she is receiving protection from law enforcement. Al-Awlaki also threatened eight other cartoonists, journalists and writers from Britain, Sweden and Holland.
Norris kicked off a controversy in April with a cartoon published online about an imaginary group called "Citizens Against Citizens Against Humor" that proposed an "Everybody Draw Mohammed Day" on May 20.
Norris said in media interviews at the time that she was inspired by the furor created from an episode of the show "South Park" that depicted the Propeht Mohammed dressed in a bear suit.
Comedy Central, which airs "South Park," aired an edited version of the episode after the show's creators received threats.
Norris' cartoon inspired a campaign to create pictures of the Islamic prophet across the internet with over 100,000 people signing up on a Facebook page. A Pakistani court ordered access to Facebook there cut off for two weeks. Competing sites blasted the campaign also drew tens of thousands of followers.
Many Muslims find drawings and other depitcions of the Prophet Mohammed to be deeply offensive.
Norris said the consequences of the drawing were unintended. "I wasn't savvy," the cartoonist said in an interview last month with City Arts Magazine, where many of her cartoons were published. "I didn't mean for my satirical poster to be taken seriously. It became kind of an excuse for people to hate or be mean-spirited. I'm not-mean spirited," Norris said.
An editor at City Arts said neither the magazine nor Norris had any comment on the death threats against her.
Adam Raisman, a senior analyst for the Site Intelligence Group, which monitors Islamic terror groups online communications, said al-Awlaki's threats constituted a continued effort to reach a wider audience and should not be taken lightly.
"The prophet is the pinnacle of Jihad [for al-Awlaki and his followers]," he said. "It is better to support the prophet by attacking those who slander him than it is to travel to land of Jihad like Iraq or Afghanistan."
In February an ax-wielding man broke into the home of Danish cartoonist Kurt Westergaard who has been targeted by extremists for his drawing of Mohammed. He and his grandaughter hid in a fortified "panic room" during the attack.
FOLLOW THIS TOPIC