Arpaio's office investigating alleged threat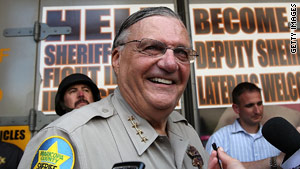 Maricopa County, Arizona, Sheriff Joe Arpaio calls himself "America's toughest sheriff."
STORY HIGHLIGHTS
Sheriff's office says the threat was made on throwaway phone in Mexico
The FBI says it has no open investigation but would assist if asked
The threat allegedly offers $1 million to kill Arpaio
The sheriff is a lightning rod on immigration, crime
(CNN) -- The office of a controversial Arizona sheriff is investigating an alleged threat against the lawman it says came in the form of a text message from a throwaway cell phone in Mexico, a spokeswoman said Monday.
Maricopa County Sheriff's Office spokeswoman Lisa Allen said that the FBI is assisting in the probe of the threat against Sheriff Joe Arpaio.
But FBI Special Agent Manuel Johnson, a spokesman for the bureau's Phoenix office, said that he knows of no FBI investigation, although, he said, they were aware of it. Johnson said the bureau would pitch in if Arpaio's office requested their assistance.
Allen said that the message, sent to a "text message tree," similar to a phone tree, offered $1 million to anyone who could kill Arpaio. But, she said, investigators "don't know how likely it is" they will be able to track down the sender.
It was not clear how the threat came to light.
"We are securing him [Arpaio] as best we can to ensure his safety," she said, adding that the sheriff is "a brave man" who won't let threats keep him from his job.
Arpaio, who calls himself "America's toughest sheriff," is famous for creating a tent city jail in the Arizona desert, providing pink underwear for inmates and bragging that he spends more to feed his dog than a prisoner in his jail. He made national headlines for his tough enforcement of Arizona's anti-illegal immigration laws and for his outspoken support for a new state immigration law, parts of which were blocked by a federal judge last week.
His critics say he has a long history of abusing his power and launching bogus criminal investigations against political opponents. Those critics note that while the probes were launched with great public fanfare, they rarely resulted in convictions.
A federal grand jury is probing the complaints, but Arpaio's allies have defended the investigations as necessary. The 78-year-old sheriff, who has been chief law enforcement officer for the county that includes Phoenix and many of its suburbs since 1992, would not discuss the issue with CNN in a July report, citing the federal probe.
FOLLOW THIS TOPIC