High winds fuel wildfires in Colorado, Oklahoma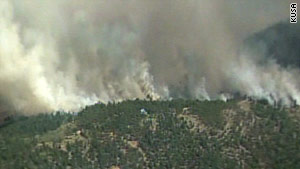 In Colorado's Four Mile Canyon region, 45-mph winds are helping to spread the flames of a 3,000-acre wildfire.
STORY HIGHLIGHTS
NEW: 100 firefighters battling 3,500-acre Colorado fire in rugged terrain
At least one home was destroyed in the northwest Oklahoma fire
About 1,000 homes are evacuated in Colorado
40- and 45-mph winds have been causing the fires to spread rapidly
(CNN) -- High winds helped fuel fast-moving wildfires in Colorado and Oklahoma on Monday, prompting evacuations in both states, officials said.
At least one home was destroyed in the 300-acre blaze in Woodward County, Oklahoma, where emergency officials have been responding to as many as five wildfires in the area since Sunday evening, when 40-mph winds began whipping through the region, said Matt Lehenbauer, director of emergency management for the county.
At least one firefighter suffered heat exhaustion, Lehenbauer said. No other injuries were reported.
The fire, located near Fort Supply Lake in northwestern Oklahoma, began at 11 a.m. (12 p.m. ET) and was 90 percent contained Monday afternoon, Lehenbauer said.
Authorities believe embers from a campfire sparked the blaze. About 30 homes and 120 campsites were evacuated as a result of the fire. Firefighters were also working a 1,200-acre blaze on the east side of the county, believed started by arcing utility lines, Lehenbauer said.
Also Monday, a 3,500-acre wildfire in Colorado's Four Mile Canyon area spread quickly through the highly populated region due to 45-mph wind gusts, according to Cmdr. Rick Brough of the Boulder County Sheriff's Office.
The winds initially grounded air tankers, making containing the blaze more difficult, he said. Later in the day, three were able to fly.
"If the weather conditions continue that are favorable, we'll have seven air tankers flying tomorrow," Brough told reporters.
About 1,000 homes were evacuated Monday, he said, and confirmed that structures have been lost to the fire, though he did not know how many. No injuries were reported.
The fire was moving northeast and causing nearby roads to be shutdown, Brough said, adding that officials were working to get firefighters into the area to contain the blaze.
About 100 firefighters were actively fighting the flames with an additional 75 in a staging area.
Firefighters are working in a "very rugged, steep area" that's difficult to access, contributing to the challenge, said Brough. He added it could take several days before the fire there is contained.
CNN's Dave Alsup and Erica Henry contributed to this report.
FOLLOW THIS TOPIC