State Department issues travel alert over Quran burning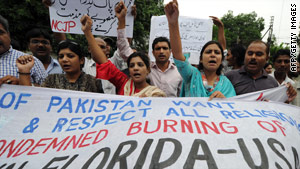 Pakistani Christians in Lahore protest Thursday plans by a pastor of a small Florida church to burn Qurans.
STORY HIGHLIGHTS
NEW: Florida pastor announces Quran-burning has been canceled
Potential for anti-U.S. demonstrations is high, State Department warns
Some have already taken place and turned violent, officials say
Washington (CNN) -- The U.S. State Department on Thursday issued a travel alert, cautioning Americans of "the potential for anti-U.S. demonstrations in many countries" over plans by a pastor of a small church in Gainesville, Florida, to burn Qurans on Saturday.
Later Thursday, Pastor Terry Jones told reporters that the book-burning had been canceled.
"Demonstrations, some violent, have already taken place in several countries, including Afghanistan and Indonesia, in response to media reports of the church's plans," the State Department advisory said.
Read more on Florida pastor's cancellation announcement
"The potential for further protests and demonstrations, some of which may turn violent, remains high. We urge you to pay attention to local reaction to the situation, and to avoid areas where demonstrations will take place."
The alert also reminded Americans of the "continuing threat of U.S. interests and citizens posed by various terrorist groups."

Video: State Department issues travel alert
U.S. government facilities worldwide remain at a heightened state of alert, and may temporarily close or suspend public services "to assess their security posture," the department said.
It encouraged U.S. citizens living or traveling abroad to register with the nearest U.S. embassy or consulate through the State Department's website.
FOLLOW THIS TOPIC