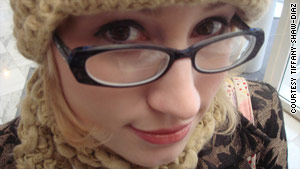 Tiffany Shaw-Diaz is a virtual volunteer for UNVolunteers.
STORY HIGHLIGHTS
Online options make volunteering more flexible, allow more people to help

Online volunteers tend to be younger

UNVolunteers online volunteers outnumber on-site volunteers

(CNN) -- The Peace Corps pamphlets had just arrived, but the then-Miss Shaw had just met the man she knew she would marry. She put the paperwork away in a bottom drawer and happily became Tiffany Shaw-Diaz.
But her dream persisted, and one day while surfing the web, she found the United Nation's Online Volunteering program. She signed up for an assignment that very day.
"It was so exciting. I wanted to connect with people on a global level and that stuck with me. It was so exhilarating to be able to work for the common good. I worked with people from China, India, all over the world. The solidarity was so authentic," says Shaw-Diaz.
Last year, the UNVolunteers program had about 9,000 online volunteers from around the world. It marked the first time the program's online volunteers outnumbered its on-site volunteers.
"Every year we are taken aback at how much it has grown," says Flavia Pansieri, the executive coordinator of the UNVolunteers program. "We are learning as we go along to not let our imagination be the limit -- there is always something new our online volunteers can contribute that we did not see."
Online volunteering jobs once consisted mainly of IT support and graphic design, but have expanded to include researching, writing, accounting, translating, video production, teaching and consulting.
Shaw-Diaz says there are no mandatory skills to participate, beyond an internet connection and a desire to help. "It may seem intimidating but it is not. When I first signed up, I thought my skills would not be useful. I could not translate. What can I bring to the table? It taught me that I had a lot more skills than I thought I had."
For one of her volunteer assignments, she found potential donors to help establish a health care center in the village of Kitega, Uganda. She and the five other members of her online team won the 2009 UNVolunteers' Online Volunteering Award.
The variety in ways people can contribute increases even more with virtual volunteering, the larger category that online volunteering is a part of.
"The term virtual volunteer conveys things that you can do virtually anywhere," says Robert Rosenthal, the director of communications for VolunteerMatch.org. "The idea that you are no longer locked into the needs of your immediate community means that you can connect to more opportunities, regardless of your skill set."
This larger category is a liberating choice for those not tech-savvy, as some opportunities allow volunteers to detach from the computer to contribute. Knitting for the group "Beanies for Baghdad" is one such example on VolunteerMatch's virtual volunteering listing.
These unique ways to volunteer also allow participation for those with limited time to contribute. "You can volunteer 30 minutes here, an hour here, even on lunch break. It is very portable and convenient, but you still get that connection, and you still get that joy of making a difference," says Shaw-Diaz, who laughs and says that there have been times when she couldn't fall asleep, so she would volunteer.
Even though a volunteer could technically save the world from the sofa, Rosenthal would avoid that description.
"Part of the problem with the couch idea is that it suggests this is for people who have nothing to do, but the people who volunteer are most often the busiest people. Virtual volunteering is great for the busy individuals who might have an hour or two at the office after work and want to make a difference."
Volunteering online is likely to continue its rapid growth in popularity, particularly with the younger generation. Because their lives are already networked online, they have quickly embraced this technological altruism. The average age for DoSomething.org's participants is 17, and the site has seen a 33 percent increase in virtual volunteering activity since the beginning of 2010.
Shaw-Diaz is excited to continue her online adventure and urges other people to do the same.
"I cant imagine myself not doing it. If I don't do it for a couple months, I get the itch, I want to learn about a different place, connect with a different organization. Once you have done one, you want to keep doing it."
If you are interested in online volunteering, here are a few organizations to help get started:
FOLLOW THIS TOPIC