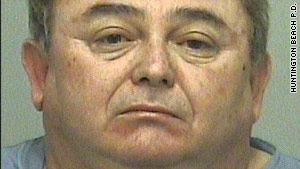 Robert Rizzo, former city manager of Bell, California, was making $787,638 per year in that position.
STORY HIGHLIGHTS
NEW: Former city manager not at fault for city's problems, lawyer says
One official made $787,638 annually
Brown wants to reduce their pension benefits
He plans to widen the probe statewide
(CNN) -- California's attorney general Wednesday sued eight former and current municipal officials in a small Los Angeles suburb, where ultra-high salaries sparked local outrage and national attention.
Attorney General Edmund G. Brown Jr. of California filed the suit "to recover the excess salaries" that officials from the city of Bell awarded themselves. He is also pursuing a reduction of their pension benefits.
"This is a very serious matter when public officials breach their duty to the public and enrich themselves with enormous obscene salaries which then trigger pensions of similar magnitude," Brown said.
"These officials must be forced to give up their ill-gotten gains, and we must enact strict reforms to prevent these kinds of abuses in the future."
Brown's lawsuit was filed against former city manager, Robert Rizzo; former assistant city manager, Angela Spaccia; former police chief, Randy Adams; council members Oscar Hernandez, Teresa Jacobo, and George Mirabel; and former council members Victor Bello and George Cole.
The suit charges include fraud, civil conspiracy, waste of public funds, and breach of fiduciary duty. It also alleges that the defendants deliberately misled the citizenry about the accurate amount of their compensation. Brown said his lawsuit is separate from a criminal investigation.
The suit is demanding that the people return all excessive compensation and it is asking the court to set "appropriate salary levels for pension purposes."
Rizzo's last annual base salary was $787,638, Adams' $457,000, and Spaccia's $336,000. Bell city council members were paid $96,000 a year before they took a recent cut. Cities of similar size pay their council members $4,800 a year.
Since 1993, the Bell city council raised Rizzo's salary 16 times, with an average increase of 14 percent a year. The city council raised his salary by 47 percent in 2005, and council members also awarded themselves salary increases of 16 percent a year since 2003.
Brown, who is running for governor, said Rizzo prepared a memo for the public that showed council members were paid $673 per month and Rizzo was paid $15,478 per month. But he said council members actually were paid $7,666 per month, and Rizzo was paid $52,325 per month.
Rizzo's attorney said he hadn't seen the allegations, but contends he was neither surprised by the lawsuit nor action taken by Brown, who he noted is running for governor.
Rizzo's salary was approved by the city council, said Jim Spertus. "There's nothing wrong there."
His client would have retired before, but the city wanted him to stay on, said Spertus, adding that Rizzo simply was paid through negotiations similar to the private workplace. The budgets were submitted for public review, he said.
"It's a misguided effort to assign blame in the wrong place," the lawyer said. "Mr. Rizzo is not at fault for the problems of Bell."
Brown said he plans to widen a statewide probe of public salaries and benefits, and he called for legislative reforms of salary and pension practice.
He is serving a subpoena on the city of Vernon, which is near Bell, "to obtain compensation records for city officials and employees."
"News articles have reported that one city official there received an annual salary of $785,000, and another received compensation totaling $1.6 million in a single year. Vernon, an industrial city near Bell, has a population of less than 100," the attorney general's office said.
CNN's Phil Gast contributed to this article
FOLLOW THIS TOPIC