Al Qaeda suspect at nuke plants leads to promise of improved security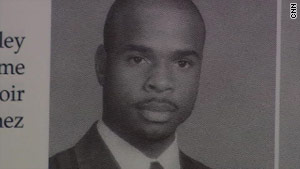 Sharif Mobley, shown in an undated photo, is suspected of belonging to al Qaeda.
STORY HIGHLIGHTS
Changes are being made after an inspector general's report pointed out problems
The suspect worked for six years at various nuclear power plants
Comments he made should have raised suspicions, the report says
(CNN) -- The Nuclear Regulatory Commission says it plans to improve security procedures in the wake of an investigation into an al Qaeda suspect's employment at several U.S. nuclear power plants.
The investigation by the commission's inspector general was carried out at the request of Sen. Charles Schumer and Rep. William Owens, both New York Democrats, after it emerged that the al Qaeda suspect, Sharif Mobley, had worked for six years at nuclear power plants in the Northeast, mainly the Salem/Hope Creek plant in New Jersey.
The inspector general's report, which is heavily redacted for security reasons, says Mobley had unescorted access to the sites where he worked. However, it notes he did not have access to "safeguards information" or computer systems. The commission defines safeguards information as that likely to have "a significant adverse effect on the health and safety of the public" if disclosed.
The inspector general's report says Mobley's behavior should have raised suspicions.
It says one investigative report had revealed that while Mobley was employed at a nuclear power plant, he said: "We are brothers in the union, but if holy war comes, look out." He also expressed the view that Islam is the only true faith and that all non-Muslims are infidels and was observed "with unusual Web sites on his personal computer, including one with a picture of a mushroom cloud."
The report adds that an employee who had known Mobley since 2002 was aware of this information but it had come to light only during the inspector general's investigation.
Mobley's attorney, Cori Crider, said he had been a welder and carried out menial work at the nuclear plants and rejected any suggestion that he had terrorist intent while there. "I really don't know how to dignify that with a response; it's just false," she said. "The idea that he had any nuclear secrets and that he would have sold them to al Qaeda is totally false."
In his report, Nuclear Regulatory Commission Inspector General Hubert T. Bell recommends improving employee training to detect behavior that might indicate terrorist intent and allowing the commission direct access to an industrywide database showing who has authorized access within nuclear power plants.
The report also notes that individuals seeking unescorted access to nuclear power plants were not required to disclose foreign travel in personal history questionnaires. "Unescorted access" is required for a significant number of temporary employees involved in maintenance such as refueling or steam generator overhaul.
Mobley was arrested in Yemen in March as a suspected member of al Qaeda. A week after he was detained, he is alleged to have shot two guards, one fatally, during an escape attempt from a hospital in the capital, Sanaa. He has been charged in connection with the shootings, and his trial is to begin this month.
Commission officials said their existing access to personnel databases is "robust" but agreed with the inspector general's overall recommendations.
Nuclear Regulatory Commission spokeswoman Holly Harrington said the commission has begun work on some security improvements and expects to introduce others based on the report's recommendations. She would not disclose what action is being taken for security reasons.
Schumer welcomed the report, saying: "This security plan will protect all New Yorkers, and is a victory for nuclear power plants and their workers, who will now have enhanced protections. The plants in New York have a strong safety record, and these tools will help them make it even stronger."
FOLLOW THIS TOPIC