California residents ducked, covered and cowered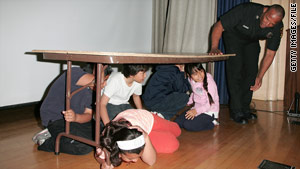 Fourth-graders particpate in an earthquake drill in March in Los Angeles, California.
STORY HIGHLIGHTS
"ShakeOut" teaches residents about earthquake preparedness
It was held at campuses, museums, hospitals and other sites
Los Angeles, California -- -- Millions of Californians participated in a drill Thursday at 10:21 a.m. PT for the dreaded "big one" -- a catastrophic earthquake.
The Great California ShakeOut was a practice run for Californians, who endure many minor earthquakes throughout the year but have always feared a cataclysmic one. Millions of people were instructed to "drop, cover and hold on" by the public address systems in offices and elsewhere.
After a minute, announcers on office address systems told workers: "The shaking is now over. You can stand up. Thanks for participating in the Great California ShakeOut."
The drill taught residents about earthquake preparedness.
About 7.1 million people were signed up for the second statewide drill, according to organizers. They plan to hold it annually.
"The purpose of the ShakeOut is to practice how to protect yourself during earthquakes so you will know how to react when the next earthquake strikes," organizers said in a statement.
"In addition, the ShakeOut drill encourages everyone to get prepared at work, school and home."
Organizers urged residents to ensure they are always prepared for the real quake by ensuring they have a family plan and emergency supplies.
The drill was timed for 10:21 a.m. with the 10/21 date at campuses, museums, hospitals and other sites.
It was sponsored by various state agencies, including the California Emergency Management Agency and the United States Geological Survey.
Last year's drill was on October 15 at 10:15 a.m.
FOLLOW THIS TOPIC