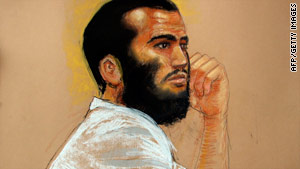 Omar Khadr, shown in a courtroom sketch from early August, was 15 when he was captured in Afghanistan in 2002.
STORY HIGHLIGHTS
Question in Khadr proceeding was whether he wanted to fight
Prosecutor says document shows he voluntarily and knowingly committed war crimes
Document was part of his guilty plea
Terms of Khadr's plea deal have not been made public
Washington (CNN) -- Guantanamo detainee Omar Khadr tossed a grenade "with the specific intent of killing or injuring as many Americans as he could" at the end of a July 2002 firefight in Afghanistan, according to a stipulation of facts document Khadr signed as part of his guilty plea.
The document says that when Khadr was interviewed three months later he said, "He felt happy when he heard that he had killed an American," a reference to Sgt. First Class Christopher Speer, a member of a U.S. Army Special Forces unit, who died as the result of his wounds from a grenade.
The statement of facts Khadr signed also says he would think back on his actions and the death of the American soldier when he was aggravated by his guards in Bagram, Afghanistan, and "it would make him feel good."
Khadr, a 24-year-old Canadian citizen and the youngest detainee held at Guantanamo, pleaded guilty to murder, material support for terrorism and other charges Monday, which means an early end to the first military commission trial conducted during the Obama administration.
The sentencing phase of Khadr's case is now under way and is expected to conclude by the end of the week. The charges carry a maximum of life in prison.
The terms of Khadr's plea deal have not been made public. But a source close to the case said the agreement calls for an eight-year sentence. One year of that would be served in U.S. custody, and the balance would be served in Canada.
Col. Dave Lapan, a Pentagon spokesman, said that if the jury panel agrees to a sentence that differs from the terms of the plea agreement, Khadr would receive whichever sentence is shorter.
Khadr was 15 when he was wounded and captured at the conclusion of the firefight. A key issue in his case has been whether he was a willing participant in fighting and in constructing and planting improvised explosive devices targeting American forces. Or was Khadr involved because it was the course set by his father? The older man brought his family to Pakistan and Afghanistan, where he met al Qaeda figures including Osama bin Laden and underwent terrorism training.

Video: Young Guantanamo detainee pleads guilty
"The stipulation of fact signed by Mr. Khadr shows he voluntarily and knowingly committed war crimes under the Military Commissions Act of 2009," said Navy Capt. David Iglesias, a spokesman for Khadr's prosecutors. Iglesias e-mailed a statement to CNN on Tuesday that concludes, "The stipulation makes clear his acts were voluntary and in no way coerced."
On Monday, Khadr's defense attorney, Army Lt. Col. Jon Jackson, said he hoped the sentencing phase of the trial would show that "Omar Khadr is a kind, compassionate and decent young man who deserves a first chance at a meaningful life."
The document of facts agreed to by Khadr goes into detail about his time with a terrorist explosives cell in Afghanistan. According to the document, the team converted Italian-made land mines into improvised explosive devices. Khadr and his associates videotaped themselves building and placing 10 devices along a route frequented by U.S. military convoys. The statement says Khadr told U.S. officials that his purpose was "to kill U.S. forces" and described these activities as the proudest moments of his life.
According to the stipulation of facts, "Omar Khadr voluntarily chose to construct and plant the IEDs. He was not forced to participate in these acts." Khadr revealed the location of the explosives to his captors, and they were removed before anyone could be injured by them.
The document said Khadr was aware that planting bombs was a terrorist act, and he told U.S. officials "he considered himself a terrorist trained by al Qaeda."
After the September 11 terrorist attacks, Khadr said, he was told there was a "$1,500 reward placed on each American killed." In the statement of facts, Khadr said that made him want "to kill a lot of American(s) to get lots of money."
The statement of facts says Khadr's father, Ahmad Khadr, raised money to support terror camps and had "a close relationship" with Osama bin Laden. The document says that Ahmad Khadr moved his family from Pakistan to Jalalabad, Afghanistan, in 1996 and that young Omar met Osama bin Laden, Ayman al-Zawahiri and other al Qaeda leaders as well as visited terrorism training camps and safe houses.
The document says that when Omar Khadr was 15, he was given one-on-one terrorist training by an al Qaeda member, which included the use of rocket-propelled grenades and assault rifles.
"Omar Khadr, voluntarily and of his own free will, chose to conspire and agree with various members of al Qaeda to train and ultimately conduct operations to kill United States and coalition forces," according to the statement of facts.
FOLLOW THIS TOPIC