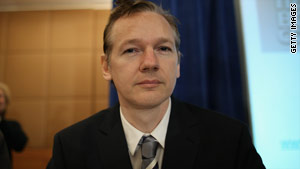 The Pentagon believes WikiLeaks may have more material than its founder, Julian Assange, admits.
STORY HIGHLIGHTS
The Defense Department says WikiLeaks likely has more documents
The whistleblower website released 400,000 Iraq war documents last week
A previous release exposed more than 70,000 documents on Afghanistan
Washington (CNN) -- The Pentagon is bracing for the release of more secrets by the whistleblower website WikiLeaks, a Pentagon official said Tuesday, as the Defense Department drafts a new plan to securely distribute and protect military and other information.
Pentagon spokesman Col. Dave Lapan said WikiLeaks has more Defense Department material beyond what site founder Julian Assange has admitted publicly to possessing.
"We believe that WikiLeaks has in its possession additional documents that may be released in the future," Lapan told reporters at a briefing. "They still have the 15,000 documents from Afghanistan. They still have a video from Afghanistan. Those are things they have talked about publicly."
"And we have reason to believe they have other documents as well," he added, without elaborating.
The military has charged Pfc. Bradley Manning with leaking video to WikiLeaks, as well as downloading documents from military computers while he served as an intelligence analyst in Iraq. Among the documents he is alleged to have taken are 150,000 diplomatic cables. WikiLeaks has denied being in possession of those cables. Manning is currently being held at a military jail in Quantico, Virginia.
Last week, WikiLeaks released nearly 400,000 U.S. military reports about operations in Iraq. In July, it released more than 70,000 reports from the war in Afghanistan.
Currently, WikiLeaks has a large encrypted "insurance" file on its site, in addition to the documents it already released. The mysterious file has fueled much speculation about its contents. One theory is that it contains the entire WikiLeaks stash of unreleased documents that would be shared only if the government takes action against WikiLeaks or Assange. WikiLeaks itself has not commented on what is in the file.
"Now is a good time to mirror this WikiLeaks 'insurance' backup," the site posted on its Twitter page October 19, just a couple of days before releasing the Iraq documents, suggesting that followers download the file.
"We don't know for certain what's in the insurance file. So we don't know exactly everything that WikiLeaks has," Lapan said. "We believe we know some of what they have."
When asked why the Defense Department -- with the computer skills of the entire U.S. government at its disposal -- hadn't cracked the WikiLeaks file, Lapan only smiled.
"Next," he said, signaling he was ready for the next question.
A security study ordered by Defense Secretary Robert Gates to scrutinize how the Pentagon distributes information and its security systems to protect that information is now wrapping up. A team of security and intelligence experts had 60 days to examine current procedures and suggest improvements.
"They have developed a number of recommendations," Lapan said, adding that those suggestions are either already on Gates' desk or on their way to him.
He noted that some individual commanders already had made changes on their own in how they protect and disseminate information.
The challenge, Lapan said, is how to make sure that the necessary information is passed along to troops in the field but protected at the same time.
"As the secretary talked about at the beginning, where is that balance, how do you push information forward to people that need it, while at the same time safeguarding sensitive information? So it's along those lines of recommendations of ways to achieve that balance and tighten up our processes so we don't have security breaches," he explained.
FOLLOW THIS TOPIC