Red fox spotted on Capitol Hill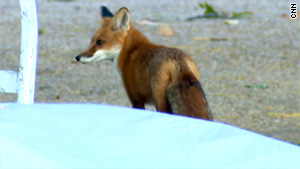 Sly people are often said to be found on Capitol Hill, but a fox is an unusual sight.
STORY HIGHLIGHTS
With lawmakers away, fox roams Capitol Hill
He chases squirrels, not legislation
He leaves the Hill unsuccessful in his efforts
Washington (CNN) -- A red fox was spotted running around the grounds of the U.S. Capitol Friday, seemingly having the run of the 274 acres as it bounded playfully around construction equipment and supplies and even took a moment to chase a squirrel.
With a bushy tail and dark paws, the fox scouted for more prey before running off into the distance.
CNN photojournalist Giaco Riggs spotted the fox while shooting a stake out on the east front of the Capitol.
"It just showed up and was hunting a squirrel," Riggs said. "When he showed up, all the other squirrels ran away. When the fox went away, all the squirrels came back."
According National Geographic, red foxes are solitary hunters who feed on rodents, rabbits, birds and other small game -- but their diet can be as flexible as their home habitat.
No word if the fox was in search of any lame ducks.