Arizona voters approve medical marijuana law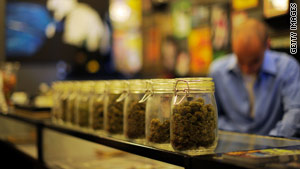 Arizona became the 15th state, plus the District of Columbia, to pass a medical marijuana law since 1996.
STORY HIGHLIGHTS
Close vote takes almost two weeks to tabulate
Results will become official after the state certifies vote count on November 29
Arizona becomes the 15th state with medical marijuana law
(CNN) -- Almost two weeks after polls closed, Arizona voters have approved a medical marijuana law, state officials said Monday.
The close vote -- by a margin of 4,341 votes -- will be certified by the Arizona Secretary of State's Office on November 29, said spokesman Matthew Benson. A ballot count from Maricopa County over the weekend allowed state officials to provide the results, he said.
Arizona becomes the 15th state, along with the District of Columbia, to have passed a medical marijuana law since 1996, said a spokesman with the advocacy group Medical Marijuana Project. The Arizona law will allow patients with "debilitating medical conditions" to use cannabis if they have a recommendation from their physician.
"Voters in Arizona have sided with science and compassion while dealing yet another blow to our nation's cruel and irrational prohibition on marijuana," said Rob Kampia, executive director of the Marijuana Policy Project. The group funded and supported the Arizona Medical Marijuana Policy Project, the local group that ran the Proposition 203 campaign.
"Arizona's law now reflects the mainstream public opinion that seriously ill people should not be treated like criminals if marijuana can provide them relief, and that doctors should be able to recommend marijuana to patients if they believe it can help alleviate their suffering," Kampia said.
Arizona's Proposition 203, approved 841,346 to 837,005, will allow about 120 clinics to dispense marijuana to patients with prescriptions, project officials said. Patients who live more than 25 miles from a dispensary can grow their own marijuana.
The other states with medical marijuana laws are Alaska, California, Colorado, Hawaii, Maine, Michigan, Montana, Oregon, New Jersey, New Mexico, Nevada, Rhode Island, Vermont and Washington, project officials said.
"Sadly, patients in 35 states still have no legal protection if marijuana is the medicine that works best for them," Kampia said in a statement. "We will continue working in the years ahead to ensure that others are awarded the respect and compassionate care that seriously ill patients in Arizona will now enjoy, thanks to this law."
FOLLOW THIS TOPIC