Saudi king arrives in U.S. for blood clot treatment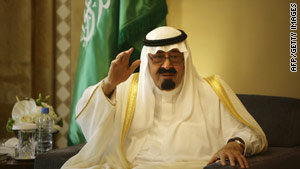 King Abdullah has ruled oil-rich Saudi Arabia since 2005.
STORY HIGHLIGHTS
NEW: The king lands at New York's John F. Kennedy International Airport
"We hope for his speedy recovery," the U.S. State Department says
Officials say Saudi King Abdullah has a herniated disc and blood clot
Abdullah is healthy and in stable condition, the nation's health minister says
(CNN) -- Saudi Arabia's King Abdullah has arrived in the United States for medical treatment, the State Department said.
"We hope for his speedy recovery," the State Department said in a message from its official Twitter account late Monday.
The king left Saudi Arabia earlier Monday for treatment of a herniated spinal disc and a blood clot that was causing him back pain, state media said.
Saudi dignitaries met him when he arrived at New York's John F. Kennedy International Airport, the state-run Saudi Press Agency said.
The agency's report did not specify which hospital would be providing treatment to the ruler.
"The medical team recommended that he leaves for the U.S. to visit a spine-specialized medical center in order to complete medical examinations and for follow-up treatment," Health Minister Abdullah al-Rabeeah said during an interview Sunday with Saudi state television. "But I assure everyone that he is in a stable condition, and that he is enjoying health and well-being, and God willing, he will be back safe and sound to lead this proud nation."

President Obama meets with King Abdullah
Doctors performed tests on the 86-year-old monarch Friday after he complained of back pain, and he underwent more tests Sunday, the Saudi Press Agency reported.
His doctors have advised him to rest, but he took calls from Egyptian President Hosni Mubarak and Iranian President Mahmoud Ahmadinejad in which the regional leaders wished him a speedy recovery, the news agency reported.
King Abdullah named Crown Prince Sultan to administer the state's affairs in the monarch's absence, the news agency said.
The prince was expected to return to Riyadh while the king is overseas, the Saudi Press Agency said. But there are also questions about the crown prince's health: He has lived in Morocco for much of the past year-and-a-half after surgery for an undisclosed ailment in February 2009.
The top three figures in the kingdom -- Abdullah, Sultan and Prince Nayef, the country's interior minister and second deputy prime minister -- are all sons of King Abdul Aziz Ibn Saud, who founded modern Saudi Arabia in 1932.
Abdullah has ruled the oil-rich kingdom since the August 2005 death of his half-brother, King Fahd. But Abdullah ran most of the kingdom's affairs for a decade before that on behalf of his ailing half-brother.
Since coming to power, he has sought to establish rules and procedures for many Saudi institutions, giving him a reputation as a reformer in the highly conservative nation.
CNN's Mohammed Jamjoom and Matt Smith contributed to this report.
FOLLOW THIS TOPIC