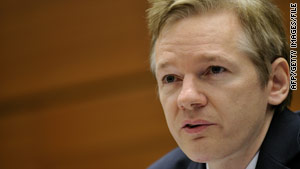 WikiLeaks founder Julian Assange and his group are expected to release more classified military documents soon.
STORY HIGHLIGHTS
Pentagon tells members of Congress that WikiLeaks release could hurt U.S. ties with allies
The State Department documents contain information on military affairs
Washington (CNN) -- U.S. officials, fearful of what military secrets could soon be splayed across the internet, are bracing for the release of more classified documents by the whistleblower group WikiLeaks.
The Pentagon expects the documents to be released soon, possibly by the end of the week. The agency is increasing the size of a task force assigned to comb through the records, if released, to assess how damaging they are to U.S. interests.
The task force numbers more than 100 people, including staffers from other agencies.
Officials believe the records are U.S. State Department cables.
"We continue to make clear that this is harmful to our national security. It does put lives at risk, it does put national interests at risk," State Department spokesman P.J. Crowley said. "It's hard for us to give you any kind of assessment of what the potential impact is because we actually don't know what is going to be released."
In October, WikiLeaks released nearly 400,000 U.S. military reports about operations in Iraq. In July, it released more than 70,000 reports from the war in Afghanistan.
"Next release is 7x the size of the Iraq War Logs," the group stated via Twitter recently. "Intense pressure over it for months. Keep us strong."
While U.S. officials aren't completely certain about what these documents contain, they nevertheless warn that their publication could damage relations between the U.S. and its allies. Crowley said other governments and members of Congress have been notified that WikiLeaks is expected to release more classified documents soon.
Crowley called the cables "part of the system through which we collaborate and cooperate with other countries. Inherent in this is day-to-day action is trust, that we can convey our perspective to other governments in confidence."
"And when this confidence is betrayed, and ends up on the front pages of newspapers, or lead stories on television or radio, it has an impact," Crowley said. "We decry what has happened. These revelations are harmful to the United States and our interests."
The Defense Department has been preparing for the release of more secrets by WikiLeaks, which, officials say, possesses more Pentagon material beyond what the group's founder, Julian Assange, has admitted to having.
The military has charged Pfc. Bradley Manning with leaking videos to WikiLeaks, as well as downloading documents from military computers while he served as an intelligence analyst in Iraq. Among the documents he is alleged to have taken are 150,000 diplomatic cables. WikiLeaks has denied being in possession of those cables.
Manning is being held at a military jail in Quantico, Virginia.
The Stockholm Criminal Court recently issued an international arrest warrant for Assange, saying he is suspected of rape, sexual molestation and illegal use of force.
Charles L. "Jack" Pritchard, a former ambassador and current president of the Korea Economic Institute in Washington, said "diplomatic cables run the entire gamut, from providing instructions, giving strategy, giving what our goals are, giving bottom lines where our compromise positions would be on negotiations."
"They may even contain background material on key foreign officials that, quite frankly, could be embarrassing," said Pritchard, who also served in the Bush administration as special envoy for negotiations with North Korea.
Pritchard said the release, "whether legal or not, I don't know ... certainly is in no way beneficial to the U.S. government or the American people."
FOLLOW THIS TOPIC