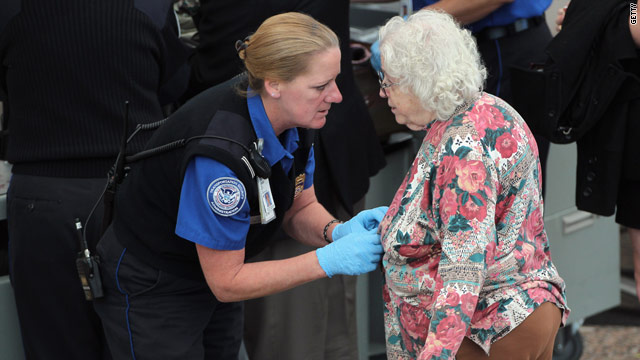 STORY HIGHLIGHTS
U.S. security authorities have begun the use of pat downs as well as body scanners
Some passengers liken the procedure to a sexual assault, others refuse to participate
Such searches are familiar to many international air travelers
Obama: Authorities have indicated such procedures are the only ones right now they consider to be effective."
"Our Mann in America" is a weekly column discussing the big talking points in the U.S. for an international audience. Jonathan Mann is an anchor for CNN International and the host of Political Mann.
(CNN) -- -- America is feeling invaded by a uniformed force moving into some very private places, with a mission that's being decried as "scope and grope."
"They want to take pictures of us and put their hands in our pants," said Republican Congressman Ron Paul. "If we tolerate this, there's something wrong with us.
"They" are the officials of the Transportation Security Administration, which tightened its airport screening procedures after a suspected terrorist tried to blow-up an airliner with a bomb in his underwear. So, in addition to the airport security routine that passengers are accustomed to, many now have to submit to revealing high-tech imaging that sees through their clothes. If they refuse, they're subjected to a fully-clothed but startlingly invasive physical search. (Hence the catchy rhyme about "scope and grope").
The TSA has withheld precise details of the hands-on search techniques but its screeners, deployed by gender to match the passengers they scrutinize, do pass their hands around or over the breasts, buttocks and genitals.

Cancer survivor accepts TSA apology

Avoiding the scanners

Do airport body scanners even work?

Pat downs: Security vs. privacy
Needless to say, it's the kind of interaction that gets your attention. Similar techniques may be familiar to experienced international travelers, but in the U.S. they were introduced to the flying public only a month ago without extensive explanation or publicity.
There may be some easy irony in the observation that a country which launched a global war on terror with countless casualties now objects to a few awkward moments at the airport.
But it's no laughing matter to travelers who complain that TSA employees have interpreted their new instructions in uneven and sometimes unfortunate ways.
Passenger Erin Chase likened her ordeal to sexual assault by a TSA screener who, "went all the way up my legs, up my inner thighs, all along my inner thighs until she reached my genital area, touched both sides."
Cancer survivor Tom Sawyer says that a TSA officer burst a special bag that captures his urine, with no time to change clothes before his flight.
"By the time he was done, I had a round spot of urine maybe the size of a small pancake, something like that and I had urine dribbling down into my underwear, down my leg on my shorts."
The horror stories are legion, leavened only by tales of defiance that are quickly spreading as well.
One passenger's warning to a screener -- "Don't touch my junk" -- has become a national protest slogan, immortalized in music, T-shirts and countless comedy routines.
Another passenger travelling through Los Angeles wore a coat with nothing but a bikini underneath, because she said she didn't want a hand-search and thought she could save time.
Even President Barack Obama was drawn into the drama, fittingly perhaps, while he was on a trip of his own, to Portugal.
"One of the most frustrating aspects of this fight against terrorism is that it has created a whole security apparatus around us that causes huge inconvenience for all of us," he said.
"But at this point, TSA, in consultation with our counter-terrorism experts, have indicated to me that the procedures that they've been putting in place are the only ones right now that they consider to be effective."
One passenger's warning to a screener -- "Don't touch my junk" -- has become a national protest slogan, immortalized in music, T-shirts and countless comedy routines
Twenty-four million passengers are expected to pass through American airports this week for the Thanksgiving holiday, one of the business travel seasons of the year.
Some had threatened a disruptive protest, but the threat never materialized.
In fact, a USA Today/Gallup poll found most travelers are prepared to give-up some of their personal privacy to prevent terrorism. The trouble hinges on the technique.
A clear 57 percent majority say they are not bothered by a full-body scan. But the same percentage say they are bothered or angry about the prospect of a hands-on search.
To quote that now timeless phrase: don't touch my junk.
Republican lawmakers are threatening legislation to outlaw the searches. The rights activists at the American Civil Liberties Union are collecting travelers complaints and funneling them to the government.
But airports across the country are still crowded. The travelers passing through them seem as eager as ever, and as annoyed as ever, for any one of a number of reasons related to the ordeals of air travel in the 21st century.
No one seems to enjoy the obligatory airport intimacy but mindful of the threat of terrorism, most people seem willing to endure it.
FOLLOW THIS TOPIC