STORY HIGHLIGHTS
The cables describe the two countries' relationship as one of the most important in the world
There has been a divergence of views on Iran's nuclear program, the cables reveal
President Erdogan's apparent Islamist slant also has been a concern, the cables show
(CNN) -- Dozens of diplomatic cables released by the website WikiLeaks reveal a complex and often difficult relationship between the United States and Turkey in recent years, with persistent anxieties among U.S. officials that long-time Prime Minister Recep Tayyip Erdogan is prodding the country in a more Islamist direction.
The cables were published as U.S. Secretary of State Hillary Clinton met Turkish Foreign Minister Ahmet Davutoglu in Washington on Monday. They describe the two countries' relationship as one of the most important in the world.
But recent cables show a divergence of views on Iran's nuclear program, with an angry exchange between the U.S. ambassador in Ankara and a senior Turkish diplomat in October 2009. According to one cable, Ambassador James Jeffrey attacked reported remarks by Erdogan that Iranian nuclear ambitions were "gossip."
The cable continued: "Holding a copy of President Obama's Pittsburgh Summit condemnation of Iran's nuclear ambitions, the ambassador asked [Turkish Foreign Ministry Under Secretary Feridun] Sinirlioglu if this was the 'gossip' to which Erdogan had referred."

Ahmadinejad: Leaked info not valuable

Fallout over latest WikiLeaks release

WikiLeaks release dangerous?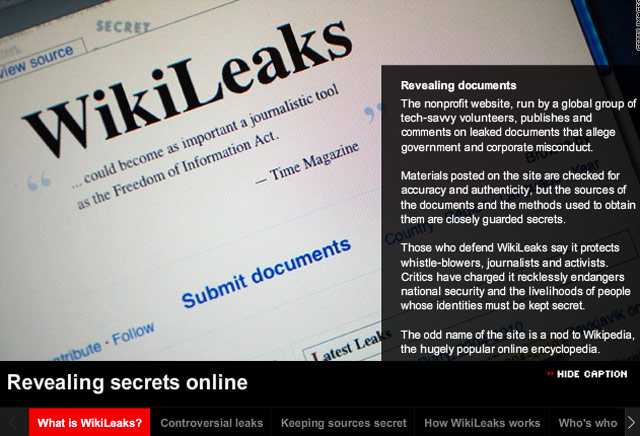 Revealing secrets online
At a meeting in February this year, U.S. Under Secretary of State William Burns told a Turkish official that "Turkish interests would suffer if Israel were to act militarily to forestall Iran's acquisition of nuclear weapons or if Egypt and Saudi Arabia were to seek nuclear arsenals of their own."
The cable says that for the first time, Turkish officials conceded there was a threat, with a "visibly disheartened" Turkish diplomat conceding, "Alarm bells are ringing even in Damascus," Syria. Syria is a long-standing ally of Iran.
At previous meetings, Turkish officials had insisted that its role of honest broker had helped advance discussions with Iran on its nuclear materials. In November 2009, the U.S. ambassador in Ankara had warned Washington that U.S. "efforts to persuade PM Erdogan to adopt a tougher public stance against Iran will be a tough sell."
Considerable attention is given in the cables to Erdogan's "Islamist" views and character. One covers a meeting in October 2009 between the U.S. ambassador and his Israeli counterpart, who complains that Erdogan is "a fundamentalist. He hates us religiously." Another cable from 2007 quotes an aide to Erdogan as describing the prime minister as a "perfectionist workaholic who sincerely cares for the well-being of those around him." The cable concludes: "The overall description sounds more like a benevolent patriarch."
Another cable -- from a senior U.S. diplomat in March 2005 -- suggested Erdogan was "isolated," continuing: "According to a broad range of our contacts, Erdogan reads minimally, mainly the Islamist-leaning press. ... He relies on his charisma, instincts, and the filterings of advisors who pull conspiracy theories off the web or are lost in neo-Ottoman Islamist fantasies."
But there is also an acknowledgement of shared interests in NATO, of Turkey's importance as a counterweight to Iran in the region, and of its contribution of troops to the NATO operation in Afghanistan.
At a meeting earlier this year in Ankara, U.S. Defense Secretary Robert Gates told his Turkish counterpart that the United States was committed to the sale of Reaper military drones to Turkey, but the sale would first have to be approved by Congress.
The cables also cover the tense relations between Erdogan's government and the Turkish military, and persistent rumors of coup plots. One cable from January this year concludes: "A growing percentage of the population believes that at least some elements within the military have been plotting to undermine or even overthrow the AKP-led government." (AKP is Erdogan's political party.
There also is a colorful commentary from January 2010 about the judicial process in Turkey, with Ambassador Jeffrey writing: "Anyone even suspected of "having information" is hauled before the police (armed with automatic weapons), and humiliated before the press. It's always been that way; now it's happening also to the top brass and their friends."
But in the final analysis, the cables show a consistent U.S. focus on the direction of a vital ally in a volatile region. As Jeffrey wrote in January this year: "Does all this mean that the country is becoming more focused on the Islamist world and its Muslim tradition in its foreign policy? Absolutely. Does it mean that it is 'abandoning' or wants to abandon its traditional Western orientation and willingness to cooperate with us? Absolutely not."
FOLLOW THIS TOPIC